Interview: Sam Mendes of 'Skyfall'
'I wanted to shock myself a little bit, and do something I didn't know I could do ...'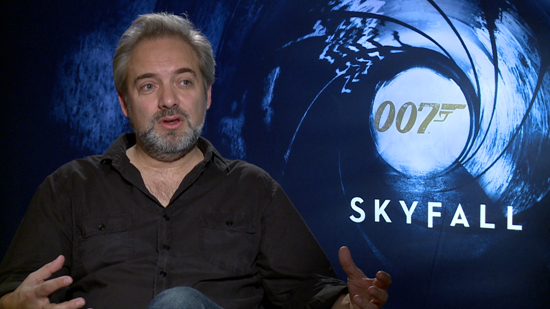 His resume loaded with award-nominated dramas like "American Beauty," "Road to Perdition," and more, Sam Mendes does not seem like a person you'd expect to come on board to give the Bond films a shot in the arm. And yet, Sam Mendes has tried to do exactly that in "Skyfall" -- and now audiences will get to see if his stripped-down, gorgeously-shot approach is what they want. We spoke with Mendes in Los Angeles about his approach to Bond, why he took the job, and on shaking, not stirring, the ways and traditions of a 50-year-old show business institution.  

MSN Movies: Mr. Craig mentioned how it was his idea to approach you about being the in director's chair, but what was your goal in taking on this film and working in such a different world, for lack of a better phrase?
Sam Mendes: For me, it was a massive challenge. And that was part of the attraction -- I wanted to make something completely different, and I felt that I wanted to come back to England and make a movie. I'm English, but I've made five American movies back to back. I wanted to work on a big scale again, and I wanted to work with Daniel ... I also wanted to shock myself a little bit and do something that I didn't know I could do. And actually it was a huge challenge for me.
But in many ways it's a reverse journey of (the director) who makes money-making blockbusters and then tries a respectable, smaller film in that you've made American dramas -- very American dramas -- and now this. What was the biggest change in scale for you in wrapping your head around shooting a Bond film?
BING: Sam Mendes l Aston Martin DB5
It was really to do with the number of people in the marshalling everyday and the action, which is taking place in lots of different places. And you never quite do everything all at once, you know? You keep stopping. I mean literally that's that it's like. Action, (mimes punch) cut, action, (mimes punch) cut, okay, moving on. And it's tiny little things. It's only when you get in the cutting room that things start to flow because if you want to work on the detail, I mean you can shoot it in a more fluid way, it's just not how I wanted to make it. So I decided to make it much more as a classical way. And it was going to be in tiny pieces and it was going to be made it the cut, and that was how we were going to do it. So that was the big difference.
In a lot of ways to me, I always imagined making a Bond film is like when John Coltrane plays "My Favorite Things" on the saxophone. You can do little riffs, you can run little changes in the notes, but eventually you have to come back to "My Favorite Things." What did you feel you were able to add to this film specifically to make it yours in a way?
It's interesting you use the jazz analogy; it's a good one. But I always think of it, I come from theater and I think of that jazz analogy when I do a production of "Richard the III" or "The Tempest" or "The Cherry Orchard." You're doing your "Richard the III." And Bond isn't like that. This is a totally different thing. It's a totally different story, and I think if you view it as just the same tune played again in a different style, actually it's not going to work. I think you have to pull it apart, and I think that people who find this already hope to pull it apart even more. You mess around with it, and to me there are a few shocks. Obviously, there are lots of elements that are traditional but it's really the things that I wanted to bring back. I never thought I had to, but I wanted to see the Aston-Martin DB5; I wanted to use the Bond theme. But there's nothing in the contract that says I have to use the Bond theme or I have to use cars from previous movies or any gag from previous movies or even the martini or "Bond. James Bond," or any of the things that are in this film. That's a taste thing; I like that. That's what for me makes me excited to see Bond, but I try to twist those so they catch the light in a slightly different way. It's that whole thing of making the familiar strange that you have to try and do. But really at root, it is an original story that uses some of the things you expect from a Bond movie but hopefully takes you into a whole different set of areas ...
For more on "Skyfall," check out our video interview with the cast and crew:
 ("Skyfall" is in theaters; for more information about movies, check the MSN Movies Facebook page and the MSN Movies Twitter feed.)