'Backstreet Boys' to be immortalized in tell-all documentary
It's about time!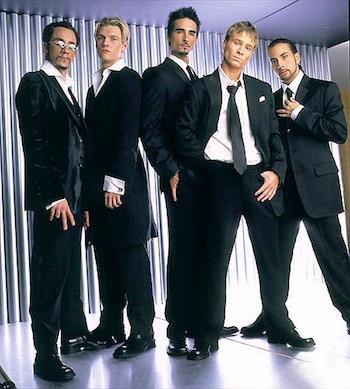 Great news, everyone! The band behind the #3 best song of the 1990's—at least as according to the geniuses of 
VH1
—is finally getting the big-screen treatment. Fear not: this will
not
be a tacky 3D concert film a la Katy Perry's heinous "Part of Me." Although that, too, would be awesome. No, this will reportedly be a gritty, warts-and-all documentary, primarily focussing on the boy band's members as "people" first, whatever that means.
Is the film, directed by Stephen Kijak, coming about ten years too late to bolster the band's inexorably declining popularity? Perhaps, although true fans will no doubt rejoice, regardless. BSB 4eva! Meanwhile, the members of "NKOTB" must be wondering if they're chopped liver.
What do you think, Hitlisters? Is "I Want It That Way" the best pop song ever? Or just the third best pop song of the 1990's? Where do you fall on the ever-controversial BSB vs. 'N Sync spectrum? And should Justin Timberlake and JC Chasez fire their agents? Or is this just a slow news day? As always, let us know in the comments, or tell us on MSN Movies 
Facebook
 and MSN Movies 
Twitter
.
Are you sure you want to delete this comment?