SXSW Review: 'Kid-Thing'
An indie fable of a girl, lost, in the woods and the dark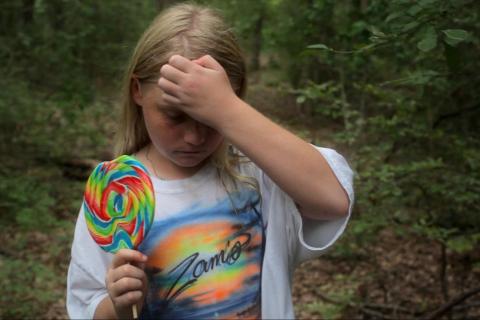 Rating: 3.5/5
After eye-catching deadpan shorts whose creativity was matched only by their economy, brothers Nathan and David Zellner made their feature debut with "Goliath," a chronicle of divorce that was alternately hilarious and heartbreaking. Their second feature, "Kid-Thing," begins with the roaring, futile, dirty clash of the demolition derby, caught up-close and intimately, until we cut to the bored, blank eyes of Annie (Sydney Aguirre), ten years old, taking it all in. Or not.
Annie is the center of "Kid-Thing," and Aguirre's performance may be occasionally marred by common child-actor stumbling points -- an occasional bobbled line, a darting glance to the camera -- Aguirre's performance is also part of an amazing gestalt characterization, brought to life by her skill, the work of writer-director David Zellner and their mutual will to create an indelible piece of work. Indeed, "Kid-Thing" may sag occasionally, but you're still left with the dark and dense impression left by Annie.
At first, Annie's life is understood as lacking parental supervision (her somnolent dad is played by Nathan Zellner, who also served as producer and cinematographer) and chock-full of opportunities for the kind of mischief that verges on manslaughter. Early, Annie shoplifts bake-at-home biscuits and hurls them at passing cars, for but one example, and you're inclined to say, through gritted teeth, that it's all just hijinks, Pippi Longstocking gone post-punk for the "Jackass" generation, a more venomous Veruca Salt. But one day, in the woods, Annie finds a pit -- with a wood open structure over it -- and a woman's voice below moans for help and pity. Annie, at first, offers neither -- or, rather, her idea of help and pity, hurling sandwiches and Capri Sun and toilet paper into the abyss as the woman, Esther (an excellent Susan Tyrell) pleads with Annie to simply, please, go get a grown-up.
With its long-takes and young lead character, "Kid-Thing" would make a great double-bill with "The Kid with a Bike," the most recent Dardenne Brothers film; both are anchored by great moments of child acting, as well as the thesis that, for kids, the moral world is as incomprehensible as the physical one. Annie initially refuses Esther's pleas: "You can't tell me what to do!" it's a petulant cry of childish insecurity with dire consequences.
A fellow critic noted that "Kid-Thing" might have worked better as a short; I agree with him, though I also can't deny the queasy, hypnotic fascination of Annie's journey. (Perhaps a little more adult agency in the film -- news of Esther's disappearance in the background on the radio, gossip about it in the aisle of the grocery store) might have filled the film with a bit more plot as opposed to the meandering dark practical jokes of the film's vignettes -- although Annie's surprise drop-in on a birthday party is grimly hilarious. (The Zellners are friends, and I joked to them after the screening that, bluntly, I had never wanted to punch a fictional child more.) A girl, in the forest, lost: It's the start of a thousand fairy tales, but for its flaws, the Zellners and Aguirre are to be commended for taking "Kid-Thing" so resolutely into the dark. 
("Kid-Thing" is currently seeking distribution.)