Interview: 'Beasts of the Southern Wild' Director Benh Zeitlin
'We did pretty much everything the hard way ...'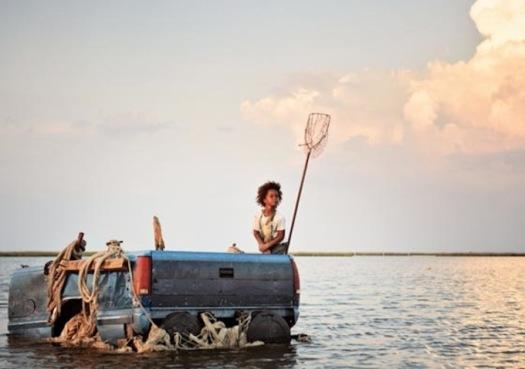 After his short "Glory at Sea" captivated in-the-know audiences, Benh Zeitlin earned a grant here, made a connection there, took part in a conversation over there -- and cobbled together a small budget that, shot through with the power of his cast and his collaboration with craftspeople from artists to playwrights, created one of the most chaotically, excitingly bold American independent films of the year, if not of years. We spoke with director Zeitlin in Los Angeles about his small budget, big ideas and the acclaim his film has earned from Sundance to Cannes.
How long a process was this from a germ of an idea to, let's say, Sundance 2012? It had to be incredibly protracted.
Benh Zeitlin: Yes ... three and a half years. About a year of writing, about two months of shooting, and then about two years of editing, an extremely long post-production. We did pretty much everything the hard way. I always think that the basic purpose of money in film is time. It just speeds things up. So when you do things with no money, it just mean that you do things slower.
But you were getting regular infusions of a little bit of cash during the postproduction process, right? You win an award; you get a grant ...
Yeah, we went out to San Francisco. You get a grant. We moved the production to San Francisco and sort of followed wherever we had resources. We did our coloring in Seattle, because they gave us the best deal. It was sort of this process of flying all over the place to try to stretch our dollars as far as they could possibly go.
What was the ultimate final budget?
I don't actually know. The film started a little over a million dollars, and then we went over budget and got some more grants. It was probably between one and two million somewhere. It was in that range.
There's also the thing where you had to know that shooting with a child actor, shooting on the water, you just keep on raising the difficulty bar for yourself. Was that a part of doing it the hard way?
Yes, definitely. We want the production to be an adventure. We're not trying to envision something and then very articulately craft it. We want the spontaneity that comes from our plans blowing up in our faces, and for the film tofeel like an athletic event of sorts, and try to get the sweat and the muscles that it actually takes to conquer nature. We want it to feel like -- sometimes you watch adventures, but they're very clean and delicately done. We wanted the difficulty of the production to end up on screen, so we sort of set those challenges for us to overcome.
You want everyone watching this film to image how much work it was?
Not that, but just like ... the film is about characters that are taking on nature, and defying nature, so you want the production to reflect that. You don't want the production to be out of synch with what the film is professing. You want to almost catch the ideas. As filmmaker and as artists, you want to prove that your piece is right by actually challenging the things that your character is challenging. 
Right. Often an adventure will take place in the great outdoors, but it's all shot on some backlot. William Carlos Williams said, "That the pure products of America go crazy" -- was that a little bit of something you were trying to get at with "Beasts of the Southern Wild?" That you could only a have a "Bathtub" in America, and because "The Bathtub" is what it is where it is, it's a little bit mad?
It's wild. I don't know if I would consider it mad, but it's wild. It's wild and free. It's a place that is living off the grid. It's a sort of fearfully independent place that is operating without the things that make life safe. But through sort of living free of that stuff it gains this kind of symphonic celebratory pleasure and this wild culture that you wouldn't be able to have if you were teaching children not to play with fireworks. It's a place that's truly wild in that way, but I don't think the characters are being insane. They're fearless and they're reckless, and they're very stubborn.
It's interesting that when the characters Wink and Hushpuppy are finally taken to this evacuation site it feels like something out of "2001." By the time you got to that shift in the film were you aware of the contrast you were cutting?
Yeah, definitely. I wanted that to feel like another planet, which it is. It comes from a lot of conversation I had down in the bayou of people saying -- there was this kind of rhetoric in the air of "Why don't you move? Why don't you go somewhere safer? These people are irresponsible to raise their children in these places. Why rebuild?" When you go down there and talk to people, people say things like, "We're made by the marsh. We cannot be uprooted and planted somewhere else." Its a place that's very much dependent on the land and the seafood and the real relationship with the nature and actual ground that they're on. I wanted to sort of show something about it. There's so much about why people stay in a lot of ways. Even though that place is safer and cleaner and probably for those reasons more responsible to live in, its missing things that are essential to the lives of the characters. It's going to cause them to dry up and die a different kind of death or lose something that's essential. I think that was something I got from talking to people down there who tell stories, people who say like, "My father broke his arm, and I sent him to the hospital, and he came back with cancer. He didn't have that when he was down here." It's like it was something he caught by being pulled out of his home and having to not be on his land. I think there's a kind of tension towards that mentality, but I don't think it's accurate. I think there really is something to it. There's not a lot of comforts or possessions, but there's something to the fact that you can live without these things and cease on the sea everyday. It was important to show the thing that they're trying to avoid, the reason to hold out. Its because what they're faced with is this very inhuman world that doesn't feed them the way that their place does.
On the other side of the levee there's this kind of Nerf life where all the rough edges are sanded off.
Yeah.
When I talk about this film - I am a great admirer of it - I mention that it felt like a God-less but not loveless version of "Tree of Life." Are you a Malick fan?
Definitely. Absolutely. I think that certainly the lyricism of Malick is something that I'm trying to use. The same sort of tools that he invented to step into a character's consciousness I think were really important for her character, because it's hard on film. It's easy in literature to tell a character that doesn't talk a lot. You can see into their head and what they're thinking at any moment. It's hard on film. Films are based on conversations. You have this character that doesn't really have a lot of friends, and she doesn't have a father who's going to chitchat with her. She friends with animals, she has a relationship with her place and inanimate objects, so you needed to be able to get into her head. I think that Malick is the person who invented how to do that, and not just get in someone's head when they need to tell you how they're feeling or tell you the plot, but to get inside the most sort of mystical interpretation of the universe. I think that that is similar. I think for me this film is more like "Bambi" than "Tree of Life." It's much more of a story. I'm trying to tell folk tales more than I'm trying to meditate on nature the way that he does. I think there are certainly tools that he invented, but I think the kind of underbelly of the film shares a lot more with probably more lowbrow narrative cinema. Malick is trying to find God. That line is probably right, that it's not a spiritual meditation; it's a narrative about survival.
The next film, which I'm sure you have in the back of your head, it'll be easier to get funding with all of the success you have under your belt from Sundance and Cannes, but if you get like three million dollars, are you just going to shoot that film or are you going to drive yourself crazy trying to make it look like twenty-one million dollars?
Yeah, I think money is not going to change. Building things by hand for me is the joy of making these things. If we had too much money, I don't know what we would spend it on. When we set out to build a house in this film we said, "This house can only be built with materials that exist on this location. We're not going to go buy anything. Search around the woods, the way the character would, to put this house together." that kind of mentality of building things by hand and this sort of DIY thing is only essential to the process and not something that I would ever change. If we have more money we'll get extra sandwiches to eat or something, but we won't change the way we do things.
("Beasts of the Southern Wild" is opening in limited release, soon.)