Interview: Alan Cumming will rip your heart out in 'Any Day Now'
This story about a gay couple in the 1970s trying to adopt a special needs child is a powerful tale about love, acceptance, and family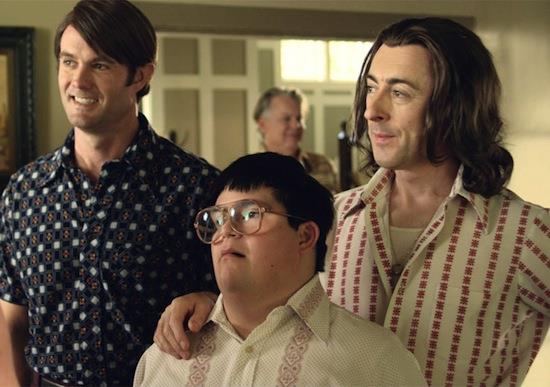 It would be nice to think that the legal and social issues raised in Travis Fine's moving film, "Any Day Now," about a gay couple trying to adopt an abandoned teen with Down Syndrome were a reminder of how far we've come as a society. Sadly, that's not the case. While there have been obviously been many advancements in the struggle for gay rights in this country since the 1970s, there are still many obstacles that LGBT people face in their quest to adopt. In most states, whether adoption is legal for same-sex couples is decided on a case-by-case basis by a judge. The tide is turning in many areas, but the challenges are even greater when special-needs children are involved, even though these children so desperately need to find loving homes.

For "Any Day Now," Fine adapted a 30-year-old script that was based on a real-life story. The film, which won audience awards at the Chicago, Tribeca, Napa Valley, Provincetown, and Outfest film festivals, stars Tony- and Emmy Award-winning actor Alan Cumming ("Chicago," "The Good Wife") as Rudy, a down-on-his-luck female impersonator who befriends Marco (Isaac Leyva), a young teen with Down Syndrome who lives in his apartment building. When Marco's drug addict mother is taken to prison and he is about to be turned over to a state institution, Rudy takes matters into his own hands. With his partner, Paul, played by Garret Dillahunt ("Deadwood," "Raising Hope"), Rudy fights the system with everything he has in order to protect Marco.
I spoke to Alan Cumming by phone about this moving film.
MSN Movies: It's interesting to talk about this film just a few hours after the Supreme Court agreed to hear the case about California's Proposition 8. I doubt Rudy and Paul could have imagined the day when same-sex marriages would be on the table.
Alan Cumming: That's true, but I also feel in many ways that not all that much has changed, unfortunately. Try adopting a child through the state system if you're gay, it's still extremely difficult all these years later. I know people who see the film want to think, "Wow, things were so different 30 years ago, that would never happen today," but the truth is that bigotry still exists, prejudice still exists, and the laws haven't changed that much. It's still illegal for gays to adopt in some states. Many gay couples that have adopted children had to do it outside of this country or through agencies that cost a lot of money.
How did you first get involved with this film?
My manager was approached and made sure I read the script. I immediately felt really connected to it—it's such a beautiful story and about something of substance that I personally feel very strongly about.
Bing: Alan Cumming | "Any Day Now"
Isaac Leyva, the actor with Down Syndrome who plays Marco, was just amazing. Had he ever acted before?
No, this was his first film. He was in a school for people with Down Syndrome and other learning and physical difficulties. I think Isaac had had auditioned for one other film but this was the first thing he'd ever done and he was just so incredibly happy to be there. He's such a darling, he's just the loveliest, most amazing human being I've ever met. I really love him.
Did you have a lot of input on the character of Rudy?
Quite a lot, actually—more than normal. I came on board earlier than I usually would and had a lot of talks with Travis. I think we went through three or four versions of the script before we started shooting. Rudy was more broadly drawn at first—I think I butched him up a bit! There's always the worry that you're going to present a negative stereotype when you play a character like Rudy and I thought, okay, if he's a drag queen at that time, and especially someone who's fighting the system like Rudy does in the film, I have to show him as a very strong person. As far as his look goes, I realized early on that I wasn't going to be a very attractive drag queen (laughs) so I thought let's just go with that. I made sure he looked a bit skanky, a bit rough around the edges. That was my contribution!
It must have been fun wearing all those crazy vintage clothes from the 70s.
They're not the most comfortable things, let me tell you! Try wearing that unnatural fabric during an 18-hour work day!
I'm sure every one of your pores was permanently closed by all that polyester.
Exactly! Really awful!
Do you think that the film has already impacted people who might have been on the other side of this issue?
Well, we've shown it at a lot of festivals and had discussions after the screenings. I've heard people say their minds were really changed after seeing this story. It's so important to realize that by closing off these loving families you're sentencing kids like Marco to a life of institutionalization​. I'm excited that this film is going to have a pretty substantial theatrical release so many people will see it. I'm so glad about that—sometimes you make this kind of movie and it never comes out at all.
I know we're getting involved with different organizations that canvas for the rights of same-sex couples. But I think the biggest education will be just getting the film out there and to get people talking and hopefully having their minds opened.
"Any Day Now" opens today in New York and Los Angeles and will soon be in select cities across the country. Alan Cumming will be participating in Q&As in New York on Saturday and Sunday and director Travis Fine will be participating in the Q&As in Los Angeles on Friday, Saturday, and Sunday. Click here for more details.