New 'ParaNorman' Trailer Offers Ghosts, Zombies and Young Heroes
The latest supernatural stop-motion effort from the studio behind 'Coraline'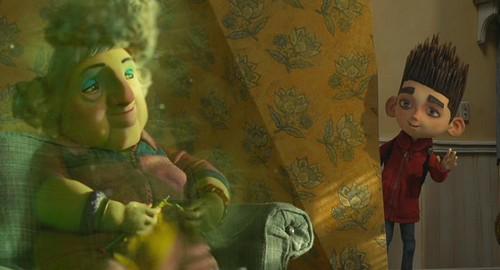 I didn't think much of the marketing for 2009's "Coraline," only to find myself won over by the striking stop-motion animation (not to mention well-used 3D), the unique characters and the somewhat intense tone of its climax. So I'm giving more due attention to Laika's latest effort, "ParaNorman," which is being written and co-directed by "Coraline" storyboard supervisor Chris Butler, along with Sam Fell (of the heartily amusing Aardman production "Flushed Away").
Norman (voiced by Kodi Smit-McPhee) is your typical mopey teen with few friends and a knack for seeing ghosts. It's this gift/burden that will help him save his small town from a witch's curse and a zombie invasion. Judging from
this new trailer
 -- also below -- it's a rally-the-kids adventure along the lines of "The Monster Squad," and that dual nod towards slasher iconography at the end gives me a small comfort that Butler and Fell are already affectionate for the genre.
With a voice cast that also includes John Goodman, Jeff Garlin, Anna Kendrick, Casey Affleck, Christopher Mintz-Plasse and Leslie Mann, "ParaNorman" opens in 3D on August 17th.