Interview: Hugh Dancy of 'Hysteria'
Sex and Repression and Playing Fast and Loose with History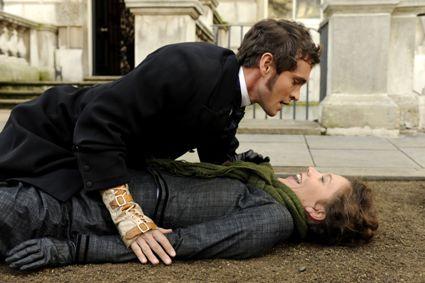 In the new historical-romantic comedy "Hysteria," Hugh Dancy plays Dr. Mortimer Granville, the Victorian doctor whose creation of the vibrator was a triumph of science and a social secret, when the device was created to help women deal with "nervous conditions." Loosely inspired by history -- as Dancy explains below -- "Hysteria" puts Dancy among Maggie Gyllenhaal, Jonathan Pryce and Rupert Everett as part of a lively ensemble. We spoke with Dancy about "Hysteria" by phone, as well as his upcoming TV work on the series "Hannibal," intended as a prelude to the events of Robert Harris' "Red Dragon," filmed by Michael Mann as "Manhunter."
MSN Movies: When you leap into a film, and you're meeting with director, Tanya Wexler, and she says, "This is about Victorian origins of the vibrator," at what point do you lean back and go, "What the hell is that?" … or do you lean forward and go, "Tell me more?"
Hugh Dancy: Well, probably more the latter. I was to some extent aware of the storyline underlying this movie. I knew the premise slightly, so I was more interested to see how they would treat it, what the tone would be. I thought it struck a fantastic balance between playing up the comedy, but not in a cheap and obvious way.
My observation was the challenge of making this film was not turning it into a ninety-five minute long "That's what she said" joke.
Exactly. That would only last so long. A lot of the comedy obviously comes from the blaring contrast between what they think they're doing and what they are doing. For that reason its kind of fun to play. To make the movie work, we had to concentrate as much on the environment, the Victorian quality of it, the milieu, as much as we did the more raucous stuff.
That's interesting. Which is more terrifying to you, the fact that at the time in Victoria, germ theory didn't exist -- no one thought to wash their hands before performing surgery -- or that feminism didn't exist? Women couldn't vote, weren't expected to talk, and if you acted out you had your uterus removed?
I think in terms of germ theory, I think the Victorians, for all of their blindness, made massive and astonishing scientific advances. Although I suppose its true that they were busy trying to prevent female emancipation, it was nonetheless born out of that era. You could argue that it was quite a progressive era on both fronts.
Having seen the film, I found myself thinking, "I've never seen a real picture of Dr. Granville, but I'm willing to bet that Hugh Dancy looks nothing like the real Dr. Granville."
(Laughing) Yes, I also have never seen a picture, so I couldn't say. I think the real Dr. Granville was quite a bit older. He wasn't a young idealistic doctor. In fact I just found out that he did invent this device, and then in fact realized, not unlike my character, what it did, in terms of what the actual effect it was having on women. But his response was to immediately try and stop them from using it, so he's not the pioneer we make him out to be.
Is it also fair to suggest that the real good doctor's wife was not, as Maggie Gyllenhall is in this film, a charming suffragette who could talk about socialism while wearing a black velvet dress?
Yeah. We took a very simple but brilliant premise, which was that great medical minds of their era were performing this astonishing practice on women without any knowledge of what they were doing, and then we just ran with it.
Working with Ms. Gyllenhaal though, its sort of like this Victorian character has got more than a touch of a thirties screwball comedy heroine. How great is it to have her to ping-pong scenes off of?
It's great. You know, that was pretty much my focus on the movie, because I thought the comedy in the Doctor's office was already taken care of. That stuff was great. The other thing that obviously happens in the movie is this relationship between me and her. That stuff I really paid quite a lot of attention to, trying to get that screwball element into it. We did play with the script. I'm a big fan of those movies, and I felt like there was a great opportunity for something you don't see very much of. There's not so much of it in this film, but that fast paced, verbal ping-pong. Essentially some of the scenes we took and crammed in more lines, but did them in the same amount of time. Apart from just wanting to be verbal, I wanted there to be some real antagonism between them, because that is obviously where sparks are born. That was kind of my personal agenda.
You get to work in this film with Jonathan Pryce, who has never looked more like an owl in a suit coat, and Rupert Everett, who's kind of this mix of Paul Lynde and Jules Verne. When you show up with scene-stealers like that, have you learned at this point to just step back and let them swing through the fences?
No, I don't think anybody ever thinks like that. That would be self-defeating, I think. No we all had different roles to play, and I don't just mean the characters we were playing, but different dramatic functions. As far as John and me in particular -- I mean Rupert is different, because his character is so extreme. He is can say anything. He's out of time.
He's that little bit outside the film.
He's that little bit outside the film, so he can just drop some real bombs, and some real cherries. Otherwise no, we're all just concentrating on what we're doing. The difficult thing for me, which is related to what you're talking about, is that the movie has wildly different tones in it. I think that what drew me to it was, also the difficult challenge of it, was having all those tones in one movie. Ranging from extreme comedy to almost kind of social realism. The danger, personally speaking, is that I'm in the whole thing. I kind of felt like I kind of had to carry the weight of unifying them all.
You're sort of the connective tissue between all the different bits.
Right, and then the danger is you've got to do that, and also find something to do that actually interests you.
How weird is it to know that you're starring in a sex comedy to which you could easily take your grandmother?
I don't know that I would easily take my grandmother.
But at the same time its very discrete.
No, I know what you mean. I'm actually thinking of "Knocked Up." Would you call "Knock Up" a sex comedy? It's not entirely a sex comedy. The movie is very good-natured, and there's not much in there that we don't already know.
One quick side note, you're cast in a pilot for "Hannibal" where you play Will Graham?
We haven't shot anything. There is no pilot. NBC bought the first season, so nobody else is cast as yet. I've read the first episode, on the basis of which I signed up for it, and spoke to Bryan Fuller, who is the show runner.
Is that just a great excuse to watch "Manhunter" over and over again?
No, it's actually a reason for me not to watch "Manhunter"
Because you're afraid of picking up the flavor in the milk?
Yeah. The series begins with a back-story that is kind of suggested in "Red Dragon." There's thirty pages worth of back-story that's scattered throughout "Red Dragon."
It's a great book.
It's a great book, and Hannibal Lecter is already incarcerated, not unlike "Silence of the Lambs." It's striking to me how similar the structure is.
And he's this nice little garnish onto a great story.
He's a garnish onto a story, who's already been put away, and occasionally you're titillated with suggestion of what he got up to beforehand, and how Will Graham cautioned onto him, and what he went through in the process of apprehending him. Obviously they thought, "Hang on. Before we get anything, before we get to 'Red Dragon,' we've got to do all of that stuff," because its gold. That's where we begin.
Also let's be honest, it's a shame you don't get to watch "Manhunter," because that's an amazing film.
Well, I have that to look forward to.
What was your favorite Victorian euphemism for sexual or transgressive activity?
I don't know. You'd have to name some and then I could grade them.
Was it 'paroxysms?'
Oh yes, "Paroxysms" is great, and then I loved the line that Jonathan, while he's busy demonstrating his method on Georgie Glen, a terrific actress. He says 'As we know, the female cannot experience any type of sexual pleasure without the presence of a male  organ,' as a kind of coverall explanation of what they're doing, and why they don't see what they're doing. I think that's kind of brilliant.
("Hysteria" opens this Friday.)