Interview: Author and Producer James Patterson of 'Alex Cross'
On keeping his books safe from Hollywood, the importance of bad guys, and more ...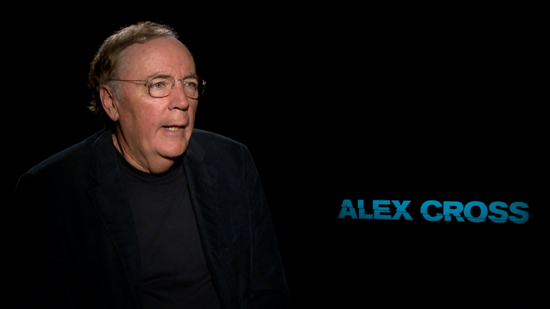 With his lengthy list of best-sellers in multiple fields, it'd be easy to dismiss James Patterson as the king of Airport literature. At the same time, Patterson is no fool -- he's got the clout and the money and the muscle to make sure his books are done the way he wants them to be, and he even owns 40% of "Alex Cross," the new film re-booting his popular Alex Cross character (once Morgan Freeman, now Tyler Perry) for the big screen. We spoke with Patterson in Los Angeles about crime fiction, Hollywood, and how he makes sure a story has a good bad guy first.

MSN Movies: When you sell a book to Hollywood, is it the old trick of, "Well they wrote me a check, I wrote the book, I can walk away," or do you like to be more involved?
James Patterson: I won't do that.

Yeah?
I won't do that, "Here, give me the check." I don't care about the checks anymore... and what I want to do, what really pushes me is I want to do projects (where, with) the end of it I'm going to go, "I really like that. I really like that movie. I really like that TV show," or whatever, that book. And in the case of this movie, I had script approval, I had actor approval, I had director approval, I owned up to 40 percent of the movie so yeah ... and I'm good to work with because I'm not an egomaniac and as long as everything feels like it's going to work I'm cool with it.
You do know that psychologically, a lot of egomaniacs wind up saying they're…
Saying they're not egomaniacs?
I'm of course being facetious, but does that feel like a great solution to the traditional writer's concern, to just make sure you own enough of the majority stake in it to…
I don't think that's realistic.
                                                                   BING: James Patterson l 'Alex Cross' 
Yeah.
Some people can do it, some people can't. I think that one of the things that people need to look at here is you have a lot of people who are now feeling that television is doing better work than movies. Television is somewhat more, I don't want to say writer(-dominated), but it's storyteller-dominate​d, which tends to be more writer-ly, and to make it as a show or as in a storyteller, you also have to be able to work with the director or directors and understand film. And I think the movie business too often is bureaucrats and art directors…
Trying to wedge a star into a story.
Or trying to, and the story doesn't have it. And the bureaucrats are going to be, "Well, this is what's going to work," or "Let me give you my idea." I think once people -- if you get too many chefs in the kitchen obviously it's a disaster -- but once people start throwing their ideas in they can no longer be objective. I think it's okay for them to say, "It just doesn't feel like it's working for me," but once they start saying, "Try this, try that, try this," they can't be objective about it anymore. I think that happens more than it should in some of the studio situations. I mean, so we're not doing that.
Right.
We didn't do that with this.
Did you ever have those meetings when somebody said, "You know Cross' character would be better if he fought crime with a talking car"?
Not with Cross, necessarily but I have had those meetings where ... I mean it was a film project where we actually did it and I have a partner in the film company and I said, "I cannot listen to these meetings anymore 'cause they make me nauseous. I cannot listen to these meetings." It wasn't being directed at me because it was screenwriters, and I felt so bad for these people because they were getting 12 different kinds of direction. It was a little incoherent, and there was just no way you could ever work with that. And it was small stuff. My directions are always big stuff. "Here's the big stuff and right at the end of the thing we'll come around and we'll dot all the i's and cross the t's at the end of it. And all the way through let's deal with the big stuff. Is this thing moving along or should we…"
Should we care about these people?
Exactly.
Do we know who they are? Do we know what they want?
Do we have a villain who's a worthy opponent? 'Cause if you don't it's a bore. You're just sitting there like, "I know where this is going, and I want to go."
I'm glad you mention that. In terms of writing thrillers, which you do with remarkable success, is having a good, solid, bad guy or bad person who's at the similar threat level of a protagonist or higher, is that imperative? Is a football game only as good as the other team?
I think it is, and there may be some exceptions but for the most part I think that is, or fascinating. With Matthew Fox in this movie, he's fascinating. Who is this guy? Where's he coming from? He's so over the top in a good way that you just kind of watch him in disbelief to some extent, and I like that. To me it's unusual to go in and see a villain that I haven't seen before
For more on "Alex Cross, watch our interviews with the stars and filmmakers: 
("Alex Cross" is in theaters Friday; you can find more information about the world of film on the Facebook page of MSN Movies and at the feed for MSN Movies Twitter.)