Videodrone new release: 'The Dark Knight Rises' and the Batman trilogy concludes
The comic book apocalypse comes to Gotham City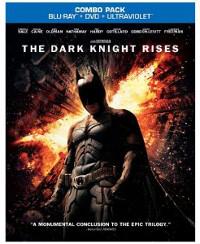 "The Dark Knight Rises" (Warner) doesn't want for ambition.
The culmination of Christopher Nolan's trilogy of high-minded comic book superhero action spectacles by way of pop-art social commentary, it pits The Batman (a terse Christian Bale) against Bane (a musclebound Tom Hardy in a creepy mask), a self-appointed horseman of the apocalypse. Bane takes the next logical step from The Joker's brutal pranks of the second movie, unleashing his own version of Occupy Gotham City, imprisoning the city and letting the criminals rule the streets in a storm of self-destructive anarchy, to prove the innate corruption of modern society under the guise of populism and "freedom."
There's also Anne Hathaway as a slinky cat burglar (Catwoman in everything but name), Joseph Gordon-Levitt as an idealistic young cop, return visits from Gary Oldman as Commissioner Gordon, Morgan Freeman as Fox, and Michael Caine as Alfred, references to the Ra's Al Ghul origins of "Batman Begins," an atomic device primed to destroy the city, and The Batman broken and dumped in a prison pit as much mythical metaphor as physical ordeal.
Nolan thinks big and directs in like fashion, giving the film the scale of an epic and enormous set pieces that threaten to overwhelm the story. Bane's reign of terror is literal, complete with the public trials right out of the French Revolution (with The Scarecrow as Robespierre), but Nolan's social politics are ambiguous at best. Trusting neither "the people" nor the appointed authority figures, Nolan embraces the self-appointed vigilante hero to do what the cops can't. It should be too much to hang on a costumed-hero fantasy but maybe this is exactly the crucible for this kind of story: modern myth meets pulp fantasy.
Continue reading at Videodrone
For more releases, see Hot Tips and Top Picks: DVDs, Blu-rays and streaming video for week of December 4, 2012