First Poster for 'Oz: The Great and Powerful'
Diehard "Wizard of Oz" fans vacillate between excitement and outrage at the thought of this 2013 film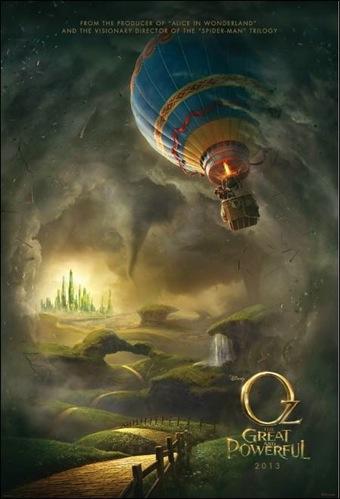 Well, it's really happening. As a lifelong lover of MGM's beloved "The Wizard of Oz," I'm not sure how I feel about Disney's upcoming "Oz: The Great and Powerful," directed by Sam Raimi (the original Spider-Man trilogy) and starring James Franco as the elusive wizard.

To be fair, this is not a remake per se, more like a prequel since the action takes place before Dorothy's house made mincemeat of the Wicked Witch of the East. But while Raimi's film is not based on the Judy Garland classic, elements of the new teaser poster (even the lettering of the word "Oz") are reminiscent of that classic film.
In addition to James Franco (who was third choice after Robert Downey, Jr. and Johnny Depp), the film will feature three witches, presumably the group played by Margaret Hamilton, Billie Burke, and the corpse under the Kansas farmhouse in the 1939 film. Here the magical sorceresses will be portrayed by the exciting trio of Michelle Williams, Rachel Weisz, and Mila Kunis. The screenplay for the film was written by Mitchell Kapner and Pulitzer Prize-winning playright David Lindsay-Abaire ("Rabbit Hole"). Producer Joe Roth is hoping to repeat the success he had with Tim Burton's "Alice in Wonderland."
"Oz: The Great and Powerful" opens in theaters on March 8, 2013.