Weekend box office: James Bond beats Santa Claus for the #1 spot
Older films dominate this weekend's Top Ten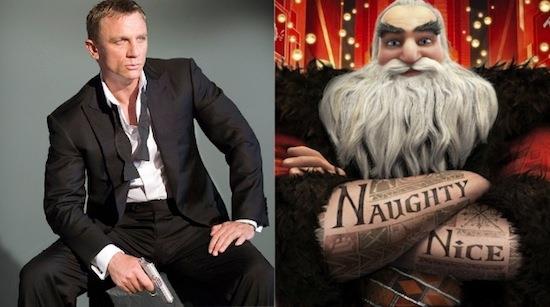 James Bond and a group of beloved children's legends finally succeeded in driving a stake through the box office status of those Twilight vampires. In its fifth week on North American screens, "Skyfall" resumed its place at the top of the heap, with Santa and the Easter Bunny nipping at Bond's Italian shoes with "Rise of the Guardians." Not exactly a boffo weekend for the studios overall, but with Christmas bells in the air and several long-anticipated films just around the bend, all that drinking at Hollywood's holiday parties was more about cheerful optimism than drowning one's sorrows!


"Skyfall" regained the top spot in the North American box office by a nose, with $10.7M (at 3,401 theaters) and a new domestic total of $261.4M. "Rise of the Guardians" followed closely behind at #2, earning $10.4M (at 3,639 theaters) for a three-week domestic gross of $61.7M. This season's juggernaut, "The Twilight Saga: Breaking Dawn, Part 2," fell (at last!) to #3, with $9.1M (at 3,646 theaters) and a four-week domestic total of $268.6M. "Lincoln" stayed put at #4, bringing in $8.9M (at 2,014 theaters) for a new domestic gross of $97.1M while "Life of Pi" remained at #5, with $8.3M in ticket sales (at 2,946 theaters) and a three-week total of $60.9M.


At #6, "Playing for Keeps," with Gerald Butler and a bevy of adoring soccer moms was the only new film that made it to the Top Ten, but the preponderance of bad reviews and even worse worth-of-mouth may send it packing just as fast. For now, the film managed to earn $5.7M (at 2,837 theaters). Disney's popular "Wreck-It Ralph" was the #8 film, adding $4.8M (at 2,746 screens) to its now $164.4M domestic total while "Red Dawn" stayed at #8, earning $4.2M (at 2,754 theaters). After six weeks, "Flight" stayed put at #9, with $3.3M (at 2,431 theaters) and a domestic gross of $86.2M while Brad Pitt's "Killing Them Softly" dropped to #10 in its second week, earning only $2.8M (at 2,424 theaters).
There's only one big contender next weekend before the holiday rush, but it's a doozy. All eyes will be on Peter Jackson's "The Hobbit: An Unexpected Journey," the first of three Hobbit movies that may well approach the worldwide success of Jackson's "Lord of the Rings" trilogy. Those films have earned almost $3 billion to date worldwide. Yes…I said billion! Move over, James.