Weekend Box Office: Scottish Girl Makes Good
Disney drives a stake through "Abraham Lincoln: Vampire Hunter"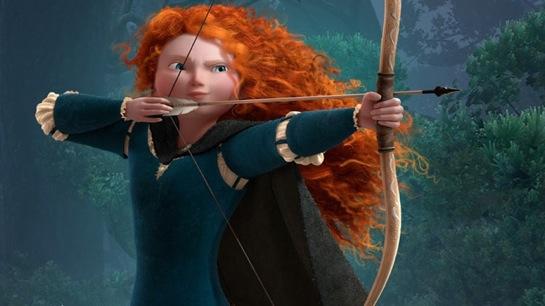 Despite a few lukewarm reviews, the worldwide success of "Brave" on its opening weekend proved that Pixar still has it and that audiences are hungry for family-friendly fare. Set in 10th-century Scotland, the visually stunning film may not have wowed every critic, but audiences flocked to theaters to watch redheaded Merida do battle to save her family. Does every successful character this year have to be a skilled archer? Any truth to the rumors that scenes from "The Amazing Spider-Man" are being reshot so that Emma Stone's Gwen Stacy can take down the Lizard with a bow and arrow? This weekend's other big studio release, "Abraham Lincoln: Vampire Hunter" trailed a distant third, far behind the Scottish lass.


Giving Pixar it's 13th straight opening weekend at #1, Disney's animated 3D epic "Brave" amassed an impressive $66.7M domestic total during its first three days (at 4,164 theaters). "Madagascar 3" held on to the #2 spot in its third weekend, adding $20.2M (at 3,920 theaters) to its domestic total of $157.5M. Fox's highly touted "Abraham Lincoln: Vampire Hunter" failed to get much traction. While opening at #3, the 3D action horror mash-up only brought in $16.5M over the weekend (at 3,108 theaters). Moving to #4, "Prometheus" earned $10M (at 2,862 theaters), sending its cumulative domestic total over the hundred million-dollar mark to $108.5M. At #5 in its fourth week, "Snow White and the Huntsman" added another $8M (at 2,919 theaters) to its strong domestic total of $137M.


Tied with the fairest of them all, "Rock of Ages" also brought in $8M this weekend (at 3,470 theaters), while "That's My Boy," at #7, was close behind with $7.9M in ticket sales (at 3,030 theaters). Finishing its second month in the Top Ten, "The Avengers," at #8, added $7M (at 2,230 theaters) to its astounding domestic total of $598.2M while "Men in Black 3" slipped to #9, with a $5.6M weekend (at 2,462 theaters) and a North American total of $163.3M. Finally, at #10, Focus Features' endearing but quirky "Seeking a Friend for the End of the World" had a $3.8M weekend (at only 1,625 theaters).

Sadly, two of the films that left the Top Ten this weekend were, in my opinion, the best of the lot: "Moonrise Kingdom" and "The Best Exotic Marigold Hotel." The much-derided "Battleship" was also kicked to the curb. Next week brings a range of offerings to attract a diverse group of moviegoers. "People Like Us" finds Chris Pine and Elizabeth Banks struggling through a difficult sibling relationship. "Ted" finds Mark Wahlberg struggling to grow up despite the fact that his best friend is his teddy bear, "Madea's Witness Protection" finds Tyler Perry struggling to stay ahead of the mob and film critics out for his blood, and "Magic Mike" finds Channing Tatum and Matthew McConaughey struggling to keep the family jewels inside their tiny thongs. Calling Spider-Man! Hurry—we need you!