Alan Tudyk of 'Tucker & Dale vs. Evil'
On horror-movie rules, 'Firefly' continuing, and getting paid 'after the robots' on 'Transformers 3'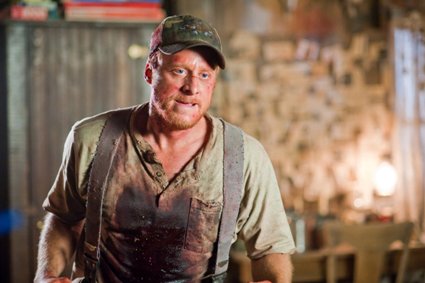 In the horror satire "Tucker & Dale vs. Evil," good ol' boys Tucker (Alan Tudyk) and Dale (Tyler Labine) are working on their fixer-upper cottage by the lake when a group of pampered college kids roll through -- and mistake the gentle and goofy pair for homicidal hillbillies. In the resulting panic, the college kids prove to be their own worst enemies -- fatally -- while Tucker and Dale try to survive the kid's hasty homicidal efforts at self-defense. It's a role tailor-made for Tudyk -- whose affable screen presence can pitch into something darker at the drop of a hat, and whose physical comedy skills belie a quick wit that can make any mere genre moment a twisting, tricky affair. We spoke with Tudyk by phone about his past project with Joss Whedon's "Serenity," his experience on "Transformers 3" and his work as an overall-clad innocent in "Tucker & Dale vs. Evil."
When you're shooting something like 'Tucker & Dale vs. Evil,' which I had the pleasure of seeing at Sundance, how many bad horror movies do you wind up watching as research?
Tudyk: That's a good question. I watched about six before I realized it was awful watching them, and then I thought, 'Why am I watching this crap? I don't have to watch this.' I gave them all to the actors playing the college kids, because they're the ones that should be watching them, because it's their point of view that they see the world in this way -- as a horror movie, college kids are the victims, hillbillies are the bad guys. I could have really stopped at one. Maybe if I wanted to really get into it, two. I could have just gone with 'Hills Have Eyes' -- one or two and stopped there. That gave me a good sense of it. They just became one movie; it was awful. There's so much gore and so much odd incest. It's frightening. I'm glad I got to be on the hillbilly side of things.
These things are fairly debased, but at the same time, they are a cultural currency, they're stuff that we have a roadmap for. Was this stuff that you watched in your youth? I feel like it's stuff that you outgrow, like light beer.
Tudyk: I never watched. I watched 'The Hills Have Eyes' -- half of it -- once in New York. It haunted my dreams that night; it gave me the worst nightmares. It was an awful world to visit. It was bizarre and twisted and disgusting. I've held the belief of why would you want to enter into that world. I like movies for bringing me into places that are fun or interesting. It's not that they all have to be fun; I like compelling movies and dark movies, but a movie that seems to have no point but to scare the s**t out of you, I'm scared just here on my couch next to my dog. I can find something to be afraid of, I'm sure. I don't need to watch a movie for that. I've stayed away from them. I do get that it is a cultural thing, and I did read some psychological dissertations on the idea of what this is all about, why do we need (this) in society, what is this fulfilling for us? They get very heady about us as a society ... and it gets really unhelpful really fast.
What research do you do to get your hillbilly on? The whole thing is that Tucker and Dale are these gentle, holy fools who wouldn't hurt a fly, but at the same time, they have to give off that vague air of underbite menace.
Tudyk: (Laughing) As far as the background of it, I grew up in Texas, and Tucker and Dale are branded -- what is branded as 'hillbilly' in Tucker and Dale is really a couple of good old boys, just some nice people. That's brought from the perspective of the college kids. When we're driving by and they see us with that menacing look, it's their perception of us that's menacing. They see Dale as this slack-jawed man-boy who has the ability to kill, when in fact he's just a slack-jawed man-boy with a really high-functioning brain -- at least the ability to recall facts. I was just patterning it off of my own experiences of growing up in Texas, of people I knew, even my own feelings. I went to a college for a couple of years in east Texas, and I would call myself a good old boy. (Well,) I was a college kid: I can't be a good old boy. I have relatives that are good old boys, and they're just normal people.
When you're doing a film like this, you're running around, doing all these fake blood gags, you've got prosthetic body parts being lobbed off, you meet your fellow actors and then they spend a lot of time screaming and running from you. Is it hard to put together the fact that, 'That's right, this is supposed to be funny?' Is there a disconnect between the working process and the end result?
Tudyk: There was, absolutely. That made for a difficult shoot. You're buoyed -- when you're making a movie -- by great days, really. 'That was hysterical, you were so funny.' There were a lot of days that Tyler and I left the set going, 'I don't know what we did today. Was that even any good?' It wasn't until we saw it put together that we got really excited, that we felt like the work had paid off. I hadn't actually put that together until just now. Maybe that's why it wasn't just the fact that we were on such a short shooting schedule and there was rain and it was cold and it was all the elements that work against any movie being made. It was also the fact that we weren't really there to enjoy the humor; we were actually acting like some guys having a miserable time on a failed vacation.
Let's talk about everyone's favorite Canadian giant, Tyler Labine. Had you known him before the shoot? Had you known his work?
Tudyk: No. I didn't.
You just met him and went, 'This is going to work?'
Tudyk: Yeah, I met him and got really excited. He's such an easygoing guy. He's really cool, easygoing guy. Funny and a hard worker -- that was the main thing from the beginning that was very different. I guess I've worked with very cool guys before, but he was like, 'Let's get together and let's work tonight.' The first night that we met, I went over to his apartment and we went page-by-page through the script and made up a back story for ourselves. That's something I've never done before or since. I did it in acting school, but even in acting school, if you said to one of your fellow actors, 'Hey, let's get together tonight and come up with a back story,' they'd go, 'Nerd.' It's really good work to do, and it's somehow not done that often. The work that we did that night was huge -- and not just the actual work we got done; it was coming together to make it the best we could from the very beginning, and that followed through all the way through.
This summer, we had the chance to see you in 'Transformers: Dark of the Moon.' They always talk about backing the money truck up to an actor's house, but does the money truck go 'beep' as it backs up slowly when Michael Bay comes calling, when Michael Bay wants you to play a slightly ominous, sexual European bodyguard/butler? Does the money truck go beep, or was it more a case of you saying, 'When the hell am I going to be inside a movie like this again?'
Tudyk: I'm a character actor, so the money trucks are more like pickup trucks; they aren't really big trucks. Character actors, we're working actors. Nobody's going to go see 'Transformers' because Alan Tudyk's in it. That's what makes your price really big -- at least the paychecks that get reported, that you're like, 'Oh my God, those guys make a lot of money.' I do well, but as far as the money truck, that's reserved for the big stars of that movie. Then after that, all of the robots and all of the cars. You're good if they're paying you more than they are spending on your costumes.
At a certain point, I was looking around 'Transformers' going, 'What a minute, Alan Tudyk, John Turturro, Frances McDormand, John Malkovich. If this were any other movie, it'd be great.'
Tudyk: I have to say, though, the working with all those, I was beside myself. I'd worked with Frances McDormand before. She's wonderful. That was more like, 'I can't believe I'm working with her again.' John Malkovich, I can't believe I was in the same room as him. Then Turturro, forget about it. I was with him every day that I worked; that guy's awesome.
Which do people bother you about more: 'Dodgeball' or 'Serenity?'
Tudyk: I think the word bother -- I'm not bothered usually by people. People will approach me about 'Serenity' and 'Firefly' more, just because people who like that movie and that TV show, they really liked it. People who liked 'Dodgeball,' some people really like it, but usually those people just shout out, 'Gar!' That's the extent of it, or maybe, 'Steve the Pirate!' That's the beginning and the end of it, whereas I actually meet the people who love 'Serenity' and sometimes I talk to them about my death and assure them it was all okay.
At the same time, you also have that great out when some nerd comes sniffling around going, 'Will there ever be another film or sequel?' you get to wave your hand and say, 'Hey, I'm dead, buddy; doesn't matter to me either way.'
Tudyk: It's sad. I used to say, 'Joss (Whedon, 'Firefly' creator) always had a prequel,' and then we were all together for Comic-Con -- not the whole cast, but I was with Adam Baldwin and Nathan Fillion and Jewel Staite -- and I was like, 'There's no f**king prequel. We're 10 years older?' We're picking up these characters five years before you met them? I don't think so.
Now you have to pitch Mr. Whedon on catching younger actors on doing 'Firefly High' and you somehow getting a royalty out of it.
Tudyk: I bet that story will come back around; I don't know. Who f**king knows? I do know there's still a lot of love for it, and that's not just the fans, that's the people who did it, myself included and Joss. When people do ask that, 'Is there going to be something?' I always think there would have to be something. Here's one thing I think you will see at some point -- if I say this, I'll get in trouble at some point, so I've not spoken to anybody; this is just my opinion -- in another 15, 20 years, (a story will) pick up Captain Mal (Nathan Fillion) and what he's doing.
10 to 15 years older Mal?
Tudyk: 15 years, Mal's living on some moon somewhere.
We have to get back to 'Tucker & Dale vs. Evil.' Your three wilderness/woods survival tips if you suddenly find yourself plunged into a horror film or a horror comedy.
Tudyk: Really scrutinize the leaves that you plan to use as toilet paper. Don't take the first thing you see; there are some leaves that can leave stinging rashes. There was a plant in Australia that gets into your skin like the worst fiberglass and it never comes out -- the pain never stops. Two of the first settlers used it as a toilet paper, and they ended up shooting themselves to stop the pain. That's number one. Number two, if you have girls that are there in a horror-type situation, you need to get them in some better shoes. Get them in a better shoe situation, because you don't want them falling down, because really when push comes to shove you're going to have to leave them behind. I'm not thinking a specific woman right now, but make sure everybody's got a good footwear situation, that they have bad footwear remedied out as fast as possible, (replaced by)  makeshift shoes. Number three, I'd say go on the attack. I know 'Tucker and Dale' shows that wouldn't work. But they were idiots. I think a lot of these killers in these movies get away with it because (victims) scatter: Everybody runs; everybody lets fear take them over. If you pool your resources, stick together, you can take them out. Unless they're like Freddy Kruger -- that's supernatural. I don't know how you fight that s**t.
("Tucker & Dale vs. Evil' is currently available via video-on-demand, and will be in theaters Sept. 29.)