Interview: Morgan Freeman Finds 'The Magic of Belle Isle'
The Oscar-winning actor enjoyed making this small Rob Reiner film in between several big budget blockbusters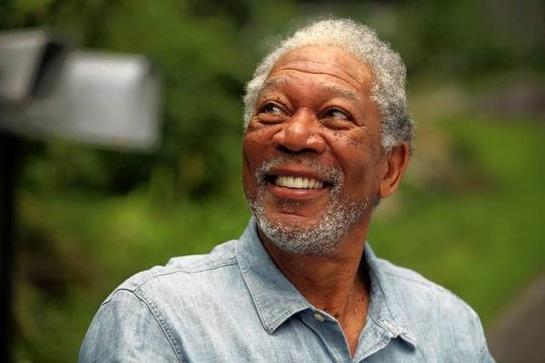 Sitting down to talk to Morgan Freeman, it would be easy to feel you're getting a private audience with God, a part he played in "Bruce Almighty" and its sequel and one that seems to fit his calm presence and awe-inspiring career. But the 75-year-old Academy Award winner is so sweet, so down to earth, you quickly realize that he suffers from no deity complex himself! Freeman, who's about to reprise his role as Lucius Fox, Bruce Wayne's friend and CEO in "The Dark Knight Rises," also manages to fit smaller, quirkier films into his busy schedule. His newest such film is Rob Reiner's "The Magic of Belle Isle," in which Freeman plays Monte Wildhorn, a famous Western novelist who, through a series of painful life events, finds himself in a very dark place. More interested in drinking than writing these days, the now wheelchair-bound Wildhorn rents a lakeside cabin for the summer in picturesque Belle Isle. When he meets his neighbors, a single mom (Virginia Madsen) and her three young daughters, he is closed off at first, but he eventually begins a journey that helps him reclaim his own passion and inspiration.

When I met up with Morgan Freeman at a hotel in Beverly Hills, I told him how I watched him religiously as a kid, not on film but when he was a cast member on the beloved PBS children's show, "The Electric Company," which ran for several years in the 1970s. Freeman appeared in the comedy sketch show opposite Rita Moreno and Judy Graubart, who was a friend of my family.
Morgan Freeman: Oh, Judy! Jennifer of the Jungle! She was so funny!
MSN Movies: So these days how do you go about choosing what films you do?
Well, there are a lot more ingredients now than just getting a job! I always look at who the director is, who do I want to work with, the other actors in the film, and, of course, the script—if the story is good and the character is compelling. 
You made "The Bucket List" with Rob Reiner. Was the chance to work with him again a big draw for this film?
Absolutely! I love Rob, both as a director and as a person. He's hug-alicious! People like that are just real, there's no pretense on or off the set. And Rob always has a very warm and happy set. He's an even-tempered person himself, so his crew acts accordingly, they're never running scared like you see on some sets. Same thing for the actors. Rob Reiner has so many remarkable qualities—I call him my cinematic Mahatma!
You have a lot of scenes with the three young girls in this film (Madeline Carroll, Emma Fuhrmann, and Nicolette Pierini). Do you find it more of a challenge working closely with child actors?
What I generally do if I sense that a young person is a little awed in my presence is I go to work to "un-awe" them. It doesn't take very much! I've never had a problem working with young people—I was a child actor myself, so I give them a lot of latitude. Really, all you ask of any actor is to come prepared.
I was happy to see Virginia Madsen in the film, we don't see enough of her on screen. What can you say about working with her?
She's just radiant. A lovely, lovely actress and a lovely person. Virginia had a lot of surprising turns on set—she'd often do little things that you weren't expecting which really added a lot to our scenes.
What do you hope people take away from this film?
I never have any hopes of that sort at all, I really don't. When I read the script, I thought, this is a good story so I'm going enjoy being part of the telling of it. All I hope for in an audience is that they don't ask for their money back, because that would mean I didn't do my job! But beyond that, they can tell me what they got out of it, I won't tell them. 
You're in some huge movies coming up including, of course, "The Dark Knight Rises." Is it a conscious decision on your part to intersperse those with much smaller films like "The Magic of Belle Isle?"
It's not so much a conscious thing, you just take it as it comes. You may do two or three movies in a row that don't offer you much in the way of salary, but then it may go the other way, too. I'm at a stage where my career doesn't depend on how much money I'm going to make which is obviously a great place to be—you just go for what you want to do. If the film hits, that's great, but even if it doesn't hit, you still had a good time doing what you were doing.
Can you say something about the other movies you have in the works?
I just finished two movies that I think are going to be very well received. One is called "Now You See Me" with a large well-known cast including Michael Caine, Mark Ruffalo, Jesse Eisenberg, and Woody Harrelson. I also did this science fiction movie with Tom Cruise called "Oblivion" that I expect may be next summer's big opening.
You seem to be revered by so many people. Does that ever feel like a burden?
No, the only thing that can sometimes get a little tiring is trying to be in public. If you want to go the cleaners or to the drug store or stop at a gas station, that gets to be problematic. You see all these people running toward you with their cell phones! I think people think it's an insult if they ignore you. They think, "I've got to let you know that I know who you are and appreciate your work. Can I have a picture? And one with my mother, father, and sister?" I'm amazed all the places I go around the world where that happens.
You mentioned you were a child actor. Did you always know this is the life that you wanted?
Oh yes. I started very young and that's what I did all through school. I was never a jock, always an actor. Acting is my lifelong passion.
"The Magic of Belle Isle" opens today in select cities and is available on demand.