Best of the Fest: Director Laura Colella and the Cast of 'Breakfast with Curtis'
This funny, heartwarming film was made with non-actors and no budget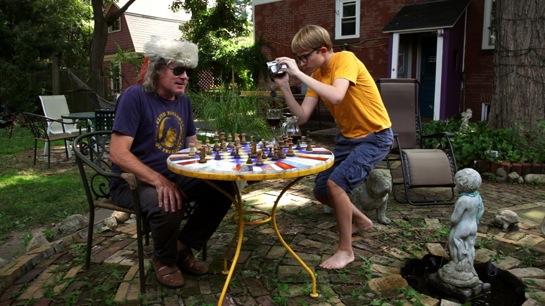 I've seen many features at this year's indie-rich Los Angeles Film Festival but the one that charmed me the most was Laura Colella's delightfully quirky "Breakfast with Curtis." Trying to get funding for another script she had written, the talented Colella ("Tax Day," "Stay Until Tomorrow") got so frustrated that she started thinking about how she could make a movie on less than a shoestring. For the past 15 years, Colella has lived in a eclectic three-story house in Providence, Rhode Island, dubbed "the Purple Citadel." She gathered the three families who lived in the house as well as the folks next door (related to some of the people in Colella's home) and asked them if they'd be willing to appear in a film. They discussed script ideas, some based on actual events, others invented, and decided to give it a go. The fact that most of these folks had never stepped foot in front of a camera didn't seem to faze Laura or her multi-aged cast in the least.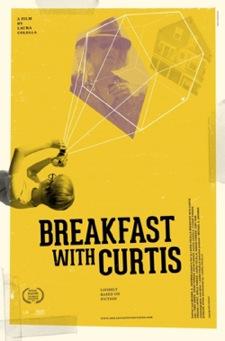 In the film, Syd (Theo Green), an eccentric bookseller with delusions of grandeur, creates a rift with the family next door when he gets into an argument with their young son, Curtis (Gideon Parker). Five years later, with tensions still in the air, Syd asks Curtis (Jonah Parker), now a shy, introverted teen, to help him with a video project. The reluctant boy ultimately agrees and he shows remarkable creativity and skill. Gradually, as Curtis emerges from his shell, old wounds begin to heal. Past connections are revealed, new ones are sparked, and the power of community brings changes for everyone.
This deceptively simple story is beautifully executed and packs a big emotional wallop. "Breakfast with Curtis" is a poignant coming of age story not only for the young man whose interactions with these eccentric characters changes him forever, but also for the rest of this bohemian enclave. I sat down with Laura Collela and most of the cast just before the world premiere of the film: Aaron Jungels, Collela's partner on and off the screen, Adele Parker, who plays Syd's free-spirited wife, Jonah and Gideon Parker, the brothers who play Curtis at different ages, and Virginia Laffey and David Parker who play Curtis's initially uptight parents. 
MSN Movies: I thought there was better acting in this film than in many of the features I've seen this year. How on earth were you able to get such skilled performances from this group of people who had never acted before?

Laura Colella: Part of it is that we've known each other for a really long time and we hang out a lot. I could hear their voices as I was writing so I think that made it easier for them. We also had an incredibly relaxed shooting environment. The crew was just me, Aaron, and one other guy who was a student of mine at the Rhode Island School of Design. Unlike many films where you shoot for 12 hours a day, we would film for only a few hours at a time. And everyone was playing someone pretty close to their own personalities except for Jonah—he's much better adjusted than Curtis!
I know there are a lot of fictionalized elements in the story, but those cool videos we see Curtis making with Syd really happened?
Yes, Jonah and Theo started that project when Jonah was thirteen. The excerpts that you see in the movie are from those actual videos, they're really amazing!
When you first went to your friends and neighbors, were they reluctant to get involved since they had no acting experience?
Oh, no, they were very excited about it! They were like, "You HAVE to make this movie!" Everyone was very determined to make it happen.
I bet most people are flabbergasted when they find out there are no professional actors in the cast. I know I was!
Yes, it's very gratifying! I didn't even tell my agent about it because I was afraid he'd think, "Okay, I'm dropping her, she's clearly not serious about her craft," but when he saw the film he said, "Wow, where did you find this amazing cast of actors?" When I told him he couldn't believe it.
I have to admit that when Syd first approached Curtis about making the videos, I was worried that something inappropriate might happen between them. I was very relieved that there was nothing like that in the film.
I think when people watch a movie these days they are trained to expect these huge, dramatic plot developments. Will Sadie, the older woman in the film, die? Will something weird happen between Syd and Curtis? Is something really bad going to happen to the other characters? That's just not the film I was interested in making. This is actually the third film I've done that does not have a traditional conflict-based plot. Of course that makes the film a little harder to talk about which is my cross to bear since I intentionally avoid making movies that exploit the same kind of conflict and drama we see so often. I'm much more interested in telling stories that are nuanced and show different parts of people's life experience.
Which I think helps all of us relate so strongly to the different characters. I certainly could see bits of myself in Curtis, Syd, and several others.
For me, the plot is never what's the most interesting. It's all in the details and in the spirit and intelligence behind the movie—not just about what happens.
There's a lot of backyard drinking in the film, and a fair amount of recreational drug use. I know three of you are university professors. Are you at all worried about your students or colleagues seeing the film?
Virgina Laffey (history professor): No, I don't think so. We haven't gotten any flack yet!
Adele Parker (professor of French language and literature): Hey, it's just a movie, right?
Laura (who teaches 16mm film and directing): I worried a little about showing it to my students—especially certain scenes like when I'm kicking off my underwear—but they loved it!
Aaron Jungels (artistic director of an experimental dance theater company): I like the part in the film when Curtis tells Syd that he showed the videos to his class at his hippie school and he was worried about all the drinking and the "swears."
Jonah, when you made those videos with Theo, did it really help to heal the rift from when you were younger? What caused that rift in real life?
Jonah Parker (now 16): Yes, we were definitely better friends after making the videos. Theo doesn't really relate that well to younger kids, and to be fair, we were trying to mess with him a little bit. We all knew him, but he was a bit of a grouch. He had us put up a bamboo fence between our two yards so he wouldn't have to look at us! One day, for some reason, we started taking handfuls of mulch and throwing them up in the air. I don't even remember what we were trying to do, but he interpreted it as us throwing mulch into his window. He yelled at us and said something about blasting our brains out if we didn't stop. He was mad but I don't remember interpreting it as a real threat. What made me upset was that when my dad came out and looked so angry.
Virginia (Jonah's mother): Yeah, Theo called me and said something like, "You've got to stop them. If you don't, I'm going to have to hurt them!"
Not really the kind of joke that you make to the parents of young children!
Virginia: Exactly! So we told our kids to stay away from him and there was a kind of rift. But that changed over time.
Laura: When we talked about story ideas, it felt like that episode was still a little bit of a tender subject. It's something we all laugh about now but the tension worked well for the film.
Laura, how was it working with such a small crew after your other two films?
My training was very hands-on so I loved it. My other features had large crews so I was very excited to shoot this film myself.
As I watched the film I kept thinking what a great production designer you must have had—everything in the houses looked so lived-in and authentic!
(Laughing) Yeah, extremely authentic! We just used everything what was there, we didn't change a thing!
Now that you guys have starred in a movie, are you smitten with the acting bug?
David Parker: Yes! We told Laura that we have to be in all of her future films!
Aaron Jungels: We insisted on a five-picture deal!
("Breakfast with Curtis" is screening at 8:10 tonight, June 20, at the Los Angeles Film Festival at the Regal Cinemas.)