Weekend box office: Return to Middle Earth
"The Hobbit" breaks all-time record for biggest December weekend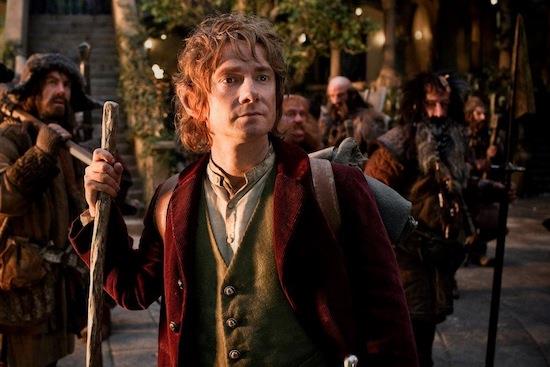 Despite mixed reviews and a smattering of unfavorable comparisons to Peter Jackson's "Lord of the Rings" films, the first entry in Jackson's "Hobbit" trilogy ruled the box office this weekend, both domestically and abroad. The film, now playing in several different formats including 3D IMAX as well as a revolutionary new 48 frames-per-second, earned $84.7M in North American markets and $132.8M internationally, making for a record-setting worldwide total in its first few days.


Dwarfing every other film on the Top Ten, Warner Bros.' "The Hobbit: An Unfinished Journey" brought in $84.7M over the three-day weekend (at 4,045 theaters), becoming the most successful Christmas release of all time and single-handedly saving the North American box office from what would otherwise look like holiday doldrums. Holding steady far behind at #2, "Rise of the Guardians" earned $7.4M (at 3,387 theaters) while "Lincoln" inched up to #3 with $7.2M in ticket sales (at 2,285 theaters). Slipping to #4, "Skyfall" earned $7M (at 2,924 theaters) for a new domestic total of $272.3M while "Life of Pi" stayed put at #5 with $5.4M (at 2,548 theaters) and a domestic gross of $69.5M.

In its fifth week, "The Twilight Saga: Breaking Dawn, Part 2," finally dipped below the top five films, adding $5.1M (at 3,042 theaters) to its now domestic total of $276.8M. Remaining at #7, "Wreck-It Ralph" brought in $3.2M (at 2,249 theaters) for a new domestic gross of $168.7M while "Playing for Keeps" continued its slide to #8, earning $3.2M (at 2,840 theaters). At #9 in its fourth week, "Red Dawn" added $2.3M (at 2,250 theaters) to its new domestic total of $40.8M. Finally, while still in limited release at only 371 theaters, "Silver Linings Playbook" managed to break into the Top Ten with $2M in ticket sales.
In the last shopping weekend before Christmas, expect to hear from a few bickering duos: Barbra Streisand and Seth Rogen in "The Guilt Trip," Paul Rudd and Leslie Mann in Judd Apatow's "This Is 40," and Tom Cruise and his conscience in "Jack Reacher." We'll also see limited Oscar-qualifying runs for Kathryn Bigelow's "Zero Dark Thirty," a film that's already sweeping the end-of-the-year awards from critics' organizations as well as Michael Haneke's much-heralded French-language drama "Amour."