Videodrone Blu-ray: 'Lethal Weapon Collection'
MSN has an Exclusive Clip from the Blu-ray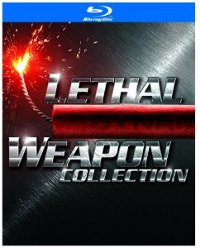 "Lethal Weapon" (1987) introduced America to Riggs and Murtaugh, who became the country's favorite buddy cop team of the eighties and nineties. "Lethal Weapon Collection" (Warner) collects all four films on Blu-ray, including the Blu-ray debuts of entries number "3" and "4."
Mel Gibson is suicidal firecracker Martin Riggs, a Vietnam Vet whose reckless stunts earn him a reputation as the LAPD's least desirable partner, and Danny Glover is aging family man Roger Murtaugh, a veteran detective who wants nothing more than to gracefully live to see his pension, in the explosive and edgy original film. Richard Donner's action smash is sleek, stylish, and practically non-stop action, but it's the chemistry between the combustible energy of Gibson and the paternal reserve of Glover that makes this combination so lethal.
A sequel was inevitable, so "Lethal Weapon 2" sent Riggs and Murtaugh after a South African drug syndicate, tossed Joe Pesci into the mix as a comic foil, and upped the ante of explosions, car chases, and apocalyptic property damage. Kung-fu kicking Rene Russo signed on for "Lethal Weapon 3," a "mad genius run amuck" adventure rushed into production without a finished script (and it shows in sloppy ad-libbed scenes) crammed with wild high speed chases and spectacular explosions. When "Lethal Weapon 4" hit screens in 1998, the starring cast had ballooned: Chris Rock joined Gibson, Glover, Russo and Pesci to take on a Chinese counterfeiting and slavery ring led by Hong Kong martial arts superstar Jet Li. Director Richard Donner helms every installment of his franchise, topping the frenzy of action and pyrotechnics and property damage with each new feature. Watching the arc of the "Lethal Weapon" franchise is like a crash course in American action cinema of the past decade: bigger, faster, louder. Yet at the heart of every film is Riggs and Murtaugh, mismatched partners who become unlikely buddies, ready to lay their lives down for one another.
Continue reading at Videodrone for more on the supplements and an exclusive interview clip with director Richard Donner and stars Mel Gibson and Danny Glover from the Blu-ray.
For more releases, see Hot Tips and Top Picks: DVDs, Blu-rays and streaming video for May 22