Interview: Ewan McGregor of 'The Impossible'
How a real-life family survived one of the deadliest natural natural disasters in history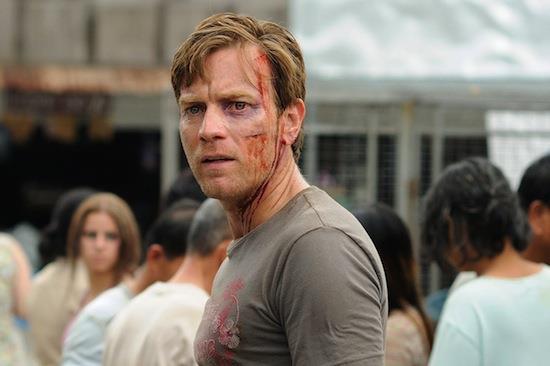 The new English-language Spanish film, "The Impossible," may be the most harrowing film you'll ever see. Directed by Juan Antonio Bayona ("The Orphanage"), it tells the true story of one family's experience during the deadly Indian Ocean tsunami of 2004, an unparalleled natural disaster that killed hundreds of thousands of people in several countries. Ewan McGregor and Naomi Watts play a couple enjoying a Christmas holiday in Thailand with their three young children (Tom Holland, Samuel Joslin, and Oaklee Pendergast) until the tsunami strikes on the morning of December 26. The film was made with the help of the real-life family as well as many Thai survivors, and it's a devastating but ultimately inspiring story. I sat down with Ewan McGregor to talk about the emotion-packed film.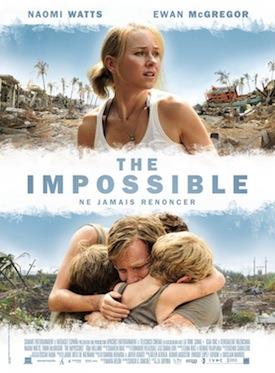 MSN Movies: The depiction of the tsunami in the film is utterly horrific and breathtaking. I was stunned by how incredibly real it looked.
Ewan McGregor: I know! I don't know how Juan did it. We didn't have a huge budget for this film, nothing like what you have for a big studio movie. I remember they got a quote for CGI special effects to create the wave and the quote was something like three times our entire budget! So he said, "Okay we'll just have to do it with real water!" I don't think he knew at the time how he was going to pull that off but he spent a year planning it. That's the amazing thing about Bayona as a director and also about the whole Spanish film culture. They were so well prepared, everything was perfectly thought out.  
I can only imagine what it was like shooting in all that water.
He started with a tank in Aliconte in southern Spain and Naomi and Tom were in that water for six weeks! Four weeks in the tank to do their passage through the wave and then two more week in an underwater tank which Naomi said was just horrible. You get very panicky when you film underwater and Naomi was spun around and around with the camera in another rig spinning a different way. It created this incredible, visceral effect.
Did you have any reservations about doing a film about this tragic event that killed so many people?
Yeah, actually. When I was told that I was being sent a script about the tsunami I wondered if it was a good idea. Why make a film about it? Would it be disrespectful in any way to all those people who lost their lives? But by the time I finished reading the script all those fears had gone. This is a true story about a real family. I think the worry from people who haven't yet seen the film is that we're somehow "using" the disaster as a way to make a disaster movie, but that's not what we've done at all, it was never our intention and it really doesn't look or feel like a disaster movie in the traditional sense.
We wanted to tell this true story about this one family. The director first heard Maria telling her story on the radio and was so moved by it that he became obsessed with telling it on film. And we tried to be as true to what really happened as possible, down to specific lines of dialogue that were actually said. I remember one line that really grabbed me when I read the script was when Tom's character sees the extent of his mother's injuries for the first time and says, "Oh, mom, I can't see you like that!" When I read that, I stopped and felt that I could be that little boy in shock seeing my mom's leg ripped open. There was something so truthful about it.
I think what moved me the most was watching the random acts of kindness depicted in the film in the midst of all that tragedy.
Me, too! And watching the mother's selfless actions. You know, Maria is a doctor so she knew she had lost way too much blood and was possibly dying. She kept asking her son what color her leg was and he was lying to her saying, "No, mom, it's okay, it's still red!" She knew the truth but she remained such a role model, caring for others, showing him how important it was not to lose your humanity during such a horrible crisis. I remember something I heard that's always stayed with me—there was this interview with a survivor of the Mt. Everest disaster in 1998. He spent two nights injured in the frigid cold and somehow managed to get back to camp with his arms frozen solid. There was also a guy there whose legs were frozen and when a helicopter finally reached the camp, this guy gave up his place for the man with the frozen legs, not knowing if the helicopter would ever make it back there and that he would probably die. I remember he said, "You want to survive these things, but you want to come out of it well, having done the right thing." That's how Maria felt, too.
She was amazing. Did she end up losing that leg?
No! She went through twenty-plus procedures, and it was a very long recovery. I think she was in that hospital in Singapore for close six months. Lots of surgeries and blood transfusions and she got terrible infections and almost died several times but in the end she made it and they managed to save her leg. It was an enormous miracle really.
I so believed you guys as a family. Did you have a lot of bonding time with the young actors who played your kids?
We did, we had a great time hanging out together and getting to know each other. And they were wonderful actors. You know, we stayed in the actual hotel, the Orchid, where the real family was during the tsunami, it's been rebuilt, and we were in the exact same places in the pool where they were when the wave hit.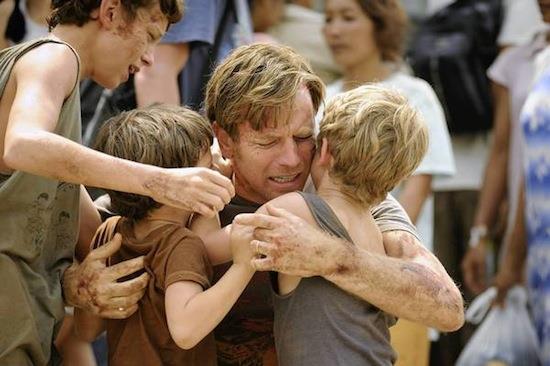 Wow. Tom Holland was so amazing as the oldest boy. That scene where he finds his two brothers and you're all reunited—I was crying my ass off!
Oh, God, me, too, trust me!
Did I read that, unlike Naomi, you didn't meet your real-life counterpart?
Not until about a month into the shoot. And it was quite a nerve-wracking moment! We weren't playing them as a Spanish, of course, so already I felt like I was very different, and I wanted my performance to be natural and to feel free to relate to the kids how it felt right to me in the various scenes. So when I knew he was coming to the set I thought, "Oh my God, what's he going to think? I'm so different from him physically and in every other way." But when I met him he said that he'd been shown a scene from the beginning of the film when we were in the airplane heading to Thailand and he called everyone and said, "McGregor got me completely! How did he do it without ever meeting me?" I was so relieved and realized how well written the script was. Our writer knew him and wrote him so well that by me playing the guy on the page he recognized himself!
"The Impossible" is currently playing in select cities. Click here to read more about the film and the real-life family.