Fox plans Germanic 'Gladiator' rip-off 'Arminius'
But is America ready to root for a German hero?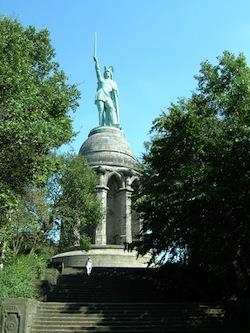 According to
Deadline
, Fox has picked up the rights to swords-and-sandals epic "Arminius" by screenwriter Frank Moll. The film would ostensibly center around the historical German hero, who was trained as a Roman legionary but
triumphantly/tragica​lly
switched sides after Emperor Augustus Caesar's invasion of Germania.
Those who remember 2000's Oscar-winning "Gladiator" may remember its opening battle scene taking place in Germania; this project promises to show the genesis of that conflict, with equal verve and flair. "Troy's" Wolfgang Peterson is producing. No word as yet as to a director or star.
The real question is, will America be ready for a German hero? Lest we forget, Arnold Schwarzenegger is Austrian; Christopher Waltz usually plays villains; and even mentioning the words "Germany" and "nationalism" in the same sentence is enough to give even the most
historically-ignoran​t,
average American teenager the cold wobbles. Then again, the Germanic tribes from the Roman era have as much to do with modern Germany as sauerkraut does with wiener-schnitzel: one's made out of fermented cabbage, the other out of deep-fried deer meat... Or maybe that was a bad analogy.