Library of Congress adds 25 films to National Film Registry
This year's additions include "Breakfast at Tiffany's," "A Christmas Story," and "The Matrix"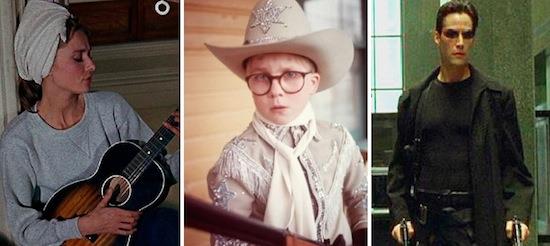 Worried that Audrey Hepburn's rendition of "Moon River" from her New York fire escape in "Breakfast at Tiffany's" might not make it to the next millennium? Do you want to make sure that future generations can watch little Ralphie's holiday quest for a BB gun in "A Christmas Story?" Does the fact that a hundred years from now there may be no trace of Keanu Reeves' Neo character from "The Matrix" keep you up at night? Well, you're in luck—these films are among the 25 films selected for inclusion this year in the National Film Industry, a list put together by the United States National Film Preservation Board to ensure that films that are "culturally, historically, or aesthetically significant" are preserved by the Library of Congress. Since 1997, members of the public have participated in the nomination process but the final list of 25 films is decided by Librarian of Congress James H. Billington and the Board that was first established by the National Film Preservation Act of 1988 and has been reauthorized multiple times since then by acts of Congress.
The Registry features classic films you'd expect to find on such a list including "Gone With the Wind," "Lawrence of Arabia," "Singin' in the Rain, and "Psycho," but it also includes obscure shorts and other oddities such as newsreels and experimental films. This year, in addition to feature films such as "Anatomy of a Murder," "Dirty Harry," "A League of Her Own," and "3:10 to Yuma," the list also includes "The Middleton Famly at the New York World's Fair," created by Westinghouse for its exhibit at the 1939 Fair, Oscar-wnning documentary short "One Survivor Remembers" with Holocaust survivor Gerda Weissmann Klein, and a series of early 1922 "Kodachrome Color Motion Picture Tests." There is also the 1914 silent version of "Uncle Tom's Cabin" that was one of the first films to feature an African American actor in a lead role, the NFL film, "They Call It Pro Football," and one of the oldest entries on the list, "The Corbett-Fitzsimmons Title Fight" that was made in 1897. My favorite film in this year's group may be George Cukor's sparking political satire "Born Yesterday," starring the Oscar-winning Judy Holliday and William Holden.
Check out the complete list of this year's additions after the break.
"3:10 to Yuma" (1957)
"Anatomy of a Murder" (1959)
"The Augustas" (1930s-1950s)
"Born Yesterday" (1950)
"Breakfast at Tiffany's" (1961)
"A Christmas Story" (1983)
"The Corbett-Fitzsimmons Title Fight" (1897)
"Dirty Harry" (1971)
"Hours for Jerome: Parts 1 and 2" (1980-82)
"The Kidnappers Foil" (1930s-1950s)
"Kodachrome Color Motion Picture Tests" (1922)
"A League of Their Own" (1992)
"The Matrix" (1999(
"The Middleton Family at the New York World's Fair" (1939)
"One Survivor Remembers" (1995)
"Parable" (1964)
"Samsara: Death and Rebirth in Cambodia" (1990)
"Slacker" (1991)
"Sons of the Desert" (1933)
The Spook Who Sat by the Door" (1973)
"They Call It Pro Football" (1967)
"The Times of Harvey Milk" (1984)
"Two-Lane Blacktop" (1971)
"Uncle Tom's Cabin" (1914)
"The Wishing Ring: An Idyll of Old England" (1914)