David Chase Goes for "The Now" in First Trailer for 'Not Fade Away'
The feature debut for 'The Sopranos' creator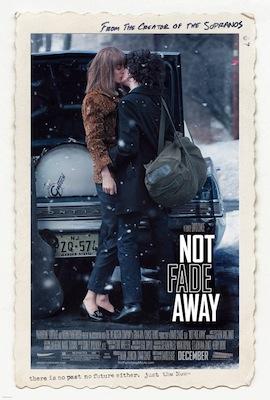 It's somewhat difficult to comprehend that "The Sopranos" creator David Chase has never made a feature film. After all, the writer and director created one of television's most beloved (and critically lauded) series of all time, why wouldn't he have already translated his skills to the big screen? Alas, "Not Fade Away" is Chase's first feature film, and it's a very personal one at that. As a kid, Chase dreamed of being a rock drummer, spending years in various 1960's bands around the East Coast, but those dreams never panned out quite like his dreams about movies and TV. So why shouldn't he make his big screen debut with a film about, well, kids in the 1960's who dream about being in a rock band?
Starring John Magaro, Will Brill, Jack Huston, and (of course) James Gandolfini, "Not Fade Away" centers on a group of friends who decide to "start a band like the Stones," and all the trials and tribulations that come with such a bold proclamation. And, yes, there are definitely some trials and tribulations in store for them. 
But just what is the aim of "Not Fade Away"? Is it about the bond between a band, the rift between fathers and sons who want different things, discoverin the girl of your dreams, finding your own way, or just an excuse to gawp at flawless set and costume design set to perfect music? It's hard to say, but at least Chase seems to know that of which he directs (and writes and produces).
Check out the first trailer for "Not Fade Away," thanks to
Apple
, after the break.
"Not Fade Away" will open in theaters this December.