Mondo's Limited-Edition 'Cabin in the Woods' Poster
You can own this movie collectible designed by the artists at Phantom City Creative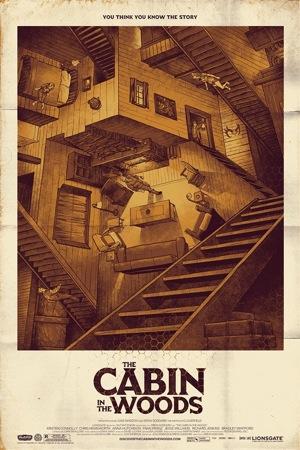 Continuing the fun partnership between Alamo Drafthouse Cinema and Phantom City Creative, Mondo, Alama Drafthouse's collectible boutique, has just come out with a beautiful new poster for Joss Whedon and Drew Goddard's upcoming "The Cabin in the Woods," a terrifying film that is nearly impossible to talk about without giving away all the surprising twists. Five friends decide to take a little weekend trip to…you guessed it, a remote cabin in the woods. Once there…well, stuff happens, and it's not what you think. I saw the film last night and was bombarded by nightmarish images in my sleep all night long. If you're a fan of horror films and want to see the genre turned on its head, you don't want to miss this film.

This original Mondo poster has a limited-edition of only 350 prints. Check here to see how you can purchase one. Commenting on the poster, director Drew Goddard said, "All I ever wanted in life was to make a movie that had its own Mondo poster. I can now exit this mortal coil a happy man."
"The Cabin in the Woods" will be released by Lionsgate on April 13. It stars Kristen Connolly, Chris Hemsworth, Anna Hutchison, Fran Kranz, Jesse Williams, Richard Jenkins, and Bradley Whitford.