Interview: John Madden, Director of 'The Best Exotic Marigold Hotel'
You will never see a more talented collection of actors in one film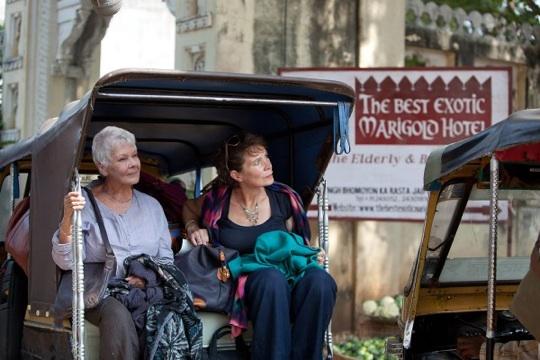 As far as I'm concerned, the film that should have lines snaking around the block this weekend is John Madden's "The Best Exotic Marigold Hotel." Keep your comic book icons, this movie has a group of acting superheroes that is without equal. Judi Dench, Maggie Smith, Tom Wilkinson, Bill Nighy, Penelope Wilton, Celia Imrie, and Ronald Pickup comprise an award-winning ensemble that has far more power than Captain America, Thor, and Iron Man combined. The credits of these actors are too numerous to mention but include stellar performances on stage, screen, and TV (Smith and Wilton are currently starring in the PBS sensation, "Downton Abbey"). The story, about a group of cash-strapped British seniors who travel to India to spend their retirement years at a hotel that looked much better in the brochure, is both funny and poignant, but the tears I had in my eyes throughout the movie had more to do with the awe-inspiring assemblage of talent. I spoke with director John Madden ("Shakespeare in Love," "The Debt") about working with this one-of-a-kind cast.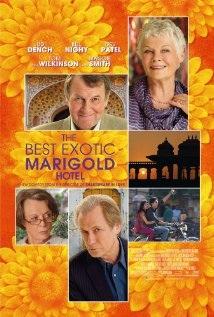 MSN Movies: You've worked with so many amazing actors in your career but this particular group seems off the charts. Did it ever feel intimidating to direct so many legendary actors in one film?
John Madden: It was an incredible pleasure and a privilege. I've worked with about half of them before and knew all the others, except for Maggie. It was a great piece for them. They weren't all shooting every day so the stories would reverberate back at the hotel such as "Wilkinson really nailed it today!" "Oh, really?" they'd say. "Was he that good?" There was a certain amount of competition in the group but also a kind of relaxation. All of these people know each other, they've all worked together before. I remember shooting the scene where you see all seven of them together at the airport. It's the moment just before their lives are about to become completely intertwined and it was so irresistible—I just put them all on the same bench. It was one of those meta-moments where you can't help but look at them and think, "Oh my Lord, what a collection!"
Was it always clear who would play which role?
There was a whole constellation of British actors revolving around the film when it was being developed—I'm sure most actors of a certain age were involved at some point—and we have an incredible embarrassment of fantastic actors in that age range! Judi had always been targeted for the role of Evelyn, but it's not difficult to imagine, for example Bill Nighy playing Tom Wilkinson's part or vice versa, but this is the way it worked out. 
It was interesting to see Dame Maggie Smith playing a former maid in the film.
Yes! One is so used to seeing her at the opposite end of the social spectrum! She's just brilliant in the part, don't you think?
Absolutely! When you're working with actors of this caliber, do they tend to veer off script and have their way with the characters?
As a director, it's your job to always be aware of the microcosm and macrocosm, how each little bit is going to fit into the rhythm and the tone of the whole film. And this is obviously a film with a mixed tone, very funny at times and sad and even dark at other times. Sometimes the actors weren't entirely sure where they were in that scheme so that's what a director is there for. But generally speaking, I would give them the circumstance, I'd talk about the shots I was going for, and then I'd just sit back and watch! These people are all extremely resourceful. I had a specific way I saw the scene where Bill Nighy is trying to repair the phone in the hotel room. Bill came to me and said he didn't want to touch it—brilliant idea! So he treats the thing like it's radioactive because he has absolutely no idea how to mend it. That was totally in Bill's head and it works perfectly, his physical sense is so wonderful. That's just an example, they all brought a huge amount to the table. We were lucky because at a certain point we knew who the actors would be so the screenwriter Ol Parker and I were able to write the script precisely for those people. They all had lots of input. Penelope Wilton, for example, helped us develop a whole strategy around her character. She's truly an undiscovered genius, I think—incredibly funny and very tragic at the same time.
I so appreciated the fact that the older characters were not presented in the usual sweet and precious way.
We treated both the characters and the actors with respect. It seems to me that's what's gone from the way we deal with old people these days. Mainly we don't want to deal with them at all—we tend to avert our gaze, don't we? So they become some sort of alien race and yes, mainstream culture tends to sentimentalize them out of all proportion. Grumpy, difficult, sweet, or a handful of other clichés. The opportunity we had with this film was to get into the middle of all that and see what it's really like from their perspective. And our construct in which they're thrown into this mad world is so funny and provocative.
Would you say that there's less overt ageism in the UK than we have here, both in movies and the overall culture?
I think maybe a little. I would say that America is particularly in denial about age. There's a sort of a sense that nobody here wants to be even middle age, God forbid, let alone actually old, and that those that can afford it are taking extreme measures to try and counteract it in a way that is preposterous and sad. Not that we're completely immune to such insecurities. I remember when Judi and Penelope and Celia saw the film for the first time, they were all kind of startled. They said, "Oh my God! Do I really look that old?" Most of us at a certain age tend to think of ourselves as being 20 or 30 years younger than we actually are! But they're all beautiful. Judi, for example, is just staggeringly beautiful at the age she is, and she gets more so every year, it seems. I find that very reassuring!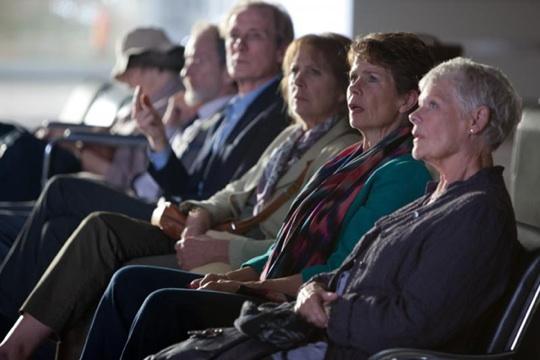 Sadly, I can't even imagine a film like being made in this country.

It's true, I honestly don't know if it could have been made in America. But it was something of an unusual beast, even in the UK. We tend to do more period stuff. Whenever I mentioned the cast, everyone assumed it was going to be a period piece. Even when I said it's about a bunch of characters who go to India, they all assumed it was E.M. Forster!
After seeing the film, I wanted to run to the airport and get on a plane for India. What a gorgeous, sensory-rich portrait of that country. Were you already familiar with that part of the world before you made the film?
No, I wasn't. I had promised my wife that I would take her there for a big anniversary we have coming up, but the film got me there about two years before that date! Clearly the film is a love letter to the country but I didn't sentimentalize the place, I just tried to tell the story from the perspective that the characters were experiencing it.
Yes, just like you didn't stereotype the older characters, I was so glad you didn't fall into any traps with the Indian actors either.
I was very much on my guard about that. I had a substantial Indian cast in the film and they kept me honest—I sought their advice and their censure about what we were doing and where things were in the script. We all loved being there, India is a fantastic place. If the film makes anyone want to go there, then I feel like I've returned the favor!
Did you just laugh when you found out that your film was opening on the same day as "The Avengers?"
Yes! I guess we're the alternative superhero movie, aren't we?
("The Best Exotic Marigold Hotel" is now playing in select cities.)