Interview: Director and Actor Ben Affleck of 'Argo'
'I keep trying to do something bigger ... so this was quite a step up ...'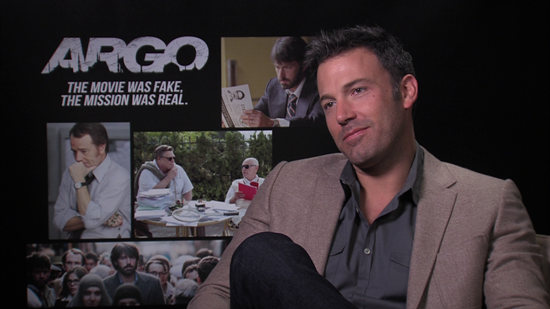 The question of if Ben Affleck is a better actor than a director -- or vice-versa -- will be settled by the ages; such measuring and musing aside, it's hard to deny the actor-turned director has delivered with "Argo," his new film that's a political thriller, historical drama and Hollywood satire all in one big, burly and entertaining package. We spoke with Affleck in Los Angeles about casting, capturing the styles of the era, and challenging himself as a director …
MSN Movies: First of all, it's unfair to call you the "star" of 'Argo," because this is a great ensemble. As a director, how important was casting correctly for this film?
Ben Affleck: Well, you know the great John Ford said that directing is 90 percent casting, and I'm inclined to believe that. I'm actor; obviously I appreciate actors. I've never seen a movie that I loved that I didn't think had great acting. So by definition, if you don't make the acting great the movie's not going to work. And I certainly viewed it as an ensemble. We had Bryan Cranston, Alan Arkin, John Goodman, and not just those guys who everyone knows but all the way down…
Scoot McNairy -- or Clea DuVall, almost unrecognizable ...
Yeah.
                                                                          BING: Ben Affleck | Iran Hostage Crisis
The other question is, this film is a show business-espionage-h​istorical-action-dra​ma-comedy. How do you juggle…
You should do the trailers. (Laughs)
Well, I don't have the right voice. But seriously, how do you juggle that many tone differences and still have a movie that makes sense?
Well, that was part of the tricky thing was to manage the three tones as the director ,and I just kind of stuck with the idea that everything in the movie should be real, but the stuff that's tense should be really tense and exciting and the stuff that's funny should be really funny, and the stuff that's period and interesting and historical should show us stuff that we don't know but that also kind of resonates today.  And it's always fun -- the '70s is just a great decade to look back on because of the looks were so horrible and stuff. The TV shows were so cheesy and yet there's something sweet and innocent about it.
I was asking Mr. Cranston about which helped him more for his preparation, exhaustive research or his block-rocking sideburns? I mean, you have a beard where Mr. Mendez could've gotten the six hostages out smuggled in it. How tired do you get of the 70s fashion, the 70s haircuts?
You know, Jackie West who did the costumes and stuff like didn't go for, you know 'We're going to do you know, whatever hipster … 'I don't know what I'm trying to say, but like (a) Mr. Disco type thing you know? It wasn't just bell-bottoms and big collars and fur coats and more slap-bass. It was yeah, the '70s trends and costumes, but not out in the forefront. And so it made it, I think … the audience is able to kind of watch the movie more instead of feeling like a comedy. I had the hair and the beard, and as soon as it was over I cut it and I never want to have to do that again.
It's this weird transitional era in production designing costuming between disco and the Reagan years, right? Like we're all somewhere between"Boogie Nights" and "Miami Vice" in terms of what we were wearing.
Yeah there was such a gearshift between  -- you had sort of '60s Age of Aquarius and then the kind of '70s hangover from that where like anything goes. And then society just went into reverse. That conservative (thing) tightened up all the pants and the shirt, and it went Reagan, and making money, and materialism, and I can't think of a more abrupt collective culture shift. And I don't know why it happened but it was like overnight we went from Carter and like disco to the Reagan revolution and 80s pop music.
Terrifying  to contemplate. As a director, there are a lot of big scenes in this, the storming of the embassy for one example. Do you tell yourself with each movie you're going to push it a little bit farther and do stuff that makes you feel more and more uncomfortable?
Absolutely. I keep trying to do something bigger, a little bit more, to add something, you know as a director, to my kind of I don't know what -- repertoire of my experience. And so this was quite a big step up from the first movie, "Gone Baby Gone." It was a small character story. I had some sort of action, a little bit of scope in "The Town," and then with this it was international and I had thousands of extras and it was a much bigger, broader story and scope; it was period. So I was quite daunted by it … but I was in the company of a lot of really talented people.
("Argo" is in theaters today;  you can find more information about the world of film on the Facebook page of MSN Movies and at the feed for MSN Movies Twitter.)