Interview: Christopher Walken and Sam Rockwell of 'Seven Psychopaths'
On neckwear, madness, violence and where to stand ...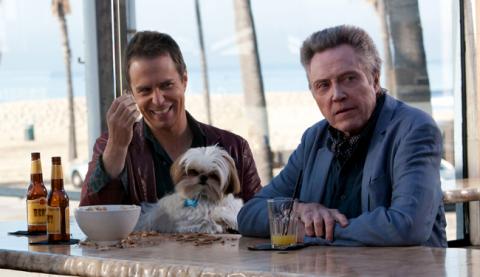 It's hardly the first time the two have worked together, but there's still a very odd energy as you step into a room to interview Christopher Walken and Sam Rockwell about 'Seven Psychopaths," the new film from Martin McDonagh. Walken and Rockwell play a pair of dognappers -- Rockwell the snatch-and-grab artist, Walken the gentle, polite frontman who claims the reward. We spoke with Rockwell and Walken about their previous work with McDonagh, the art of standing where you're told, and the distinctive fashion choice Mr. Walken's character makes to wear an ascot. ...
MSN Movies: You two both worked with Mr. McDonagh in his stage play "A Behanding in Spokane." What I'm curious about is did that in any way prepare you for how demented and diabolical this script was?
Sam Rockwell: Well…
Christopher Walken: Yes.
Rockwell: Yes, a little bit. The play, he had the hands. (Walken) had a bag of hands. He was looking for his lost hands. So that's a starter.
Is it pretty much a given that there's going to be flesh and blood on the floor when you sign up for a project with Mr. McDonagh?
Walken: Yeah, yeah. Once, in the play, he had flattened cats and everything...
Rockwell: Yeah, yeah, exactly. He's got a thing about gasoline doesn't he?

BING:  'A Behanding in Spokane' l Ascots
Walken: That's right, big cans of gasoline.
Rockwell: Right?
Drought, fire, blood, all the biblical stuff?
Walken: Sure.

When you're working on something like this and you're reading it and it's full of these loopy dialogue moments, do you wrap your head around them first before you get to the day? Or do you look at the terrain and go, "Oh, we're here. It'll behoove me to stand on this rock or in this location"? What's the combination of preparation and letting it be live on the day?
Walken: I always rely on somebody to tell me where to stand. I never make that choice.
Rockwell: He's very prepared. He learns his lines. He's very well-prepared.
Walken: Where I stand is up to other people.
Rockwell: That's a good point. You can't really fight him too much on that.
So you can work with Mr. McDonagh but ultimately he calls the shot?
Rockwell: Yeah, you've got to pick your battles. I mean if they want to put you on a certain rock, let them put you on a rock, right?
I feel like we're getting on a bit of a sidetrack with the whole rock thing. Dognapping, does that require a lot of research to pick up the intricacies of it? Did you do any practice dognapping?
Walken: No, it's basic. You take the dog, you go get the reward…
Rockwell:  It's a real…
Walken: …and you be nice to the dog when you have it in captivity.
So the dog doesn't suffer.
Walken: No, no mistreatment.
Mr. Walken, you're hoping your character will singlehandedly bring back ascots as a fashion statement?

Walken: When I first got the part I thought, I think I said to them, "Wow, why do I have to wear a ascot? It looks silly wearing an ascot."
Rockwell: Well, they worked for Tennessee Williams ...

Walken: Some people wear ascots, but you have to be able to pull it off. It's like a cape.
It's very continental.
Walken: Yes, and you have to wear an ascot because you've got a big scar on your throat.
And then it was all explained?
Walken: And thank goodness I had an ascot because otherwise I'd have that big scar put on everyday. I only had to have it put on when I…
When you do the big reveal.
Walken: Yeah.
So the ascot saved you time in the makeup chair.
Walken: Absolutely. It's like an hour to get that thing.
Why is it that the dog breed named shih-tzu will always be funny? Is it because we're all 12 on the inside?
Walken: I think so.
Rockwell: Yeah, sure.
Just a little bit of that touch of immaturity where you…
Walken: I have a friend who has a shih tzu and I mention the other day his "shit-tzu," and he corrected me. He said, "No, no. It's not that. Shih-tzu."
It sounds like there's room for social mortification in there.
Walken: He thought I was being derogatory to his dog.
And you were celebrating the dog.
Walken: Or no, that was I making fun of the dog's name.
Right.
Walken: "Don't take any shih-tzu."
Rockwell: The joke wouldn't work the way he wants to pronounce it.
For more on "Seven Psychopaths," check out our MSN Video Interviews with the cast: 
("Seven Psychopaths" is in theaters; for more information about movies, you can find it on  the Facebook page of MSN Movies and at the feed for MSN Movies Twitter.)