'Star Trek Into Darkness' has an announcement for you
Another teaser trailer will debut on December 17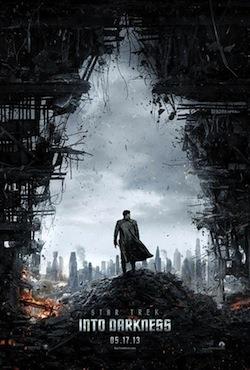 "You think your world is safe. It is an illusion."
While J.J. Abrams' projects are usually shrouded in mystery (and, often, misdirection), much of the material we've seen lately from his "Star Trek Into Darkness" at least feels incredibly revealing. While we might not know specific plot details, one thing is clear - it's going to be dark. Puns aside, the sequel to Abrams' 2009 smash hit definitely seems set to go, well, into darkness (sorry! the puns are too easy!).
The film's official synopsis informs us: "When the crew of the Enterprise is called back home, they find an unstoppable force of terror from within their own organization has detonated the fleet and everything it stands for, leaving our world in a state of crisis. With a personal score to settle, Captain Kirk leads a manhunt to a war-zone world to capture a one man weapon of mass destruction. As our heroes are propelled into an epic chess game of life and death, love will be challenged, friendships will be torn apart, and sacrifices must be made for the only family Kirk has left: his crew." A nice chunk of information, to be sure, but it doesn't tell us the answer to the film's biggest question - just who is Benedict Cumberbatch playing? (Though, this teaser will do little to dispel the persistent rumor that he's playing Khan Noonien Singh, perhaps the most famous villain in "Star Trek" canon.)

The film's first official teaser (reportedly, one to be followed by another one on December 17) doesn't answer that question, but it does match up quite nicely with the aforementioned synopsis (truly, a rarity when it comes to Abrams). Something bad is happening to our beloved crew of heroes, and it's happening in the weirdest place of all - Earth - first. It was probably just safer on the Enterprise...right?
Check out the new teaser trailer for "Star Trek Into Darkness," thanks to Paramount Pictures, after the break.
"Star Trek Into Darkness" opens on May 17, 2013.