Interview: Robert Osborne of the TCM Classic Film Festival
The affable host and film historian is excited about bringing four more days of classic movies to Hollywood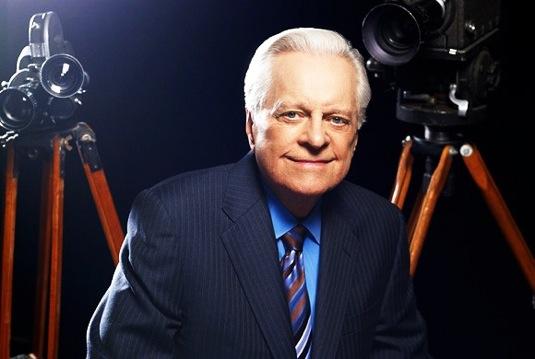 Robert Osborne has been the standard-bearer for classic movie lovers for more than a generation. In addition to his expert introductions of great old films every night on Turner Classic Movies, he has recorded many fascinating in-depth interviews with the stars of yesteryear. For the past three years, Osborne and the folks at TCM have held a four-day movie event in Hollywood that brings together fans, filmmakers, and stars from some of the greatest films ever made. This year's festival kicks off tonight at the legendary Grauman's Chinese Theater on Hollywood Boulevard with the premiere of a newly restored 40th anniversary print of Bob Fosse's "Cabaret." Stars Liza Minnelli, Joel Grey, and Michael York will be in attendance along with countless other stars of yesterday and today.

I was thrilled to sit down with Osborne at the Hollywood Roosevelt Hotel (site of the first Academy Awards presentation in 1929) to discuss the third annual festival.
MSN Movies: Do you think the festival has evolved over past three years?
Robert Osborne: Absolutely. The first year we had films like "Casablanca," "A Star Is Born," and "North by Northwest"—you had to book marquee titles to get people interested in coming. We were so successful that year and last year even more. So this year, within two hours after announcing that tickets were on sale, we sold out of all the premium passes. We hadn't even announced any of the movies yet or who would be joining us. What was so great about that was that it allowed us to book all sorts of really wonderful movies, not just the very famous films. People know they're going to see great movies here, and now they're also going to get some new discoveries as well. That's the big evolution, our success kind of opened everything up.
I feel so lucky that I was able to see 102-year-old two-time Oscar winner Luise Rainer speak at the first festival and introduce "The Good Earth." She was amazing. Do you feel pressure to try and get the older stars to come to the festival—well, while they still can?
Yes, it's a consideration because you want to bring in people who are very special and there's so few of them still around. Some people are hard to get because they just don't make public appearances anymore. We were trying for Doris Day and you know, we got a little closer, she actually recorded a voiceover for us to use and she still sounds great. But for many of these ladies who haven't been seen for a long time, they feel there is little to gain except people saying "Oh, they got so old!" Doris Day is competing with her own image from films like "The Thrill of it All" and "Pillow Talk" and those films were made many years ago.
And the actors from the earlier eras of the 1930s and 40s are even more scarce. I know that the Oscar-winning sisters Olivia de Havilland and Joan Fontaine are still with us. Any chance they'll come to the festival to talk about their films?
Well, Olivia is close. She was going to come this year, actually, but something came up for her, but I think we have a very good chance of having her come in the future. Joan Fontaine, however, has made it known that she doesn't want to do anything like that again.
Especially if her sister is involved...
Yes, well that's another story! But we do feel the pressure. Overtures have been made to Deanna Durbin and to Shirley Temple, and lots of others. They problem is, these people are not selling anything, they already get lots of attention wherever they go. Some movie fans think that these older stars are just sitting around waiting to be invited to something like this but that's not true, they've already done all that stuff.  
So the field gets narrower and narrower and the stars start to come from later periods.
Right. Someone like Michael Caine is now considered a big legendary star even though I still think of him as a kind of newcomer!
Was it difficult to get Kim Novak to attend the festival this year? I know you're taping a one-on-one chat with her and she's also introducing "Vertigo" and putting  her hand- and footprints in the famous Grauman's Chinese forecourt.
Yes, Kim Novak was difficult to get, but this is why you keep on asking them again and again! It's like when they got Mary Pickford to finally be on the Oscars after years of her not being seen in public. For a long time Kim Novak said she wasn't interested but then all of a sudden she felt that it was time to tell her story. Some people have to come to a time when they feel that if they're ever going to tell their story, now's the time and maybe this is the best venue to do it.
Do you think she'll want to talk about those controversial comments she made about the movie "The Artist" earlier this year?
I don't know but I don't plan to bring it up. We'll talk about her work and her films. I'll probably touch on how Harry Cohn, the head of Columbia, dominated her life back then and why she walked away from her career and if she has any regrets about doing that. These are all things that we don't really know much about.  
It must be very heartening for you to see how many young people come to this event, even if the average person on the street no longer knows who Clark Gable or Carole Lombard are.
Yes, it's just great—and they're coming from all over the world! I ran into two young people in the elevator this morning, in their early twenties, and they came all they way from Holland. They heard about the festival and felt that they had to participate.
Will you continue holding the film festival in Hollywood?
We thought about doing it in different places but the talent pool is mostly here. So if, for example, you're having the festival in Chicago or New York and you want to have Anjelica Huston talk about her father's films, it can get very expensive for us with airplane tickets and hotels, and it's a lot for her because it will take several days. But here, she can just drive down one day in her car for an afternoon and that's the only time commitment. So you get Shirley Jones and Angie Dickinson and Bob Wagner and all the people who live here. That's a huge help!
Are there any films this year that you're particularly excited about seeing on the big screen?
"How the West Was Won" in its original Cinerama, I think it's going to be a gas to see that. And Douglas Fairbanks in "The Thief of Baghdad" with a live orchestra, I think that will be fun. If you get a chance, be sure see "Cover Girl," you lose so much on television and Rita Hayworth is just so spectacular in that film. And, of course, "Cabaret" with Liza Minnelli there to talk to us, that's going to be very exciting.
The TCM Classic Film Festival takes place April 12-15 in Hollywood. Click here for a complete schedule. You can still buy individual tickets to most events at the door.