Videodrone MOD Movies: 20th Century Fox Cinema Archive Debuts
20th Century Fox begins its own manufacture on demand program with mixed results in the first wave
By 
SeanAx
 Jul 29, 2012 10:30AM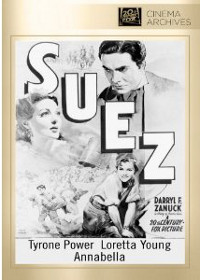 20th Century Fox is finally following the leads of Warner, Sony, and MGM with their own  manufacture-on-deman​​d program aimed at releasing some of the older titles from the vaults.
The first wave of releases -- 35 titles in all -- is now available and the results are… mixed, to say the least. 
"Suez" (1938), directed by Allan Dwan and starring Tyrone Power, is one of the better of the big, "respectable" historical dramas that Power made in the thirties and early forties, this one about the construction of the Suez Canal in the face of challenges both physical (Dwan delivers a spectacular sandstorm sequence) and political (Napoleon III's coup, which is as much a personal betrayal as a national one in this story). This is the best looking disc of the initial batch I received, a fine mastering of a clean, strong print, with good contrasts and sound and no apparent digital artifacts: a solid presentation of a handsome Hollywood classic. This is the standard that the label should be maintaining.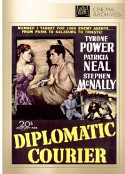 Tyrone Power also stars in "Diplomatic Courier" (1952), but here he's older and more mortal playing as state department courier tossed into the Cold War culture of Europe in the fifties. The sensibility is somewhere between post-war noir and pre-John Le Carre, with Power tossed into the middle of a scramble for secret documents and Karl Malden as the scrappy American MP playing two-fisted protector. Patricia Neal all but steals the film as a lively, witty American widow who keeps crossing paths with our hero, and Lee Marvin shows his promise in a small role. This transfer is rather noisy, with an overly pixilated look on many of the gray areas of the image, and periodic pools of pale color arising from some of the busier areas of the screen. The effect, which was in a lot of early Blu-ray editions of black-and-white movies, is like a sandstorm whipping across the faces of the characters. Other labels have put this issue to rest. Fox should look to them for a solution.
Continue reading at Videodrone for more reviews and a complete of releases
For more releases, see Hot Tips and Top Picks: DVDs, Blu-rays and streaming video for the week of July 24