Get ready for 'Hot Tub Time Machine 2!'
MGM seeks to reunite the original cast, minus John Cusack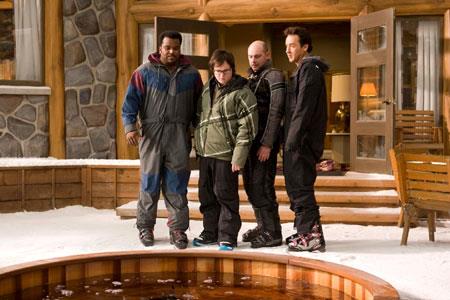 Remember when the first trailers for "Hot Tub Time Machine" came out, and everyone mistook it for a "Funny or Die" video? No? Do you remember "Hot Tub Time Machine" at all? John Cusack, Rob Corddry, Craig Robinson, and, er, that other guy find a, uh, hot tub time machine...? Still not ringing any bells? Well, not too many people saw the flick. It made $50 million domestically off a $36 million budget, and was the last film the "old" MGM made before going into bankruptcy. Which we're sure is just a wild coincidence. Anyway, the flick—which
is,
in fact, a real thing that exists, and
not
 just an SNL sketch—apparently became a cult hit on video, so the "new" MGM is starting to think about a sequel.
According to
The Hollywood Reporter
, producers have begun exploratory talks with Corddry, Robinson, and Clark Duke—but not John Cusack, oddly—to gauge their interest in returning for the sequel. Which would presumably find them discovering another hot tub time machine? Because we exist in a universe where that would happen more than once? Or maybe something else.
What do you think, Hitlisters? Did you see the original? Was it good enough to warrant a sequel? A cinematic sequel, or a direct-to-DVD sequel? Or should the studios stick to what they do best: remaking old classics like "Ben Hur" and "Robocop?" As always, let us know in the comments...
Are you sure you want to delete this comment?