Interview: Christopher Plummer of 'The Girl with the Dragon Tattoo'
On Fincher shooting fast: 'There's time afterwards for booze, of course. There always is.'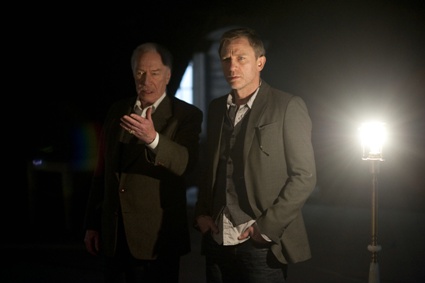 With his brushed-velvet laugh and down-to-earth nobility, Christopher Plummer's a legend -- and, at 82, one who's still working. As the head of the Vanger clan in 'The Girl with the Dragon Tattoo," Plummer's Heinrik Vanger hires Daniel Craig's Mikael Blomkvist to unravel a decades-old mystery -- one that'll lead to more blood in the present day. We spoke with Plummer in New York.
When you're doing a film like this, which is so clearly part of the murder mystery tradition, does it feel good to be the character who gets everything rolling, who hires the investigators, who gives all the exposition, who sets the stage?
Plummer: Yeah, I found that fascinating. Normally I wouldn't, because it's the workhorse part. I'd say, 'Oh my God they've thrown all the plot at me, and I've got to carry it.' But this plot is so weird and mysterious and kind of sleazy and extraordinary. Yes, I was fascinated at being able to do it, because on its own it was riveting, and David Fincher knows how to make that even more interesting visually, and takes you with me and into the past as he plays the past over my voice. I love the character of the old man, and I sympathize with him. He's really the nicest old guy in the whole book. Everybody is a bit suspect, and still are at the end. Old Vanger has a nice straight line, and he gets his wish.
Is it fun to plunge into the soap opera antics of the Vanger clan?
Plummer: Well, it's not soap opera; it's better than soap opera. Thank God it isn't. It's on a par with King Lear and his dysfunctional family.
Does having that touch of theatrical training make parts like these, where you step in, define the film, and step out, and then come back intermittently, is the theatrical training what makes roles like that happen so well for you?
Plummer: Well, yes, I suppose it helps enormously. Theatrical training is the best help you can possibly get. Some of the best screen actors in the world have been stage actors, and they last longer, because they have an insurance policy of their craft that keeps them going. radio too has a lot to do with -- I grew up in radio, when radio was number one, and it was marvelous. In fact, Toronto radio was some of the best in the world in those days, so I grew up there, doing about twenty different voices. All that stuff has prepared me to do and take care of the narrative in movies.
You're working with David Fincher, one of our most acclaimed directors, and he's using these incredibly small, quick, lightweight digital cameras. How much have you seen the industry of moviemaking change while you've been making movies?
Plummer: Oh gosh, night and day. I'm practically a silent screen actor I go back so far. They used to sit there, those big cameras and not move. They took hours to prepare. Of course we had three-hour lunches where we would all get boozed up and have a wonderful time. Then the rest of the movie got awful slow.
So with David Fincher it's faster movies, less booze?
Plummer: Yes, there's no time for it. There's time afterwards for booze, of course. There always is. He's very fast, even though he does do thirty or forty takes in a row. That camera is always ready. 
("The Girl With the Dragon Tattoo" opens Dec. 20th.)