'The Last Stand' Trailer Puts Arnold Back in Action
The English-language debut of director Kim Jee-woon could make for a fun showdown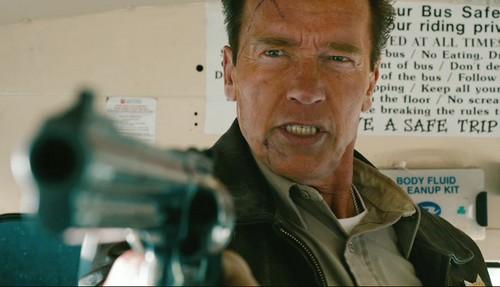 Normally, I'd watch something like the
new trailer
for "The Last Stand" (also embedded below) and see a corny, but potentially fun attempt to revitalize Arnold Schwarzenegger's post-politics career, as
Danny discussed
earlier in the week. In the middle of the usual January wasteland, Lionsgate has positioned the film on the prime holiday weekend of Martin Luther King, Jr. Day, which saw strong openings for "Cloverfield," "The Book of Eli" and "The Green Hornet" in the past.
But there's one name that has me excited for this tale of a small-town sheriff (Arnie) looking to stop a big-time drug kingpin (Eduardo Noriega) from escaping across the Mexican border, and that's Kim Jee-woon. Making his English-language debut with "Stand," this director was previously responsible for two of the more thrilling films of the past decade, the Spaghetti Western homage "The Good, The Bad, The Weird" and the ultra-violent serial killer thriller "I Saw the Devil," not to mention ghost story "A Tale of Two Sisters" (which was remade Stateside as "The Uninvited"). If you're not scared of subtitles, each of those titles is currently available to stream instantly on Netflix and might give you a good idea what could be in store.
Of course, many an acclaimed foreign filmmaker has crossed over to the Hollywood industry to bland effect, but I certainly hope that isn't the case here. Also starring Peter Stormare, Forest Whitaker, Johnny Knoxville, Rodrigo Santoro, Luis Guzman and Harry Dean freakin' Stanton, "The Last Stand" opens on January 18th.
Are you sure you want to delete this comment?