Interview: Tony Gilroy of 'The Bourne Legacy'
The writer-director of the latest step in the saga speaks of his secrets ...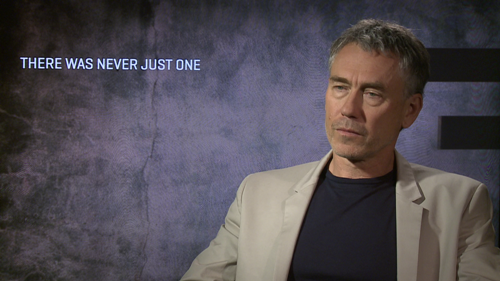 With his close-cropped hair and probing body language -- leaning in to better hear, and thus better question, what you just said -- Tony Gilroy seems like the most invested college professor one could ask for. Instead, though, he's the director of "The Bourne Legacy," with writing credits on all of the Bourne films going back to Doug Liman's take on the series in 2002. As a director, he's in charge of "Legacy" just as much as he was the Oscar-nominated "Michael Clayton" and the unsung "Duplicity." Right now, he's dealing with a unique challenge, charged with moving Universal's profitable series forward without series-starter Matt Damon but instead with Jeremy Renner as the face of the franchise. We spoke with Gilroy in L.A. about the saga's feel, how Renner's Aaron Cross can't just be Damon's Bourne and why he likes shooting big things in real places.

You wrote all of the three prior films. Why keep going from that finish? Was it that sense of that itch you want to keep scratching with this world and these ideas?
Tony Gilroy: Not really. I was kind of off the party at that point. I went off and did "Michael Clayton" and these other films, and I really wasn't involved in the making of "Ultimatum" that much. I think when they finished (they) sort of had wrapped everything up in a very tidy fashion. I never had thought that I would be back in any capacity, much less directing. They couldn't figure out how to go forward because it was so tidy, but there was a big appetite to continue, so I had some conversations much later on with them and came up with the beginning of the idea of what we have in "Legacy."
I mean, not to be too terribly blunt, but is it harder to come up with the artistic reasoning than the financial reasoning for continuing? 
Yeah, no, I agree. But for me it didn't matter. I knew why they were interested.
Right.
But I was in a position where I can do what I want, so that's actually a negative, to tell you the truth. It's only because it got so good; the characters got so good for me. We had this very cool idea of how to say what you'd seen before was something small and now we're going to make it much larger, and some very sexy ideas about how "Ultimatum" could play in the background of this picture. And that was all very cool, but it really wasn't until the character came into focus, and that's when I really started to get more involved and that's where it really got interesting to me.
We'll talk about Jeremy Renner's Aaron Cross in a bit, but I like how this film plays out as a kind of ... not a sequel but a side-quel.
Yeah, I like that. I've heard that term before. I like that.
It's an interesting parallel. Do you find yourself having to go back and watch the other films to do this?
Oh, we had to be really rigorous about figuring out exactly what had happened and exactly what had happened at the end of "Ultimatum" to try to follow the breadcrumbs to make sure we were tidy about it.
The whole idea of the earlier films is that of course Matt Damon's this an incredibly talented killer, but an amnesiac. You knew you couldn't just lather, rinse, and repeat that and have Mr. Renner's character get a frying pan to the head and wake up going, "Who am I?"
I think ... that wouldn't have worked.
Yeah.
In fact he's the opposite. Aaron Cross is someone who remembers everything and knows exactly where he came from, and that is his problem, in a way, is knowing everything.
There's so much technology in this film, things like military enhancement medical technology…
Right.
… drones and what have you being used to great visual effect. What was the thing you learned researching this that scared you the most?
I think the engineering, the behavioral engineering, and appetite that's being satisfied (by a) mix of sort of military, corporate, and intelligence communities  ... and the great amount of funding  in a post-9/11 world. It's astonishing. I don't think anybody really has full control over all the things that are happening. I think it's so large and so spread, and I think that we're talking about some science (fiction) in this movie, but. I know for a fact that if anybody leaves the theater and goes home and spends about 10-15 minutes online poking around they're going to see the edges of all the things we're talking about here. Everything in this film is either on the menu already or in the kitchen being worked out.
A lot of the times I know that people, when they're working on film, will say, " What I really looked at was X" to get the look, to get the feel, to sort of brush back up against their knowledge of movies to nail down the movie they want to create in their head. Did you look at anything for this?
Tony Gilroy: We did. I mean, that's we, we looked a lot at, I mean Robert Elswit and I did, we've done two other pictures before and spent an incredible amount of time together making those movies and even socially and became really great friends so we've looked at a lot a lot of movies together in a lot of different ways for a lot of different thing but we really had to go look at these films, not to just figure out what we were obligated to do but what we could get away with not doing. And then the rest of the esthetic is real. We sort of felt we had an opportunity to really get kind of  the muscular 70s movies that we love, we had a chance to really throw the stuff in there that we love. But I have to say, we really did go back and look at the first three films with mounting anxiety as we approached the start date.
In terms of, how so?
Just because we knew we had a much wider landscape and a much different, a much more sort of epic palette and canvas, and also a different storytelling structure than had been in the other three films prior. We wanted a bigger look. We knew our esthetic, the things that we like to do, and I think we also felt that, and I don't think we're alone in this, we felt that a lot of the stuff that had been in "Ultimatum" so much time had passed and so many people had ripped it off it had become really overused, a lot of people were doing and we didn't want to -- we wanted to sort of start a new party a little bit.
There's a whole thing when it comes to action films today, and it seems you have two options: Either blow up the planet or have the actors do their own stunts in a real urban setting. What is it about the latter that makes you keep going back to it, in that Jason Bourne never gets on board a hovercraft or fights anyone on a spaceship and Cross doesn't have to fight anybody on a flying aircraft carrier. How important is the reality level? How important is it to maintain…
I think that's the absolute ... of the various strands of DNA that form this franchise over the last 13 years, that's the absolute, that's the first element. I mean the reality and the integrity about that I think is, I mean that's the absolute place you start every morning and every decision when you're writing and casting and designing and building all the movie. Is it real? Is there something wrong with it? Is it stupid enough? Is it messed up enough? Does it feel absolutely credible? That's where every decision starts and that's -- thirteen years ago when the first conversations with Doug about "Identity" (happened) -- that was a very radical idea. I mean, it was really hard to convince anybody to make a sort of a character-driven, much smaller, much more intimate action picture. It was very unusual at that period of time.
Is it safe to say that writing the Bourne movies is kind of an exercise in moving the genre's mix away from Bond and more toward a sort of violent John le Carre thing?
Well, it was never a reaction to Bond directly at all. When it came about, action movies in 1999 were incredibly bombastic, so it was very unusual in that sense. What you mention, though, you really went right to the heart of it for me. There's no, there's almost no literature and I really consider it literature. I don't think it's genre fiction at all, and it really pisses me off when bookstores put it in genre. I think John le Carre's writing -- I think he is one of the absolute tightest (writers) of English literature, of the English language literature of the last century. I think those books are as good as anything, and I think those characters are as complicated and real and as important to me as any characters I've ever written. So that stuff was deeply, deeply ingrained in me long before I ever even was a screenwriter.
It's been said that a lot of genres work really well kind of as a sociology just because of their nature. Crime is about what happens when you break the rules of society…
And sci-fi is about politics ...
And comedy is often about what happens when you break the rules of normal social comportment. Are these movies interesting ways of looking at the larger questions of what government does in our name with our money?
I think it's always a forensic exercise. I think you're always looking back on it to try figure out what happened. It's not something that's ever built form the start. I think that when we finished with "Identity" and actually even in the writing of "Supremacy," actually when "Supremacy" was done, I think it wasn't anything that had been built into it but I think that there were real sort of ideas in there that were oddly reflective of -- there were people that were making, that were drawing lines between American foreign policy and what was going on in the movie. It is not something that you can start off doing. I defy anybody to sit down and try to write a good movie where they start off that with that as an idea. It really is forensic. It's coming in at the end and saying, "Does this have an residue of the moment it was created?" So I'm not really sure about this one. I think time will tell.
Can we talk briefly about just how great -- I don't want to name people because it was great when they and their faces kind of just zoomed out of nowhere on the screen -- but how important is it to just cast great faces?
Oh man, after the script, the biggest, the next biggest, deepest obsession is the casting. I'm crazed about it.  We have the most extraordinary actors in every little part we can get our hands on. We try to build a reputation in New York with actors starting with "Clayton" that how well we treat everybody and how nice it is to come to work for us and what a great experience they'll have so that we can get people to come in, even for parts that are much smaller than the ones they might normally go in on. So we really try to bait the trap and it matters, it's of the utmost importance. If you have a script and you have great actors, you can fail in so many other ways and still be home free.
When you find yourself going back and looking at the other films, 'cause as we've discussed this movie is less a sequel than a side-quel, parallel ring around the other movies, how carefully do you go back and look at the other movies to find space to put in the things you want to do? Or is it…
I knew the other movies really well. I know them as well as any fan boy geek and probably better in some ways.  So I really knew every corner of what had been there before and places where things hadn't been delivered or missing. I sort of knew every corner so I didn't have to go back for the story points. It was a lot of fun to sort of say "Ultimatum" is going to be in the background of the first two reels of our picture and what does that mean and that's the time when screenwriting is really fun where you're really sitting down and something that you can just say, "Well, this happens here so this has to happen here" and "Oh my god, we can have a phone call! The other movie can call our movie, and we can do that, and no one's ever done that before. We can do that. How cool is that?" The blending of, the splicing of this movie into "Ultimatum" was a lot of fun, but I kind of knew where everything was. And we left some really enigmatic breadcrumbs back a long the way and little things that I think anybody who's the super -- I'm sure there'll be some incredible crazy super fans who'll find some find some really little things that are tucked away in here and things that happened in the past that might relate to what we're doing now.
How difficult is it when you're writing a film when you know that you have a great character as a protagonist, you have a great character as an antagonist, but they're only going to meet in one scene, which is a flashback, and the rest of their interactions are going to be a series of ugly phone calls? Is it tough to modulate that? Not only modulate that on the story level but to modulate the audience's expectation?
You know, every story dictates its own opportunities and limitations. I think the place you get in trouble sometimes is if you try to warp it.  I've been on pictures where the desire to have exactly that, to have the two of them play scenes together, actually warps the story, and you end up with unnecessary scenes. You end up with scenes that don't have that fundamental necessity about them that you really want to have. You go with what you have. I mean, I never really worked on a script, I don't think, where a character revealed themselves as late as this character does. You really only find out what's really motivating this guy about halfway, three quarters the way through the picture. I'm not really sure I've ever done exactly that before and it was a lot of -- Danny and I, my brother who wrote the script with me, and we've written a lot of scripts individually and together, and it's very unconventional and you sort of go, "Wait a minute, there's got to be something else we can do" and finally you've got to go with the right thing is for each individual story. So I think it would've been, you could've ruined the movie by trying to say we've got to have a bunch of scenes between those two guys. You've got to make it count when it's there.
I'm also curious, for anyone who directs and screenwrites, we all know the cliché the characters are standing outside a darkened house and one of them says, "I think we should go in" and the audience goes, "Don't go into the damn house!"
(Laughs). Exactly.
... but the characters HAVE to go in, or the movie stops dead ...
I don't know. I'm trying to avoid that at every turn. I hope I haven't done that. I mean, that's really the opposite of how I want things to be and how I write.  I mean, I really try to -- I don't think in the very beginning when I was first writing I didn't want to really do the hard work of inhabiting the characters in the way that you really have to do, and it's kind of really stupidly exhausting and I even resist it now. But finally there comes a moment when you're writing stuff and you realize that you literally have to roll up your sleeves, you have to be that person, and you have to say, " What would I do next? What is the next thing that I would do? What is the next right thing this character could do?" So I'm always trying to not have stuff that seems wrong. I want everyone's behavior to make sense so, I'm trying not to do that.
This is a big movie for Mr. Renner; he's an immensely talented and likable actor, but this is the first time he's been the poster. And I don't know a less coarse way to put it in terms of the leading man food chain. He's on the poster for this. Of course any actor who wants the part is going to say, "Of course I can do the stunts," or "I can sword fight" or "I can speak French." Were there points where you went, "You are very eager to do this Mr. Renner, but considering that if we'd destroy your body the film is over, we will have your stunt man step in" or was it just "No, we're going to work with you until you can do every damn thing we possibly can have you do"?
Well, two separate things. One is, the first thing is that we didn't want to have, one of the things we didn't want to have was an established movie star. We wanted to have someone who was still slightly out of focus for the audience. We wanted to be able to have somebody that we could imprint. He'd already, he came off for me for the physical stuff. He had done "Mission," and he was doing "Hansel and Gretel" and had done most of his work for "Avengers" by the time we cast him so he had a whole year of being road tested physically. And Robert Elswit, who shot "Legacy," had shot both "The Town" and "Mission Impossible" so he had a good inside reportage on Jeremy's everything, his abilities in every area. And I would've been very satisfied with him if he had been unable to do ....  if he'd only been able to do a quarter of what he did for us in the film. That would've been a traditional approach but he's just really, really gifted physically and he's in amazing shape and if someone's learning the stuff -- a lot of it's learning stuff -- and he learns the stuff so fast, and if he's learning it as fast as the stunt guys are learning it and he can do it, and he's not going to get hurt, and he wants to do it, it's crazy not to. There was a couple times where it goes the other way and you're worried, 'Well, you know, I'm not so sure it's really important that he do this next little bit here because he's got to work tomorrow and he's already stiff and whatever ..."  but if the guy's motivated, you don't want to dampen their enthusiasm. So he's very eager to do it, and he's very good at it.
How great is it in this day and age to have the luxury of being able to film very large, urban areas on real film with very big real things happening in them? Do you mostly find yourself using CGI for cleanup and tidy up?
Yeah, exactly. Exactly. But that's not the norm now. I mean, no. Look, I love that shit. (Laughs). As much of a homeboy and writer and desk bound person as I've been for the last 30 years, I've also just had these amazing experiences around the world on all kind of movies. I mean the movie business has taken me everywhere. And god, when I walk in that MRT station that's in Manila, that huge Times Square, that crazy place. The first time Pat Crwoly and I went there, a year and a half before we started shooting like, "Oh my god, look at this place." I said, "Pat, we've got to shoot here." And he looked at me like, "Please, don't shoot here. Let's not do this." I said, "Oh my god, it's just…" You know it's just when you're there, you go "What the fuck did we do?" But it's a lot of fun. It's fun to be in the world. The idea of sitting in a green screen stage and being trapped in a garage, trying got be excited every day, I just could not get off on that. I'd rather just sit and write. If I'm not going to be in my room writing, I want to be out in the thick of it. We certainly got into the thick of it.
Do you feel like, at this point, if people say, "You know what? We feel like the baton has been handed to the next relay runner, that there was no bobbling of a baton between Mr. Damon and Mr. Renner  ..." Do you like we could see Aaron Cross back at some point in the hypothetical near future?
Yeah. I mean, I think that's the intention. Sure. We've left ourselves in a position to go in a whole number of ways. And legitimate, not cheesy, not cynical kind of "give me your money on the way out of the theater" kind of way but there's a lot of different ways to explore this mythology now. It's in a very fertile place I think, and I think the most obvious thing is to let the audience speak and see what they have to say about what we've done ...
("The Bourne Legacy" is in theaters ...)