Interview: Ursula Meier and Kacey Mottet Klein of 'Sister'
The haunting film is Switzerland's entry for the Best Foreign Language Film Academy Award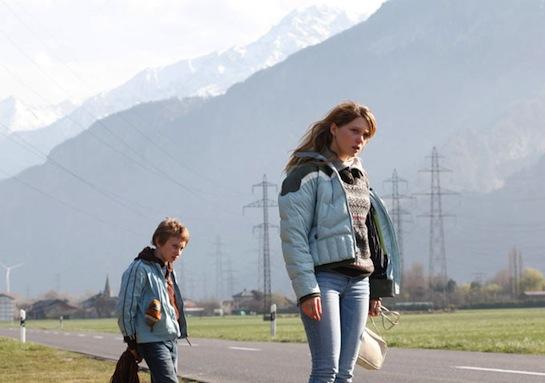 For her very first film, "Home," starring Isabelle Huppert, director Ursula Meier won the 2009 Swiss Film Prize for Best Film. She also received a César nomination (the French Academy Award) for Best First Film.  Her new film, "Sister" (called "L'enfant d'en haut" in Europe) starring Léa Seydoux ("Midnight in Paris," "Mission: Impossible—Ghost Protocol") and Kacey Mottet Klein ("Gainsbourg: A Heroic Life") won the Silver Bear at this year's Berlin International Film Festival and is Switzerland's official entry for Foreign Language Film Oscar.

"Sister" shows the contrast between the worlds of the wealthy visitors of a luxurious ski resort in the Swiss Alps and the struggling locals who live in the foothills below. Simon is played by 14-year-old Kacey Mottet Klein, the actor who played Serge Gainsbourg as a child in Joann Sfar's film last year. Simon lives with his sister Louise (Léa Seydoux) who seems resentful of having to care for the boy. To make ends meet, Simon regularly makes his way up to the ski resort and steals expensive equipment and other items from the rich tourists which he then sells. When he meets a kind woman at the resort (Gillian Anderson), he fantasizes about what it would be like to be in a loving family. "Sister" includes a major reveal that I won't give away here, and is a fascinating and highly emotional look at the disparity between the haves and have-nots.
I sat down with director Ursula Meier and Kacey Mottet Klein in Los Angeles.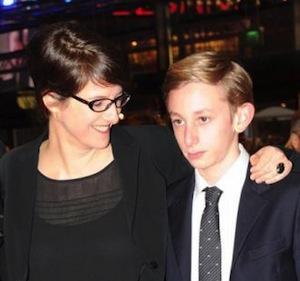 MSN Movies: Kacey, I so enjoyed your performance in "Sister" and as the young Serge Gainsbourg in your previous film. I understand that Ursula Meier discovered you for her first film, "Home?"
Kacey Mottet Klein: That's right. I never had any thought of becoming an actor before that!
How did she find you?
Just on the street! Completely by chance.
Ursula Meier: We had several normal casting sessions for that film and I think I saw every child actor in Switzerland! But I still couldn't find what I needed so we did something called a "casting sauvage" where we went to a place where lots of kids were hanging out and looked for faces we liked. That's how we met Kacey. The minute he came in and read for the part I just fell in love with him. My God, you put a camera on his face and it's just incredible. He's a great actor!
Kacey: It's all thanks to Ursula! Without her I'd never have been able to do those films.
Ursula: Before we did "Home," we worked together for months—all the time, even on weekends. The thing that's hard for children is to read lines naturally, like they're just talking. They also tend to look at the camera a lot! I remember with Kacey, we did all these experiments. One day I told him to just stare at the camera during several scenes, which he did. Then I said, "That's it! You're not allowed to look there anymore!" And it worked! In this film he so beautifully embodies the character of Simon. When you see him thinking as Simon, he doesn't "act" thinking, he's really doing it!  
Kacey: I worked a lot on that character. When I arrived on set I became Simon. I thought like him, ate like him, lived like him.
Bing: Ursula Meier | Kacey Mottet Klein
The relationship between Simon and Louise is so poignant and sad. What I love so much about this film is that it's very emotional and yet the two main characters are so damaged that they spend most of their time hiding their emotions from each other.
Ursula: It's true. Louise was really the challenge of the film. At times it's very difficult not to hate her because the things she does are pretty reprehensible. Léa Seydoux and I talked a lot about that character—she loved the script but it was hard for her at first. But she really got the fragility and vulnerability in Louise and conveyed that so beautifully.
Kacey: Léa was great. She's a very serious actress, but also very cool and nice. I learned so much working with her.
Ursula: When I cast her for this film she wasn't that well known. Now she's like the new Catherine Deneuve in France! There's something about her face that allows people to project their own emotions onto the character. You can really feel all of her suffering underneath.
Why did you want to explore this particular story?
I grew up in the foothills of these French mountains. The big ski resorts were five minutes from my house and I went there all the time. It's funny because I was already well into the script when this memory from childhood came back to me. I remember one day we met this little boy at the resort who was a thief. He came from the town below. He was always alone and I wondered about his childhood and what his life was like. He was eventually banned from the resort and it's weird how I only remembered him after I was writing the script. I think all of my films come from some place deep in my subconscious!
How did Gillian Anderson end up in the film?
We wanted a "star" for that part, not because I wanted a big star in my movie but because Simon saw this character as such a fantasy figure. Gillian lives in London and fell in love with the script so she came over to do the part. She doesn't speak French so she had to learn those lines word by word! But what an incredible actress. And the perfect image of the beautiful fantasy mother!
Kacey, what's next for you?
Kacey: Well, I want to finish school before I do a lot more movies. But I love acting. I'd also like to direct some day. And it would be great to do some American films!
Do people now recognize you on the street?
Not very much, I'm not really at that level yet. Being famous scares me a little bit, I'm certainly not doing this work to get rich or famous.
Are there certain actors who've influence you?
Oh, lots of them. I really like Leonardo DiCaprio and Omar Sy ("The Intouchables"). I like the films they make. My goal isn't to make a ton of movies, I just want to make really good ones.
Ursula, "Sister" and your first film, "Home," seem to go together in many ways. Will we see a third film in the trilogy?
Ursula: It's funny that in both of my films the main story is sort of in the background, not in the present. In both there's this big important thing that happened in the past and now we explore how people manage with it. But this was a very hard, sad film. Maybe I'll do a comedy next!
"Sister" is currently in limited release.