Weekend Box Office: Gyllenhaal and Lawrence Battle Their Demons
Despite big stars in the week's new films, ticket sales remain soft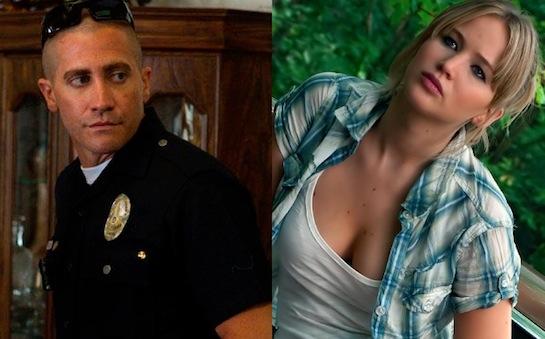 If you went to the movies this weekend, chances are you saw Jake Gyllenhaal or Jennifer Lawrence trying to survive life in their violent and unpredictable neighborhoods. While four new films made this week's Top Ten, there were certainly no records broken in the North American box office during another fairly tepid weekend. Industry honchos are hoping that the numbers will creep up as the studios start releasing the year-end films that they've saved as Oscar-bait.


Open Road's "End of Watch," starring Gyllenhaal and Michael Pena, was the #1 film this weekend, amassing $13.1M (at 2,730 theaters). Fans of "Hunger Games" flocked to see their Katniss being terrorized in Relativity's "House at the End of the Street" to the tune of $12.2M (at 3,083 theaters), with most leaving the #2 film dreaming about Jennifer Lawrence's current shoot, "Catching Fire," the much-anticipated sequel to her previous blockbuster.  Warner Bros.' "Trouble with the Curve," the #3 film, brought in $12.1M (at 3,212 theaters) with red state politicos claiming that director/co-star Clint Eastwood was being punished by partisan moviegoers for his infamous empty-chair speech at the Republican National Convention. At #4 in its second week, the new 3D version of "Finding Nemo" added another $9.6M to its now $30.1 domestic total. Last week's top film, "Resident Evil: Retribution," slipped to #5, with only $6.7M in ticket sales (at 3,016 theaters).


At #6, Lionsgate's new 3D "Dredd" reboot performed far lower than expected, bringing in only $6.2M over the weekend (at 2,506 theaters) while the Weinstein Company's prestigious "The Master," now expanded to 783 theaters, entered the Top Ten this week at #7 with $4.3M in ticket sales and an almost guaranteed domination in next year's Oscar race. In its fourth week, "The Possession" fell to #8, adding $2.6M (at 2,598 theaters) to its current domestic total of $45.2M while "ParaNorman," at #9 in its sixth week, earned $2.3M (at 1,617 theaters) for a new domestic total of $52.5M. The #10 film, "Lawless," brought in $2.2M for a cumulative total of $34.4M.

Will next weekend's films succeed in juicing up the lackluster box office? Not too likely, although a few will surely find their way into the Top Ten. The biggest contenders for this list include Joseph Gordon-Levitt and Bruce Willis as two very connected souls trying to survive as they zip through time in "Looper," and Adam Sandler's Dracula entertaining his ghoulish colleagues while trying to keep his daughter from falling in love with Andy Samberg in "Hotel Transylvania."