New State-of-the-Art Movie Museum Begins to Take Shape
Two world-renowned architects will design the Motion Picture Academy's long-awaited museum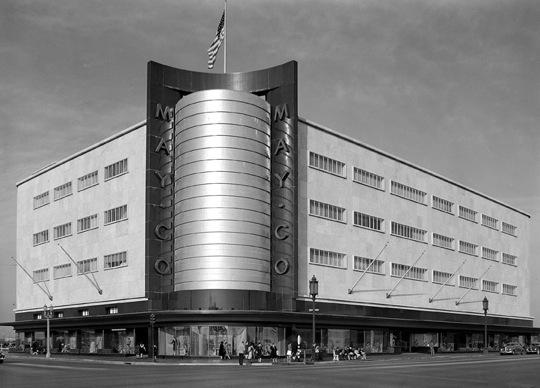 I drive by the old May Company building on the corner of Wilshire and Fairfax at least twice a day and fantasize about the opening of the Academy Museum of Motion Pictures which will be built in that historic structure. The 325,000-square foot art moderne building opened in 1939 when "The Wizard of Oz" was playing to packed houses all over Los Angeles. And now, as we reported a few months ago, Dorothy's ruby slippers will find a permanent home in the new museum, along with thousands of other items from its one-of-a-kind collection.
Excitement is building about the museum, which is sure to become a major tourist attraction as well as a focal point for movie scholars and cinephiles around the world. This morning, the Academy of Motion Picture Arts & Sciences announced that it has chosen two celebrated architects, Renzo Piano and Zoltan Pali, to design the state-of-the-art museum. 
"Renzo's track record of creating iconic cultural landmarks combined with Zoltan's success in transforming
historically-signifi​cant

buildings is a perfect marriage for a museum that celebrates the history and the future of the movies," said Dawn Hudson, Academy CEO.

Piano's award-winning design accomplishments include the Centre Georges Pompidou in Paris, the Central St. Giles Court in London, the Kansai International Airport Terminal in Osaka, and the headquarters of the New York Times.


 

Pali, a Los Angeles native, is the design principal and co-founder of Studio Pali Fekete architects (SPF:a). His award-winning restoration projects in Los Angeles include the Greek Theater, the Pantages Theatre, and the expansion of the Getty Villa museum in Malibu. 
"It is an honor and privilege to work with the Academy in bringing to life a historic, iconic building that I love with the story of motion pictures," said Pali.
 Renzo Piano is also no stranger to L.A. He designed the well underway expansion of the Los Angeles County Museum of Art, whose campus will include the new Academy museum. 
"We as architects make buildings that are portraits that represent our clients," said Piano. "The Academy museum will take the visitor through the back door of cinema, behind the curtain, and into moviemaking magic."
The Academy promises an interactive experience like no other—one that will allow people of all ages to take on the role of a budding filmmaker: "Visitors will find their appreciation of filmmaking deepened and their experience of film forever changed as they light a set, edit a sequence, style an actor, animate a visual effect, and conduct an orchestra as it performs to a moving picture." Lights! Camera! Gift shop!

Click here if you want to contribute to the museum's capital campaign or learn more about what is planned for this exciting venue.