So We're Getting an 'ALF' Movie
You can thank 'The Smurfs' for this one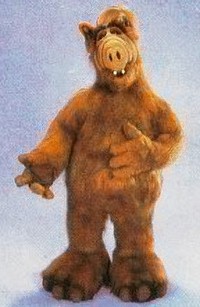 Do you remember how badly you wanted a live-action movie featuring CGI Smurfs, or Yogi Bear, or Alvin and the Chipmunks for that matter? No? That's just too bad! "The Smurfs" took in $142 million domestic and another $421 million worldwide, and each of the other updates did similarly well, so not only are we getting sequels to that franchise, but the brains behind it are
reportedly
gunning to bring "ALF" back for a generation that's never grown up with the character.
However, if you are refined enough to be reading The Hitlist (and we thank you for that), then you're probably already aware that ALF was a furry, sarcastic, garage-dwelling alien with an appetite for cats. (We let this go on for four seasons, people.) He's already had a TV movie and an animated spin-off, but now, original voice actor Paul Fusco gets to return for the proper Hollywood treatment of a mildly beloved '80s icon.
Of course, there isn't so much as a writer or director lined up yet, but c'mon! An "ALF" movie practically writes itself! No, seriously, we're going to sit back and wait and see if it will in fact write itself...