'Jurassic Park IV' Still a Thing That's Going to Happen
Luckily, the team behind 'Rise of the Planet of the Apes' have been hired to write it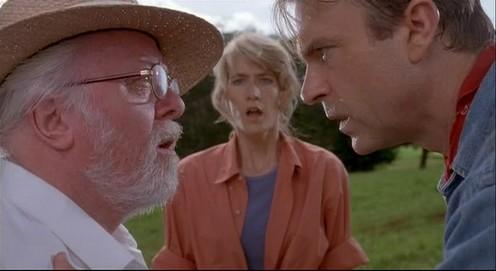 What does a studio do when dead set on continuing a franchise long after interest has faded? They hire the people who managed to make a hit out of reviving a similarly dormant series with last summer's "Rise of the Planet of the Apes."
According to
Deadline
, Universal has brought on writing duo Rick Jaffa and Amanda Silver to move forward with a fourth "Jurassic Park" film to be produced (but not directed) by Steven Spielberg. Following 2001's "Jurassic Park III," it's a project that's been in the works for over a decade now, and while Wikipedia may be Wikipedia, but it does have a fairly thorough
rundown
of this quad-quel's* production history to date. (I recall reading ages ago of a plot point involving weapons strapped to raptors -- I hope to God
that
 idea's gone extinct...)
Mark Protosevich had been scripting the project before Jaffa and Silver were brought on board, much as Scott Frank had been worked on what would become "Rise," so it'll be curious to see if the husband-and-wife team build on whatever Protosevich and Spielberg had come up with so far or start from scratch. The first film will celebrate its 20th anniversary next summer with a 3-D re-release, and if the production push continues, we should probably see "JP4" around 2014 or so. Try not to make any plans until then.

*I know, what a terrible, invented word, but if we can make "prequel" stick...