Videodrone New Release: 'The Three Stooges' in the 21st Century
The Farrelly Brothers recast and revive the slapstick trio for a new generation
By 
SeanAx
 Jul 17, 2012 11:21AM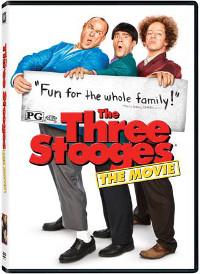 Peter and Bobby Farrelly spent years trying to bring their love of The Three Stooges to the screen in a modern reincarnation of the slapstick trio. After failed attempts with superstars attached, they made it happen with a cast of relative unknowns: Sean Hayes (of "Will and Grace") as fizzy-haired Larry, Chris Diamantopoulos as the bowl-cut bully Moe, and Will Sasso as the lunkhead Curly.
This knockabout comedy takes a second-hand plot -- the orphaned boys turned knockabout men go out into the world to save their orphanage they called home – to hang a series of slapstick gags, most of it involving eye-gouging, knocks to the head, kicks the behind, and other forms of physical comedy made famous by the original Stooges.
"The affection they have for the still-not-reputable team is evident in the way they recreate their most famous bits of physical and verbal humor," writes MSN film critic Glenn Kenny in a guardedly appreciative review.
"The more successful stuff is hard to quantify because, as was often the case in the shorts, the best gags are the ones that fly by quickest. But by the time the picture ended, my feeling was that while a good part of the picture reached my submerged Stooges person and made him laugh, too much of it just didn't connect at all."
Continue reading at Videodrone
For more releases, see Hot Tips and Top Picks: DVDs, Blu-rays and streaming video for the week of July 17