People's Choice Awards: Did your favorites win?
Follow along for all the winners, as they're announced!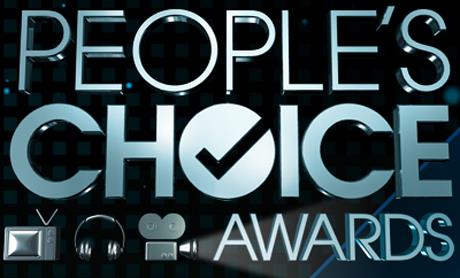 Updated:
Now that all the winners are in, it's safe to say that this year's PCAs were all about "The Hunger Games" (with the film winning every category it was nominated in - besides Favorite Fan Following - including Favorite Movie and Favorite Movie Franchise, along with a Favorite Face of Heroism and a Favorite Movie Actress win for Jennifer Lawrence), along with "The Avengers," and (somewhat unexpectedly!) "The Perks of Being a Wallflower" (which pulled out a Favorite Dramatic Movie win and Favorite Dramatic Movie Actress award for star Emma Watson). Congrats to all the winners!
It's time to get started with the year's first official awards show, the People's Choice Awards, airing tonight on CBS. The PCAs are populated by not just picks for movies, but also television and music, and they're voted on by real fans (or, at the very least, real people who go out of their way to vote). Instead of placing a premium on projects being the "best" or "an achievement in," the PCAs are all about favorites and what fans are most excited about. Hey, that actually sounds sort of relaxing and fun, particularly when you consider the fact that the Oscar nominations will be announced tomorrow morning at the crack of dawn, effectively turning all of Hollywood into a nail-biting, anxiety-ridden blob for the next few weeks. Seriously, let's have a good time tonight before that happens.
We previously shared the PCAs' 
nominee list
, which was rounded out by all sorts of fan favorites, especially "The Avengers," Channing Tatum, "The Hunger Games," and Jennifer Lawrence. But who will actually win tonight? Well, let's find out. Check out the full list of winners, thanks to the
People's Choice Awards
, after the break!
All winners in bold.


FAVORITE MOVIE
The Amazing Spider-Man
The Avengers
The Dark Knight Rises
The Hunger Games
Snow White and the Huntsman
FAVORITE MOVIE ACTOR
Channing Tatum
Johnny Depp
Joseph Gordon-Levitt
Robert Downey, Jr.
Will Smith
FAVORITE MOVIE ACTRESS
Anne Hathaway
Emma Stone
Jennifer Lawrence
Mila Kunis
Scarlett Johansson
FAVORITE MOVIE ICON
Emma Thompson
Maggie Smith
Meryl Streep
Michelle Pfeiffer
Susan Sarandon
FAVORITE ACTION MOVIE
The Amazing Spider-Man
The Avengers
The Dark Knight Rises
The Hunger Games
Men in Black 3
FAVORITE ACTION MOVIE STAR
Chris Evans
Chris Hemsworth
Christian Bale
Robert Downey, Jr.
Will Smith
FAVORITE FACE OF HEROISM
Anne Hathaway, The Dark Knight Rises
Emma Stone, The Amazing Spider-Man
Jennifer Lawrence, The Hunger Games
Kristen Stewart, Snow White and the Huntsman
Scarlett Johansson, The Avengers
FAVORITE COMEDIC MOVIE
21 Jump Street
Dark Shadows
Pitch Perfect
Ted
What to Expect When You're Expecting
FAVORITE COMEDIC MOVIE ACTOR
Adam Sandler
Ben Stiller
Channing Tatum
Will Ferrell
Zach Galifianakis
FAVORITE COMEDIC MOVIE ACTRESS
Cameron Diaz
Emily Blunt
Jennifer Aniston
Mila Kunis
Reese Witherspoon
FAVORITE DRAMATIC MOVIE
Argo
The Lucky One
Magic Mike
The Perks of Being a Wallflower
The Vow
FAVORITE DRAMATIC MOVIE ACTOR
Bradley Cooper
Channing Tatum
Jake Gyllenhaal
Liam Neeson
Zac Efron
FAVORITE DRAMATIC MOVIE ACTRESS
Charlize Theron
Emma Watson
Keira Knightley
Meryl Streep
Rachel McAdams
FAVORITE MOVIE FRANCHISE
The Avengers
The Dark Knight
The Hunger Games
Madagascar
Spider-Man
FAVORITE MOVIE SUPERHERO
Andrew Garfield as Spider-Man
Chris Evans as Captain America
Chris Hemsworth as Thor
Christian Bale as Batman
Robert Downey, Jr. as Iron Man
FAVORITE ON-SCREEN CHEMISTRY
Emma Stone / Andrew Garfield, The Amazing Spider-Man
Jennifer Lawrence / Josh Hutcherson / Liam Hemsworth, The Hunger Games
Kristen Stewart / Chris Hemsworth, Snow White and the Huntsman
Rachel McAdams / Channing Tatum, The Vow
Scarlett Johansson / Jeremy Renner, The Avengers
FAVORITE MOVIE FAN FOLLOWING
Potterheads, Harry Potter
Ringers, The Lord of the Rings
Rum Runners, Pirates of the Caribbean
Tributes, The Hunger Games
Twihards, Twilight