Watching 'Parker' at the historic Playboy Mansion
The screening of the Jason Statham-Jennifer Lopez film, directed by Taylor Hackford, also honored the winner of 'The Art of the Heist' competition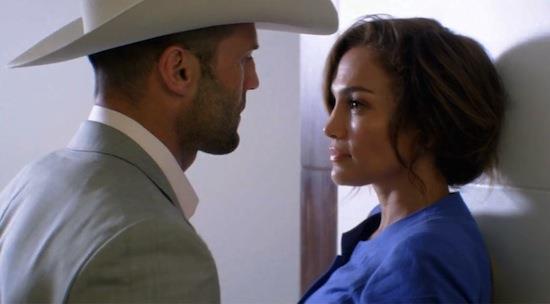 It's not every day that I get an invitation to the Playboy Mansion in L.A.'s  ritzy Holmby Hills. The press event was to screen the new crime thriller "Parker," directed by Oscar winner Taylor Hackford and starring Jason Statham and Jennifer Lopez. Based on a series of novels by Donald E. Westlake, "Parker" is a rollicking, high-octane tale of a professional thief (Statham) who lives by his own personal code of ethics: Don't steal from people who can't afford it and don't hurt people who don't deserve it! But when he is double-crossed by his own crew after his latest heist, Parker is determined to get back at them and he follows the group to Palm Beach, Florida, where they are planning their biggest heist yet. Donning the disguise of a rich Texan, Parker takes on an unlikely partner named Leslie (Lopez), a local insider who's short on cash but big on looks, smarts, and ambition. Together, they devise a plan to hijack the score, take everyone down, and get away clean.  "Parker" also stars Nick Nolte, Michael Chiklis, Wendell Pierce, and Patti LuPone.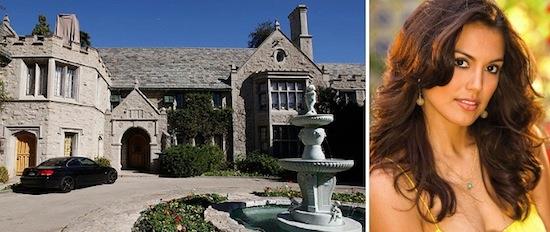 Arriving at the door of the stunning 1927 Gothic-Tudor mansion, we were greeted by a gaggle of Playboy Playmates. My group was given a tour of the home and grounds by lovely Raquel Pomplun, Miss April 2012. Did you know that once you appear in a centerfold, you are forever known by your month and year? Miss April 2012 showed us many rooms in the 21,987-square-foot house along with key spots on the more than five-acre grounds including the infamous swimming pool and grotto, site of endless parties hosted by a pyjama-clad Hef, as well as the small zoo and fully-stocked aviary. 86-year-old Hugh Hefner was supposed to join us for the screening but we were told he was upstairs with the flu, being cared for by his new 26-year-old wife, Crystal (aka Miss December 2009). Hef and Crystal had been dating for a few years, even while she was appearing on Playboy's "The Girls Next Door" reality show, shot inside the mansion, but it was only this past New Year's Eve when those two crazy kids walked down the aisle. When I asked Raquel who actually lived in the Playboy Mansion these days, she said "Mr. Hefner, his new bride, and two of his other girlfriends." Hey, whatever works! A bunch of the newer Playmates live right across the street in the "Bunny House" so they spend a lot of time at the mansion, especially at the pool and in the fully-stocked game room complete with Playboy-themed pinball machines, a pool table, and no end of amusements. How Raquel and the other Playmates were able to maneuver across the cobblestone paths in their five-inch heels was a mystery to me, and I guess it was a sign of my status as a dad that I wanted to search the grounds for some sweatshirts to protect the mini-dress-clad women from the chilly L.A. evening! But you couldn't have asked for a sweeter group of hostesses in Hef's absence. 

Bing: 'Parker' | Jason Statham
The evening was also a celebration of the recently completed "Art of the Heist" competition that was held in conjunction with the opening of "Parker." Aspiring street artists from across the country were invited to send in their "Parker"-inspired submissions. Click here to view the art from the finalists as well as the winning entry from artist Jeff Farris, who was flown to Los Angeles and attended the event at the Playboy Mansion. In addition to a cash prize, Farris's art was painted by legendary artist Mark Dean Veca on a huge mural at La Brea and Melrose for all of Los Angeles to enjoy. Watch the video below (after the break) to see Veca in action:
Wandering into the nifty screening room at the Playboy mansion, I couldn't help but notice the Miro and Picasso hanging on the wall not far from display cases of bunny-themed tchotchkes and tons of framed photographs of Hefner and his ever-expanding clan. It was great fun watching the suspenseful thriller in these surroundings—and it's not every theater that includes an open bar and unlimited free popcorn and candy! Following the screening, we were greeted with fresh-baked cookies as the Playmates walked us out. Hey, it's a tough gig but somebody's gotta do it!
FilmDistrict's "Parker" opens on January 25, 2013.