Tick, Tick, Tick, Boom: '30 Minutes or Less' Director Ruben Fleischer
On Bombs, Comedy, His Upcoming 'Gangster Squad' and Not Holding Your Breath for 'Zombieland 2'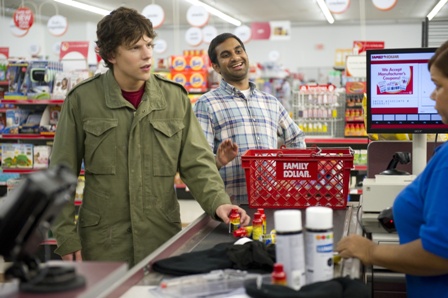 After from jumping from commercials and
lowest-common-denomi​nator
MTV programming to the big screen with "Zombieland," director Ruben Fleischer fast found himself a sought-after talent.  For his follow-up, he chose "30 Minutes or Less," a crime-comedy (based on a
far less cheerful true story
) where Jesse Eisenberg is strapped with a bomb by low-rent criminals Danny McBride and Nick Swardson and then forced to rob a bank.
Fleischer's currently casting and in pre-production for "Gangster Squad," a '50s L.A. crime saga with Ryan Gosling, Josh Brolin, Emma Stone and Sean Penn. We spoke with Fleischer in L.A. about keeping the gas down for "30 Minutes or Less," how he cant really think art imitates life, and about how "Zombieland 2" may be a victim of its own success.
When did this project first come across your bow  as something you might do?
Fleischer: I guess it was about a month or two after 'Zombieland.' It was before Christmas of last year. No, before Christmas of 2009. 'Zombieland' came out in October, so it would have been November, December of 2009. Obviously I had this completely revolutionary experience with 'Zombieland' where all of a sudden after being a struggling filmmaker who was dying to make his first movie, I was being presented with all of these beyond imaginable opportunities. I was a bit overwhelmed. Then I met with (producer) Stuart Cornfeld at Red Hour, and he shared that script with me. As soon as I read it, I was pretty sure that was the one that I wanted to do.
And you knew you wanted to work with Mr. Eisenberg again. Was that 'Done and done; I've got my guy?'
Fleischer: I love Jesse. I loved our collaboration on the first movie, and I was extremely excited to reunite with him.
How important was it to keep the film moving? This is a really briskly cut, really brief film. It never is in danger of outstaying its welcome, but more importantly, it moves forward -- not quite in real time, but it moves swiftly. How important was that in terms of keeping the velocity of it going?
Fleischer: We pared it down significantly through the entire process. We shot lots more than what ended up, but the reality is as soon as Jesse's got the bomb on him, it becomes a race to the finish. Anything that wasn't essential felt indulgent. We didn't want the audience to ever forget the stakes and the immediacy of everything that he's faced with.
When you're doing scenes with talented improvisers like Mr. McBride and Mr. Swardson and Mr. Ansari -- and, even to a certain extent, Mr. Eisenberg -- is that A-to-B momentum of the plot a little bit problematic in that people can't quite wander off as much as you might like for comedic purposes?
Fleischer: Not at all, because so much of what's in there is improvised. I think we were able to have the best of both worlds in terms of keeping it tight and keeping it fast, but also allowing the actors the opportunity to elevate each of the scenes with their own original ideas.
After the challenges of 'Zombieland,' after creating the apocalypse, on what was a fairly reasonable budget, you did really well with not much money. On a production level, did '30 Minutes or Less' offer any particular challenges, or was it all stuff that you had faced down before?
Fleischer: Definitely. For me, it was a chance to work with, like you mentioned, some really talented improvisers. For me it was exciting to find even more in the moment and to get a greater comfort level working in that style and having some incredibly talented people to collaborate with and learn from. That was a new challenge. 'Zombieland' did a good job of working between the genres that it was dealing with. This was a real challenge in terms of finding the right tone so that it was dark and challenging but never too dark or too horrific, being able to allow the comedy to survive despite the circumstances.
There's been some stuff in the news about the family of the gentleman who was involved in the real-life equivalent of this case and whether or not it's a disservice to the real gentleman's memory. At a certain point, do you throw your hands up and say, 'I read a script, and I'm making a movie?'
Fleischer: I think you summed it up. I couldn't have said it better myself, honestly.
What was the biggest challenge in making the bomb vest? I spoke with Mr. Eisenberg and he suggested the thing was hot.
Fleischer: Luckily I didn't have to wear it. If he wasn't skinny already, he definitely sweated out a lot. I think it was making it look authentic and homemade and scary but not too scary or too gruesome, because it's so present that you want it to be a threat but not a distraction.
Are there alternate takes of scenes where you went, 'No, we're not making a scary thriller here, we're not making a version of this film that would star Christopher Walken and unfold in real time and with a James Horner score?'
Fleischer: I think there were moments with Jesse where he played the reality of that character's situation to an extreme in terms of the fear and the helplessness. At times, maybe we'd cross the line and that's why they're not in there.
It is this great symbolic moment of existential dread, having a bomb strapped to you that an idiot could set off. I really can't think of a better parable for being trapped in a godless universe.
Fleischer: I appreciate that. It's an incredible compliment, too.
What's occurring with 'Gangster Squad?' I know you're working on it, you're bringing everything together, people are being cast, but tonally it's going to be so different from anything you've ever done. Is this something where you're rubbing your hands together and watching a bunch of stuff to start getting the flavor of it in your head, or are you still so caught up in negotiations and casting that thinking about the A to B connectivity of scenes is impossible?
Fleischer: No, we start shooting in four weeks, so I've got to be ready for it. I've been watching a ton of period noir films, some classic Westerns, and some of my favorite gangster movies from recent years, from 'The Godfather' to 'Chinatown' to 'The Untouchables' to 'L.A. Confidential.'
You mentioned Westerns -- are we talking about, like, Anthony Mann stuff?
Flesicher: I love (Sergio) Leone, and I love the scale of his films and the iconic frames. There's a parallel to be drawn between our film and 'The Magnificent Seven,' so I watched that recently. I would say Leone and 'The Magnificent Seven,' and to a lesser degree, 'Wild Bunch.'
Should fans of 'Zombieland' stop holding their breath for a 'Zombieland 2?'
Fleischer: It pains me to say it -- and I don't think it's because any of us don't want to make it --but it feels like the momentum or the reality of that happening gets further and further away every day. Emma's got sequels that she owes, Woody's tied up with 'The Hunger Games' now, and Jesse after 'Social Network,' there's so many opportunities that it might be hard to corral everyone -- myself included, just with my obligations to 'Gangster Squad' for this next year, and then who knows what lies beyond that.
If you had to hand 'Zombieland 2' off to any other director, who would it be if you got to pick? Just like movie nerd fantasy baseball.
Fleischer: That's a great question. It's obviously not one that I've considered very much, but I would be excited -- I don't know if this is the right answer -- for ('Zombieland' screenwriters) Paul Wernick and Rhett Reese to take a crack at it. They created the world and know it so well, and I know they have aspirations of directing, so I could see them doing a great job with it.
("30 Minutes or Less" opens up this Friday; "Zombieland 2" much later, if at all.)