Interview: Mark Wahlberg of 'Ted'
'The singing and the dancing and then the fight scene were things that I was not excited about doing ...'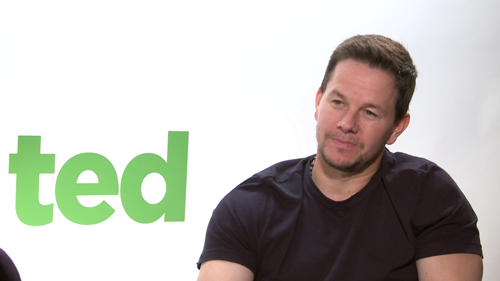 With his hand bundled in ice and a towel from some mystery injury, Mark Wahlberg may be battered, but he's unbowed; the actor has a smile on his face, repeatedly, talking about playing the human half of the friendship between a man and a stuffed bear in Seth MacFarlane's "Ted." We spoke with Wahlberg in L.A. about comedy, his director, Mila Kunis' "cold blood," Boston accents and Boston welcomes ...

MSN Movies: When did you decide to start doing comedy? When did you decide to make that part of your deal as an actor?
Mark Wahlberg: Well, I've wanted to do it for a long, long time, but it was just a matter of finding the right things, you know? I got my start as a dramatic actor, and if you do the wrong thing, you don't get too many more opportunities to try it. There were comedic elements to certain performances that I've done in the past, but to jump into a full-blown comedy you have to find the right thing. Will Ferrell obviously and Adam McKay (for "The Other Guys") were a great way to kick it off. This is a little more out there.
There is kind of this weird contradiction in that that you'd think with all his success with "Family Guy" you'd think Mr. MacFarlane has his potential pick of people to work with. At the same time, it's his live-action debut, and it's a skill set he hasn't worked before. Did you feel like you were taking a chance or did you feel really good about it?
I've been doing this a long time. I think when you get in the room with somebody you can tell really quickly if they know what they're doing. Sometimes people are trying to convince themselves, while they're trying to convince you that this is something they can do. That was not the case with Seth. He knew the material. He knew what he wanted. We had a very similar take and approach to playing the part, so I felt confident in his ability.
What was the biggest thing you had to hurl yourself into? Was it the musical number you do?
The singing and the dancing and then the fight scene were things that I was not excited about doing. I felt kind of ridiculous doing it, but those are the scenes that people respond to.
So you've now learned the more ridiculous you feel the better the audience enjoys it?
I guess so.
This is a dangerous precedent. You better get a pair of clown shoes.
Exactly. Who knows?
What was the biggest pleasure about working with Ms. Kunis? We've all seen "Max Payne," but things have changed since then.
Yes. It was nice for us to get to do something that we both were really enjoying, and enjoying each other while doing it. We were in it together. If we were going to fail, we were going to fail together. We were a team.
With Mr. MacFarlane directing and doing the voice and motions of Ted was it a lot of just the two of you on set with the stuffed stand in or the stick for the eye line? Were you two kind of partners in crime against the world in making the bear come alive?
Yeah, for sure. I had to trust him. He had to trust me. We had great chemistry even doing the scenes. It was a lot of laughs. We were entertained during the process.
You are, of course, a noted Bostonian, the film is set in Boston, and there's a little bit of a distinct Boston cadence in the film. Adam Sandler does a remarkably fake Boston accent in "That's My Boy." Is there a preservation society for the real Boston accent?
I hope so. Especially after "The Departed," I want to start one myself. I don't know. I haven't' seen ("That's My Boy") yet.
During "The Departed," everyone was running around Baaaaahst-aaahn-ing it up, yes?
There was a lot of that. George Clooney was actually smart. When we did "The Perfect Storm" he didn't do an accent. At first I thought he was lazy, but you're better off not doing it if its not going to be right.
It's like Sean Connery in "The Hunt for Red October": That dude is not Russian.
(Laughs) I know exactly what you're talking about.
Things like the scene where you meet Ms. Kunis by knocking her down on the dance floor and then you're icing her forehead ... how hard is it to do that kind of wordless acting that still suggests so much?
It can be tricky, but when you're working with someone as talented as her -- why isn't she icing my knee right now, or my hand? Why isn't she returning the favor?
I don't know. Maybe she doesn't know your wounded, or maybe she wasn't responsible?
She knows. She was there. She's got that cold Russian blood.
She's got her work to do, Mr. Wahlberg. That'd be strange. It wouldn't be normal.
It would just be nice to have a gesture.
When you're doing stuff that's technically advanced, how much of it is scary and how much of it is exciting?
You know working with Seth, we were having such a great time. It was all exciting, but you don't really know how it's going. Every time you make a movie, you're hoping to make the best possible version of that movie. You never know how it's going to turn out. It could be a great experience, and the movie could turn out to be a piece of crap. With this we felt good about it, but there's so many things. Is the bear going to look realistic? Is it going to fit into the set and the scene? Are we going to have what we appear to have with dialogue? Who knows. It's a lot left up to chance, but once you commit, you've just got to believe and hope. If it doesn't, then you never look back. On to the next movie.
What did you learn, making this, about comedy and about filmmaking? Was it less complicated than that?
I love being on sets with very seasoned directors as well as very new directors. Every time is a discovery process. You learn something new every time. I certainly learned a lot about the technical aspects of motion capture, CGI, those sort of things, and to see Seth grow everyday as a director was really good to watch.
Your character is this irresponsible, slightly shiftless, pot smoking wastrel and a layabout, yet you had these ridiculously well-developed arms. How does that work? Is John's workout just lifting the bong repeatedly?
(Mimes lifting:) Bong with a beer.
That doesn't really work like that in real life, does it?
It actually does. It does. It may be genetics ...
And?
 ... John and Ted also did steroids.
Good to know. When you're shooting in Boston is there a lot of "local boy does good stuff" that can make it hard to shoot scenes?
Yeah and there's also, you either have people that are really supportive or people that want to see you die.
Its either "Hey, Mark" or "F**k you," and either way they've blown the take. Is that the official Boston welcome?
That's usually the sentiment.
It's a tough town.
(Shrugs) It is.
("Ted" opens today.)