Interview: Mother's Day with Eva Mendes
The "Girl in Progress" star could not have more praise for her real-life mother or her movie daughter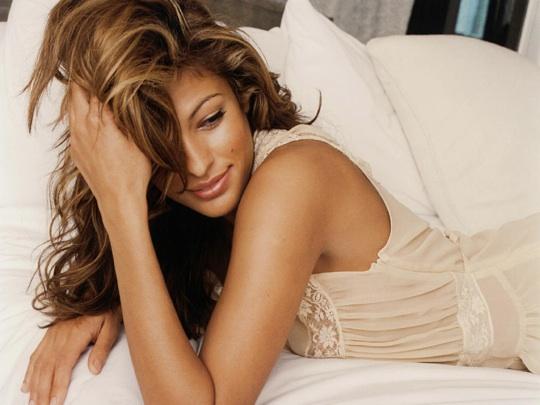 One of the new films this weekend that screams "mother-daughter date" is Eva Mendes' "Girl in Progress," directed by Patricia Riggen and co-starring Matthew Modine, Patricia Arquette, and as Ansiedad, Eva's rebellious daughter, Cierra Ramirez.
I was scheduled to talk to Mendes at a Beverly Hills hotel at the end of a long day of press for the film. As often happens, things were running late but Mendes had a commitment to shoot a video that night for a charity across town. She met me at the door to her hotel room, apologizing profusely for the shortened interview (we only had about five minutes to talk), and swearing that she would stay longer if only she could. For an actress/singer/super​model who is constantly hounded by the press (especially since she started dating Ryan Gosling), I've rarely met someone who seemed so genuine, sweet, and grounded, without a shred of diva-like behavior. And, oh yeah, she's stunningly beautiful.
With no time to waste, I asked Mendes if she felt a mother-daughter bond with her screen daughter, Cierra Ramirez.
Eva Mendes: You know, as soon as I met Cierra, I felt like we were sisters. I thought, should I try to be a more maternal towards her, should I not be so buddy-buddy? And then I remembered that I was playing this woman who is a complete disaster as a mother—at least for most of the movie—so maybe that was okay!
MSN Movies: I was so impressed by Cierra's performance, and the fact that this was her very first movie. Did you give her any advice about her career?
ME give HER advice? Are you kidding? That little girl blew my mind, she just blew my mind! Have you seen the video clip of her singing at the Apollo?
No, I haven't.
Oh my God, please do yourself a favor—Google her name and find it. She was ten years old at the time. Ten years old and on the stage of the Apollo Theater, a very tough crowd to win over, and she KILLS it, singing that song from "Dreamgirls." That girl has the voice of an angel! She was 15 when we made the film, and I felt so privileged to be part of her first movie because that's such a beautiful experience and I got to see it through her eyes. I was really the one learning things, I watched her and I was like, "Wow!"
In the film, Ansiedad is going through some struggles at home. Could you relate to any of those issues?
Not at all! Forgive me, but I have to say it—I have the world's most amazing mother, there's just no way around it! Does she get on my nerves sometimes? Absolutely! Do we bicker? Uh…yeah! But as far as being a mother, that woman is simply the ideal. She is completely nurturing, she lives for her kids. My mom just turned 70 years old, she never remarried after my father, and I'll tease her and say, "Mom, don't you want a boyfriend?" She just says, "Get out of here!" And I'm like, "Come on, Mom, it's your time now, we're all grown up!" But she's not interested, she's just a dedicated mother.
I think a lot of mothers and daughters will be seeing "Girl in Progress" this weekend, it's a great Mother's Day discussion starter!
Absolutely, there are so many great themes in the film that mothers and daughters can talk about afterwards. In general, I think people bring a lot of their relationships into a theater when they go see a movie, I hope this one helps people start to talk about things that they might need to take a look at.
This is a great, meaty part for you. Do you spend a lot of time planning your career or do you just let it unfold as it comes?
I'm just in this place right now where I'm having fun with everything. I have a film at Cannes this year called "Holy Motors" and it's such a fun role—I don't speak a lick of dialogue and I have this red flaming wig. I filmed it at one of my favorite places, the Père Lachaise Cemetery in Paris. I was also really excited to work with Derek Cianfrance, the director of "Blue Valentine" in "The Place Beyond the Pines" which comes out later this year. I haven't seen it yet but that experience was so creatively fulfilling for me.
I know you're also a singer? How about doing a musical?


Oh my God, I would LOVE to do one, can you help me out there? Please? I'll give you full credit!
And with that Eva Mendes' publicist comes in and escorts her out the door so they can get to her charity event. Mendes hugs me good-bye and I can hear her shouting apologies to me all the way to the elevator!
"Girl in Progress" is currently playing in select cities.