Jennifer Garner's 'Butter' Finally Gets a Trailer
Olivia Wilde, Ty Burrell, Ashley Greene, Hugh Jackman and Rob Corddry also star in this comedy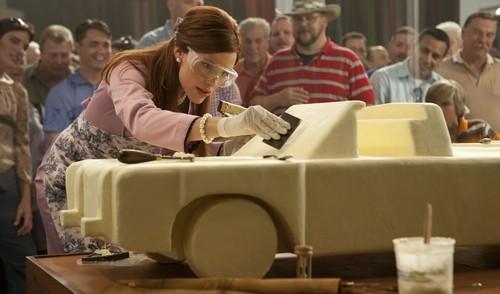 In the year since its Toronto International Film Festival premiere, Jim Field Smith's "Butter" may have lost some of its satirical bite -- Jennifer Garner plays a would-be butter-carving champ in the vein of Sarah Palin or Michele Bachmann (remember them?) -- as it bounced from release date to release date.
But the film works better whenever it emphasizes the screwball competition of the scenario anyway, a taste of which you can get from this
new trailer
(also embedded below). Rounding out the supporting cast are Yara Shahidi as a young butter-carving prodigy, Ty Burrell as Garner's mild-mannered husband and the former reigning champ, Olivia Wilde (very funny) as the very angry stripper that he's been sleeping with, and Hugh Jackman, making a brief appearance as an old flame of Garner's.
In keeping with the new Radius model of The Weinstein Company, "Butter" will be available On Demand this Friday, September 7th, before hitting theaters on October 5th.
Are you sure you want to delete this comment?