Review: Point Blank
French thriller delivers knockout power up close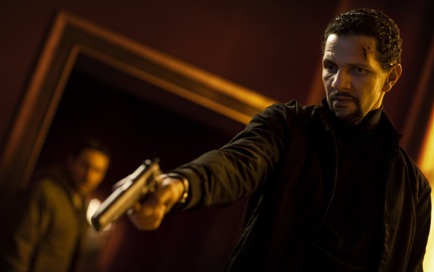 (4 out of 5 Stars)

Most of the time, foreign cinema is presented as cinema -- arty, big-idea films full of long takes and strong feeling. Anyone who's been abroad can tell you, of course, that foreign film industries make just as many buddy-cop flicks and stand-up-comedian-dr​iven comedy projects as Hollywood does; we just don't get to see them that often. But when a 'mere' genre foreign film does make its way over here, that can be the best indicator that that real virtues of the film are what's pushing it over the ocean to America; so it is with "Point Blank," the new thriller from French director Fred Cavayé. Cavayé gave us the basis for the not-so-bad Russell Crowe thriller "The Next Three Days," and "Point Blank" is, if anything, even better.

It's got a classic Hitchcock plot, as a hurtling footchase that opens the film with a bang settles down when an accident victim ( Roschdy Zem) is taken to hospital, under the care of a nice-guy nurse's aide (Gilles Lellouche). It soon becomes clear that the accident wasn't, when a group of toughs tell Lellouche that he has to get Zem out of the Hospital ... or his pregnant wife (Elena Anya) will pay the price. Lellouche lacks skills. But he's highly, highly motivated.
Cavayé puts this stuff together with the steady swift hands of a watchmaker -- or of someone attaching that tight-wound clock to a bundle of dynamite, with several solid nail-biting moments that move your pulse without you having to remove your brain. I know it's juvenile to think about foreign film in terms of who could star in the American remake, but it's a game I play (for example, George Clooney should really look at the film "Carancho" -- in about 10 years, when he's less pretty, it'll be perfect for him). Watching "Point Blank," part of me thought that if Adam Sandler felt like some career rehab, he could do a lot worse than buying this to take the role of the nurse's aide. 

On its own merits, though, "Point Blank" is the best thriller of the summer -- slick, swift, speedy (it clocks in at a whopping 84 minutes, without a second wasted) with plenty of smart moments about people in among nice, nasty fight-to-survive scenes that pit our good guy and our bad guy against an ever worse guy.  It has a sense of humor, too (a scene with Zem wordlessly communicating with a kid on the bus is dryly funny) but it also has plenty of gut-punch moments of intensity. You're going to have to track "Point Blank" down, but if you're looking for a real slice of what the thriller cinema perpetually promises and so rarely delivers -- pure force from up close -- it's one of the standout secrets of the year.

("Point Blank" is playing in limited release; for more from the MSN Movies review team, click here.)