TIFF Review: 'Stories We Tell'
Sarah Polley's life, as she knows it and as she shows it.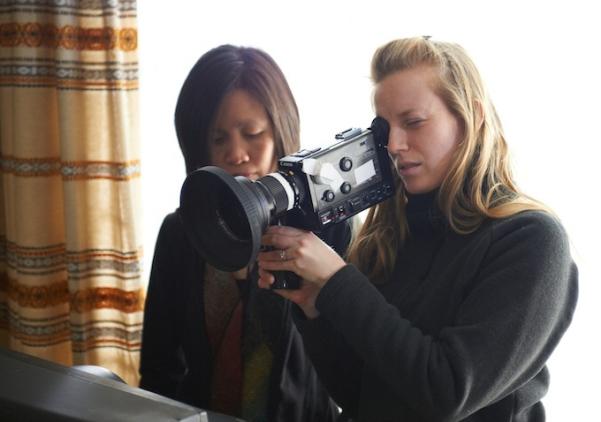 Rating: 4.5/5
With her incredibly strong directorial work (the Oscar-nominated "Away From Her," "Take This Waltz") and her impressive turns as an actress in both serious drama like "My Life Without Me" and genre fare like "Dawn of the Dead," Canadian filmmaker and actress Sarah Polley is already a name to watch. But after "Stories We Tell," her new documentary here at TIFF, it's readily apparent that Sarah Polley should be allowed to make or act in whatever she wants, because all evidence so far suggest that it'll be smart and good and honest and affecting and sad and human and funny in bold, brave, bright ways. "Stories We Tell" isn't just a home movie or a memoir or a diary or an inquiry or a documentary; it's all those and more, and a full-fledged masterpiece. 
"Stories We Tell" begins with Polley ushering an aged man into a recording studio, specifically to record voice-over she's written; she's making a film about one of her family's more awkward truths -- namely, that her father Michael, who it becomes clear is the man recording the voice-over, wasn't her biological father. Her late mother, Diana, had an affair when she was acting in Montreal onstage in the '70s with an avid fan, which resulted in Sarah -- against odds, as Diana was 42 -- being born. Polley's look at her own life and circumstance might sound queasily too-intimate, but Polley immediately makes her film into a connection between story and memory, and how the two work in concert as we turn one into the other. (And, it should noted, has no trouble directing, often leaning into the producer's mic to note "Dad, could you take that last line one more time?") 
                                                              BING: Sarah Polley | 'Take This Waltz'
Polley's technique is agreeably slap-dash -- siblings mock her during interviews, even as her mother Diana is seen in scratchy, Super-8 footage showing her life before her passing -- a party girl, a rubber-faced fun factory on the lookout for the next blast; Michael Polley explains -- at length, and with no small amount of feeling -- that she longed for him to be more demonstrative and sexual, and he -- with a level of British reserve as unfortunate as it was understandable -- didn't provide those things. But neither he or she are villains. Just actors in a sad and familiar play where love isn't enough. 
This all sounds like a grim row to hoe, but "Stories We Tell" is tricky, inventive and funny in so many ways, including some that are nearly impossible to describe. Polley shoots her interviews on video, but will show the process of making these video interviews in the now on luminously slow and bloomed-out Super-8 film; it's a nice reminder, even unconsciously, that this present moment will one day be as distant to us as our past. And while it's hard to make a movie out of home movies, Polley's eye towards the footage showing her past is more curatorial than you'd think, selecting specific images for specific purposes.  As a newspaper reporter finds out about her parentage Polley has to negotiate having the story held; the fact that she's shown in full Neanderthal makeup for the film she was working on at the time is the laugh that cuts the sad absurdity of having your private life considered a public affair like a lime wedge on a stiff drink. When an interviewee notes that Diana "always longed for the new," it's an echo of a line in "Take This Waltz," and through life, we get an understanding of where Polley's art comes from, and how.
"Stories We Tell" opens with our narrator intoning a passage from Margaret Atwood's "Alias Grace," about how no one knows they're in a story until the sound and hullabloo is over. What the film suggests -- specifically with how Sarah Polley didn't necessarily tell her father that he wasn't her father for a while after she knew -- is also in keeping with Joan Didion's "We tell ourselves stories in order to live," a lovely-but-blunt phrase that suggests each of us are oysters, surrounding the scratching gritty shards of our emotional agony with stories through repetition and re-telling and refinement until they become shining, smooth and painless pearls. Polley's not doing that here -- she's clearly already done it, and part of the film's pleasure is seeing the ramifications of this awkward and fascinating realization echo through her family. Much of the film is about how our parents make us children -- no matter how old we are -- and how, no matter how old they get, our parents can be like children, too.
Polley's film might, perhaps, over-explain itself, in the end, but it's also in the end that Polley drops her artifice -- even the artifice of her lack of artifice -- and shows what she'd really like us to think about: Not her life, but all lives; not this film, but all films; not this family, but all of those families out there who, as Tolstoy said, "are unhappy in their own way." As warm and sad and clever and odd and complicated and lovely as love and family itself, Polley's film is less a digression than another triumph in the three-film resume that's made her one of the world's most fascinating and brave young directors, one whose willingness to truly talk about real things like love, death and loss real cuts through all fakery, even when it comes to herself. 
("Stories We Tell" is premiering at the Toronto Film Festival; Want more Movies? Be sure to like MSN Movies Facebook and follow MSN Movies Twitter.)