Interview: Josh Duhamel talks about 'Safe Haven'
He'll be joining co-star Julianne Hough and writer Nicholas Sparks in a special event on January 17 in theaters across the country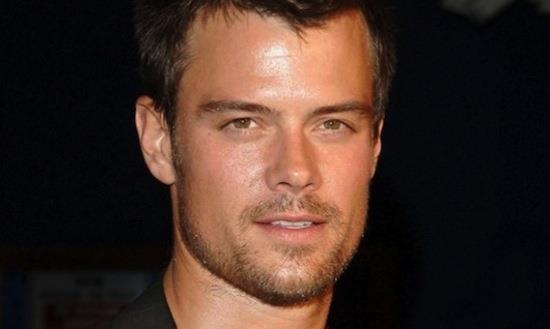 Directed by the Oscar-nominated Lasse Hallström ("My Life as a Dog," "The Cider House Rules," "Salmon Fishing in the Yemen"), "Safe Haven," is s lot more intense and suspenseful than some of the other films based on Nicholas Sparks' popular novels ("The Notebook," "Dear John"). The upcoming film stars Josh Duhamel  ("Las Vegas," "Transformers: Dark of the Moon"),  Julianne Hough ("Footloose," "Rock of Ages"), and Cobie Smulders ("How I Met Your Mother," "Marvel's The Avengers").

When a mysterious young woman (Hough) arrives in a small North Carolina town, her reluctance to interact with the tight-knit community raises questions about her past. Slowly, she begins putting down roots, and finally gains the courage to start a relationship with Alex (Duhamel), a widowed store owner with two young children. But some dark secrets she's been carrying around intrude on her new life with such terror that she is forced to rediscover the true meaning of sacrifice.
"Safe Haven" opens on Valentine's Day, appropriately enough, but next week, on Thursday, January 17, fans can participate in a one-time-only event at theaters across the country where they can watch exclusive behind-the-scenes footage and a Q&A with Duhamel, Hough, Sparks, and others. Click here to find out more about this special event. If you have any questions for Nicholas Sparks or the others, you can submit them via twitter using #SafeHavenEvent and they could be asked during the live broadcast.
I chatted earlier today with Josh Duhamel about the film.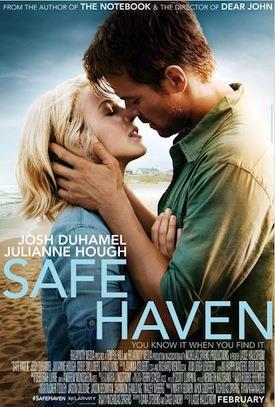 MSN Movies: This film seems to have a darker tone than most of the other films based on Nicholas Sparks' books.
Josh Duhamel: Yeah, it definitely does, and I think that's what drew me to it, originally. It's as much a thriller as it is a love story—a very suspenseful ride with a few twists that I don't think the audience will see coming. And you know when you've got a fantastic director like Lasse Hallström, it's going to be different. We didn't even think about how this film would compare to the other movies, we just looked at it as its own single entity. But it does have a darker feel, that's what we were shooting for.
Bing: Nicholas Sparks | Josh Duhamel
I always appreciate how Lasse Hallström brings a kind of European feel to the American films that he makes.
It was a completely different experience than anything I've done. Lasse is all about spontaneity. Some directors won't ever veer from the written word but Lasse is more about those real moments that can be found through improvisation. That was scary for me in the beginning. You might think, "Oh, I'm going to improvise my scenes so I don't have to worry that much about my lines," but the truth is when you're doing that you have to know every scene as it's written inside and out. You're going to do it that way first and then Lasse wants you to just flow freely and say whatever you feel so you really have to understand each scene and what it's about before you can improvise within that. It was a scary experience but also very liberating and exciting as an actor!
So are there lots of scenes that ended up in the final film that veer from the original script?
Oh yeah! (Laughs.) One of the things that I think separates Lasse Hallström from other directors is his instinct about editing. Usually you expect moments that aren't in the script to end up on the cutting room floor but Lasse and his longtime editor, Andrew Mondshein, like to keep those awkward little beats in scenes—those moments that almost seem like mistakes! A lot of directors don't recognize how to use stuff like that so they never see the light of day. But for me, those are some of my favorite moments in movies, they really help to bring the characters to life.
Hallström really seems to have a knack for bringing out very natural performances, especially with children.
Oh man, you'll see with the girl who plays my daughter in the movie, Mimi Kirkland, she's just fantastic in it—both of the actors who played my kids were great. I've seen Lasse's other films and wondered how he was always so good with kids. I think he's able to pull out true childlike behavior, he finds the real innocence in a child and gets them to perform without even thinking about the fact that there's a camera on them. As an adult actor, you always try to get back to that kind of spontaneity.
Playing the father of two young children, did you do anything special to bond with the actors before you started shooting?
Yes, it's important to me to do that. I've worked with kids once before in a movie called "Ramona and Beezus"—it was a small part but a lot of fun for me because I'm basically a kid myself and act like one most of the time! So one of the most interesting things for me going into this movie was knowing this guy had two young kids which was a whole other dynamic of the character that could have been easily glossed over. I hung out with the kids as much as I could before we started filming and we felt like we really knew each other by the time we were filming, it was very beneficial.
Did you know Julianne Hough before making this movie?
I met Julianne at the Trevor Live Awards, given out by this great anti-bullying organization called the Trevor Project.  We were talking backstage and she said, "Oh, I'd really love to work with you some day!" And sure enough, when this movie happened they brought her name up and I said that's actually a very good idea! You know, she's somebody who is perceived as this beautiful dancer, this girl who's got such a bright and bubbly personality, but underneath it there's a lot more than people might expect. She came in and blew everyone away with her audition and she was a real pleasure to work with it. Julianne is just a very genuine person, there's nothing phony about her at all.
So what's happening with this live event next week? You'll be doing a Q&A that people can watch in theaters all over the country?
Yeah. Only in 2013 could we do something like this but I think it's a great way to involve fans with the movie, to get them excited about it and to let them see why we're so excited about it! I guess they'll just stream it out through the satellite, I'm not even sure how it works! But I know that we'll take questions from fans in different cities and show scenes from the film.
How do you account for the immense popularity of Nicholas Sparks' books?
I think that he speaks to many people in many different ways. Again, our story is a little darker than some of the tales he's told in the past but I think that's good, I think audiences are ready for that. Some of the other films based on his books have been very successful but we didn't even want to think about the pressure of that, we just wanted to make the best movie that we could.
"Safe Haven" opens on February 14, 2013. Click here to learn more about the nationwide event on January 17, "A Night with Nicholas Sparks' Safe Haven: Filmmakers, Author, and Stars Bring the Book to Life."