Weekend Box Office: Neeson Stays Ahead of Affleck and Hawke
"Taken 2" comes out ahead of "Argo" and "Sinister" during a crowded movie weekend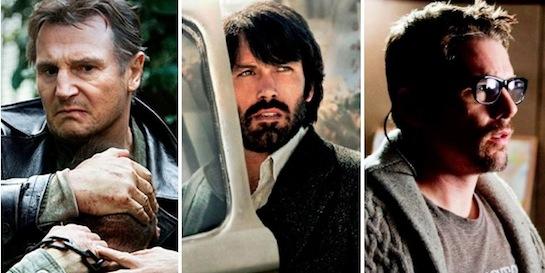 Who knew? For some reason more people wanted to watch Liam Neeson do anything to save his family members this weekend than watch Ben Affleck rescue U.S. diplomats from the Iranian Revolution or Ethan Hawke try to save his family from supernatural forces in "Sinister." The North American box office was unusually busy this weekend, with four new movies making it to the Top Ten along with one month-old movie hitting it for the first time.
Surprising many, Fox's critically drubbed "Taken 2" kept its #1 status for a second weekend, earning $21.8M (at 3,706 theaters) while Warner Bros.' critical darling and rumored Oscar favorite, "Argo," followed close behind at #2 with $19.4M (at 3,232 theaters). Looking at per-screen averages, Summit's "Sinister" was the top-performing film on the list, but at only 2,527 theaters came in at #3. Meanwhile, last week's fun "Hotel Transylvania" slipped to #4 in its third week, adding $17.2M (at 3,375 theaters) to its now $102.1M domestic gross. Another new film, Sony's "Here Comes the Boom," starring Kevin James, entered the list at #5, bringing in $11.1M (at 3,014 theaters), far from the blockbuster numbers studio execs were hoping for. 


At #6, "Pitch Perfect" continued to charm moviegoers to the tune of $9.2M (at 2,787 theaters), while Tim Burton's "Frankenweenie" dropped to #7 in its second week, with $7M in ticket sales (at 3,005 theaters). At #8, the time traveling "Looper" added $6.2M (at 2,605 theaters) to its new domestic gross of $51.3M while CBS Films' wild new "Seven Psychopaths" came in at #9 (at only 1,480 theaters), earning $4.1M. Rounding out the Top Ten is the poignant but month-old "The Perks of Being a Wallflower," bringing in $2.1M and good word-of-mouth at 726 theaters.

Kicked to the curb this week are "End of Watch," "Trouble with the Curve," "House at the End of the Street," "The Master," and "Finding Nemo 3D." And what's in store for next weekend? Most likely only two of the current films will need to make room as Tyler Perry and Matthew Fox battle it out in "Alex Cross" and crazy things start happening (AGAIN!) to our friends in "Paranormal Activity 4."