Interview: Matt Bomer of 'Magic Mike'
'Working with the female extras as you danced, it's not like you could say "Oh, God, someone licked me. Cut!"'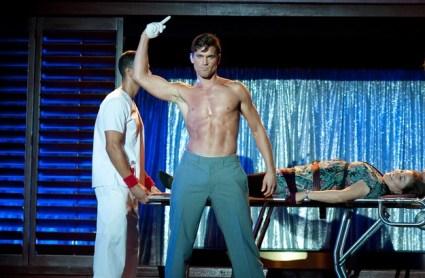 Mathew Bomer may be best-known for USA Network's "White Collar" -- indeed, for a while, Bomer was literally the face of the show in advertising -- but with "Magic Mike," the 34-year-old actor takes substantial chances on the big screen playing Ken, whose "Living Doll" and "Dr. Love" male stripping acts revolve around subverting Bomer's all-American good looks to find the smirk beneath the smile. We spoke with Bomer in L.A. about strip club music, creating his character and utter commitment.

MSN Movies: They're playing music from the film in the hospitality and staging area, and if I hear "It's Raining Men" one more time, I'm going to kill myself. This is not music. This is strip club music. You're hearing four or five, six, seven takes in a row. What keeps you from just raving murder?
Matt Bomer: I feel like this whole movie was just an exercise in a hundred and fifty percent commitment for all of us. It was a world we were committed to living in twenty-four seven for about the three-and-a-half or four weeks that we shot it. A part of that was hearing club music over and over again.
Incredibly bad club music.
Well, yeah. I guess that's subjective, but do I have it on my Ipod? No. Will I listen to it again outside this job? Probably not.
I'm also curious about how much stuff outside of the script you as actors individually got to figure out. Were you figuring out your act? Were you figuring out your character's idiosyncrasies?
More character idiosyncrasies. That was a part of the gig, really. When they called and talked about the role, they said, "You know, listen, these are roles we want you guys to flesh out as well by the time we're putting something on camera." For my character in particular he was obviously a very generous fellow, who was into free love, sort of a modern-day hippie. It was based on a dialogue I had with Channing on who he wanted him to be. He sent me a bunch of YouTube videos of this guy, who was sort of this modern-day hippie who was also full of contradictions. He'd have all this life advice like using organic oils on your body, because your skin in the biggest organ on your body, but then a few scenes later he'd be high on MDMA. And that was sort of based on these YouTube videos we found. We did in terms of that, but as far as the routines went we had these great choreographers, Alison Faulk and Teresa Espinosa, who had these ideas mapped out in their heads and took what they saw in us in terms of our abilities and tried to mold those into numbers.
The other interesting thing about the choreography in the film is that it has to fall between two questions: Too much ineptitude, it ruins the idea that you guys are professionals. Too much aptitude it raises the question of "What the Christ are you doing in Tampa?"
 Yeah. I think that's why you're so grateful to be working with a director like Steven Soderbergh, and you're glad that this story is in his hands, because accidents were welcome in this shoot. Missteps were gravitated towards, rather than a cut or reset. Obviously if something were prohibitive to the story or carrying on with the scene he called 'cut,' but it was a situation where the more sort of spontaneous things that happened in a scene that were out of place, the better.
I noticed that in the Fourth of July number, your tear away camos have torn away a little bit at your right leg. That just happened and everyone was like, "Let it lay, let it roll, because it looks real?"
Yeah, again that was the same kind of situation. On any given night it's not like everybody would be perfectly in synch, or no one would have a single wardrobe malfunction, so idiosyncrasies like that were kept and embraced. Also at the pace we were shooting at we didn't really have time to reset it.
What's it like working with him? I was talking to Antonio Banderas, he said, "He puts up two cameras. He puts up no lights. Boom, boom, boom. It's done." Is that pretty much how Soderbergh works?
More or less. It's kind of an actor's dream. Because of his process you have to be pretty much in character or living in the world the entire time you're in the film. You're not going to have five takes of a master to figure out what your physical life is in the scene. He does not do a master medium close up. I'm not sure if he already has it edited in his head, but he'll start on a close-up of your hand and then move to a wide shot of three of you talking for five minutes and not cut. You just have to be living in the world. He knows when to get in there and make adjustments, and he knows when to sort of not say anything to you until you're done with the scene. You know that he has a keen eye for the truth. He is as improvisational as a director as we are as actors. A lot of our responsibility in the movie was just having the inner personal dynamics of what goes on before we start to go on stage and what happens when we're off stage, and what the inner play is like between us having mundane conversations while scantily clad. He would gather us all together and let everybody kind of relax and get our nerves out, because inherently it's a nerve-racking situation. Then he would listen to the conversations we had and pick up on things we said or little behaviors we did, and want to include that in the scene whether it was scripted or not. One of my dreams always as a kid was to get to work with Robert Altman. I never got to do that, but to me, shooting those scenes specifically, made me feel like I had gotten to do that in a way.
He's kind of got the whole equation in his head, right? He's shooting it himself to keep it nice, efficient and swift.
I feel like he's four steps ahead of everybody else, so to save himself the time and trouble, he's the director of photography and the cameraman as well.
When you read this script or they talked about the project did you find it hard to go, "Okay, yeah, the man who made 'Traffic,' the man who made 'Erin Brockovich,' is now going to make a movie about stripping?"
Well, you can't be a fan of Steven Soderbergh and not know that he's prolific, and that he's sort of at that point playing with different genres. You saw "Haywire" and you saw the way he shot these elaborate fight sequences. It'd be one camera the entire time. Its kind of the antithesis of the MTV quick cut, quick cut. I knew he was going to be approaching this project with that sense of play and that sense of awareness and that he wouldn't shy away from something that other directors might, but he knew how to make it fun and cool at the same time. That's a very delicate balance in a movie like this.
Right, because if you don't have a good director, this becomes a bro version of "Coyote Ugly."
If that. If you're lucky. There may be three directors who I would play a stripper for and Steven is at the top of that list. You know you're going to be taken care of, and it's going to be done in a professional, but also an artistic way.
Talking about professionalism and artistic character, you're still sort of like picking up extras and saying, "Pardon me while I move my junk suggestively near your forehead." You still have to say that, right, or was it just a matter of going for it?
There were specific circumstances. I don't know if I told you this or not, but Steven when he started the project said, "Jump off a cliff and I'll catch you." That was pretty much the only piece of advice he gave me before we started shooting, with the exception of just working out some character idiosyncrasies and stuff like that. I said, "Okay this is a movie about commitment, for me at least, or us. Everybody is a part of his world." There were moments, specifically in my Dr. Love routine, where I was having to get really up close and personal with an extra. I definitely made a point of approaching her before the take and saying, "Listen, I apologize." You kind of know what you signed up for, I didn't say that, but she did. She knew what she signed up for, and she was professional. She said, "Just go for it. Go crazy," so I did and she did too. This was a situation where the background talent was fully interactive and grabbing us in places and licking us in places. Again it was a situation where you just had to commit and all these things were just happy accidents. They weren't things that you had to go, "Oh, great. Someone licked me. Cut." It was a part of the world we were trying to create.
Now for a different film certainly you could say, "Oh my God, somebody licked me." If you were making a political drama.
If I was making a political drama and someone licked me in my special places I would probably say, "Hey, is that going to work in the edit?" But who knows? Who am I to say? I guess it depends what that political drama was about.
But here's the thing, you seem like a very sober-sided serious career actor. I know you're a family person. I know you've got three kids. How much psychic whiplash is it to say, "Alright, everybody, I'm off to play a drug taking, wife swapping, hedonist who's crazy about organic body oils. Don't worry, I'll be able to turn it off when I get home ..."
Look, none of the artists who I admire or respect have ever shied away from a role because it might make them unpopular with somebody. I would prefer, and what I've tried to do, because I have the luxury of a television show that allows me to be pickier with what I do in the hiatus, I would rather play a supporting role with a director that I love in a part that I know is going to stretch me as an actor and take me to places that I'm not comfortable in, than to just sign on to typical studio fare that has a prewritten equation.
Right, because I'm sure you get scripts where you're the guy with the gun running down the street going, "No ..."
Maybe I'm on the way there, I don't know. Hopefully I'll just get to do things that my first read or my first hearing about terrify me. As actors you're always going to take certain roles that are in your comfort zone and take ones that aren't. I would rather just keep scaring myself, I guess. Thankfully my kids are young enough now that they don't even get it. Maybe one day I'll be able to say, "Hey, your old man was in shape at one point. Okay? I may not be anymore."
"But at one point, I was a golden goddamn God, kids." You'll be like a football player.
"Now get me another beer. Make it cold."
You were talking a little bit about what you look for in a script and the fact that you have a hiatus. Do you deliberately look for stuff that's different from the show?
Yeah, you get offers that are very much in line with what you're doing that people are already responding to on some level. To me I would rather just do something different. The next couple of movies I have lined up are different as well. I'm lucky to get to play a character on TV that the writers are continuing to grow and stretch. It's not some formulaic case of the week, where I'm examining a cadaver and doing scientific jargon on a weekly basis. Not that there's anything wrong with that either, but it's a luxury to get to have, and maybe when that goes away you'll see me taking more formulaic jobs.
Being in LA is interesting because for a while there you had absolute ubiquity on bus shelters. Does the ubiquity of it get a little bit disconcerting or do you just separate that from your life?
It does get disconcerting. I mean I'd be lying if I said it didn't. I'm a kid that went to theater school. I thought I was going to be making my living doing plays regionally or in New York or on Broadway, and maybe if I got lucky I would do a movie here or there. The occasionally spot on a TV show. Having to deal with the repercussions of ubiquity is something I never planned for. I don't know that you can plan for. Its part of the gig, and if its happening I guess it's a good thing you have to embrace and be grateful for. If it enables you to continue to make a living doing what you're doing, how can you complain really? But I'm going to still keep going to the same places I've always gone to and doing the same things that I've always done.
More importantly, what do you feel like is the number one thing the show's success affords you? Is it choice? Is it visibility? Or is it the chance to do interesting work every week?
I think in a perfect circumstance it's all the above. There's a marketing machine that gets behind it, and all of a sudden you have foreign value because it's been sold in other territories and you can be apart of movies that you weren't able to be a part of before. Especially with the film climate, the way it is now, it's so hard to be a part of the film community. It's a situation that can make you bring something to the table in terms of financing, and that is a great, great luxury. If you're really lucky, its something that on a week-to-week basis you're getting to tell a story. It's a huge challenge to build a character over the course of, I'm on four years now, going on five, to live with that same person and to not get into habits and get comfortable with things. I think a lot of that comes with the writing. I'm thankful that on the show a lot of our writers haven't just sat on their laurels and made it an A-B-C equation every week.
Your character's name is Ken. His big act is the "Living Doll." You even come out of a box at one point. Was there a thought about sending the idea by the lawyers at Mattel to get the official Ken box? Was there a sense of like, "That's never going to happen, so why even bother?"
When I signed on to do this movie, it was a very tiny budgeted independent film that Steven was directing. I had no idea that it would one day be sold to Warner Bros and be a summer release. No, I don't think that was ever in the cards. I think the inspiration was sort of implicit, but I don't think the people in Tampa would have the licensing for Mattel either.
And as everyone always forgets: Ken has no junk.
Yeah, that was the great sort of paradox of the situation. At a certain point I was going to have to take off the Malibu Ken gear, and there was going to be junk and a thong underneath, not just a plastic amorphous (mimes a smooth, flat shape) ...
("Magic Mike" opens this Friday.)