Interview: Edward Norton of 'The Bourne Legacy'
'The "Bourne" series ... has never been people climbing buildings with gecko gloves ...'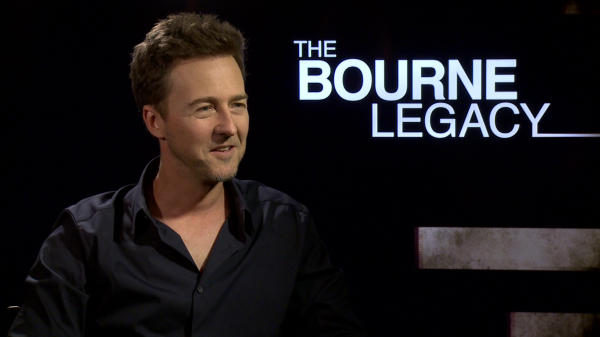 As Eric Byer in the upcoming "The Bourne Legacy," Edward Norton plays one of those quiet clean-cut government functionaries you only see in the background of photos in the news... or ringed by reporters during a perp walk if the gears behind the headlines didn't mesh right. Jeremy Renner's Aaron Cross is a product of the same brutal assassin factory as Jason Bourne (Matt Damon, unseen here, from "Bourne" 1-3). As Cross runs from pursuit above, around and below, Byer's the master puppeteer of it all, with Cross one slowly-unraveling loose end that must be tied. We talked to Norton in L.A. about aging up to play a bad guy, why he signed on at all and why making realistic action exciting isn't, to him, an impossible mission.

MSN Movies: George Orwell has this great line about how, by age 50, every man has a face he deserves. Is it nice to feel like as the calendar advances you get to play bad guys and people in positions of power instead of street hustlers and poker players?
Edward Norton: Well, actually, Tony had written the role a good bit older than me, and so one of the first things we talked about was ... How do you make it credible maybe that a guy who's a little younger and has this much authority, this much power? So we kind of looked for models of people who were kind of maybe ... 10 years younger than you would expect in the positions that they're in and that's how we did it. And I also thought we could make him pretty haggard, premature gray…
I will say that your hair in this film is majestic. I mean on a lighter note, this sort of sterling-silver upsweep of it -- how long did that take?
Well, I think you see some of these guys that go into the gig when new administration comes in and a year and a half later they've gone completely white. So whatever the job is, whatever they're learning, it's turning their hair white. And I thought that was just kind of a fun way to go.
Remember that great observation that every American president, by the time they leave the job, looks like they've been hit with sticks for four to eight years.
Yeah. And I think if you're running the NSA (National Security Agency), it's probably two years.
A lot of coffee, yeah. In an age where there's so much digital filmmaking you can go "click -- your actor can now fly," "click --  there's a dragon" ... How satisfying is it to be part of a film like this which does so much with real objects and real people and real locations? Was that part of your lure?
I think it's always been a part of the lure of this series for everybody is it was it -- it's never been people climbing buildings with gecko gloves or parachuting in a Bentley out of a (plane) …
Pulling off a face mask…
Yeah, that's more of a "fantasy" fun. These have always felt like a peek behind the curtain into maybe what's actually behind some of these events we read about. That's where this sits in the spectrum, so it's fun. It's hard to deny that probably there are guys in rooms in an industrial park somewhere flying drones over Yemen; that's .. that's a different kind of fun.
("The Bourne Legacy" is opening in theaters this week.)